Florida Man Claims His Samsung Smartphone Caused His Jeep To Catch Fire
The mobile giant's Galaxy Note 7 has been recalled for battery-related fires.
When we first heard about the Samsung Galaxy Note 7 smartphone, it looked like a promising plus-sized addition to the market. Unfortunately, we soon heard reports that some Galaxy Note batteries can sometimes malfunction, even to the point of catching fire and exploding. 
Samsung has indicated the problem arose due to a "very rare manufacturing process error." The South Korean electronics company was forced to issue a massive recall last Friday. 

Some Note 7 owners likely missed the warning about faulty batteries—it happens. One of them may have been St. Petersburg, Florida resident Nathan Dornacher. 
Dornacher told a local Fox affiliate he was unloading a newly-purchased desk and left his phone charging on his Jeep Grand Cherokee's center console. The next time he saw the vehicle, Dornacher said, it was on fire.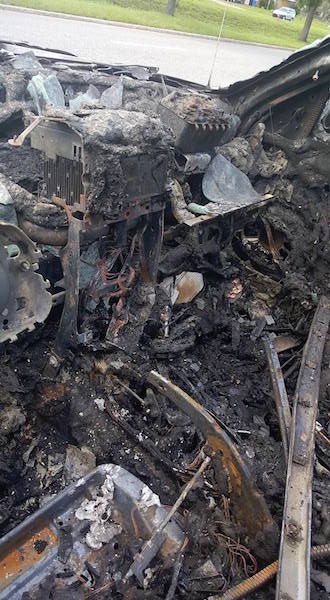 Dornacher gave a fuller account of his claims in a Facebook post: 
Not the barbecue I wanted on my day off. We go to a garage sale to grab a desk for bonnie get back to the house unload the car leave it running ac on to keep the car cool we were planning on grabbing the dog and Bonnie and heading to petco, I head back out to the car to grab my phone which was on the charger (me and Lydia always fight over the house charger) go to open the door and see flames inside… open the door and it's engulfed run inside to get extinguisher and of course not to be found yell at Lydia to call Fire Department and well here is the end result.
Samsung told Fox 17 that it is working with Dornacher. In another Facebook post, he sounded unimpressed with their attempts to rectify the situation:
Samsung has blown me off after over a hour on the phone this morning. Never called back as promised. Guess it is time to get a lawyer. You had your chance.
While the Galaxy Note 7 recall is a big black mark on Samsung's otherwise excellent record, it may be some time before we know for sure what really happened to Nathan Dornacher's unfortunate Jeep Grand Cherokee. Regardless, it's a good idea to get your own Samsung traded in soon. Just in case.
H/T Gizmodo