Sugar Baby Survives Near-Death Experience with a Bear
Read the insane story about how a leading "sugar dating" site helped one lucky lady get back on the road after a Christmas Day collision.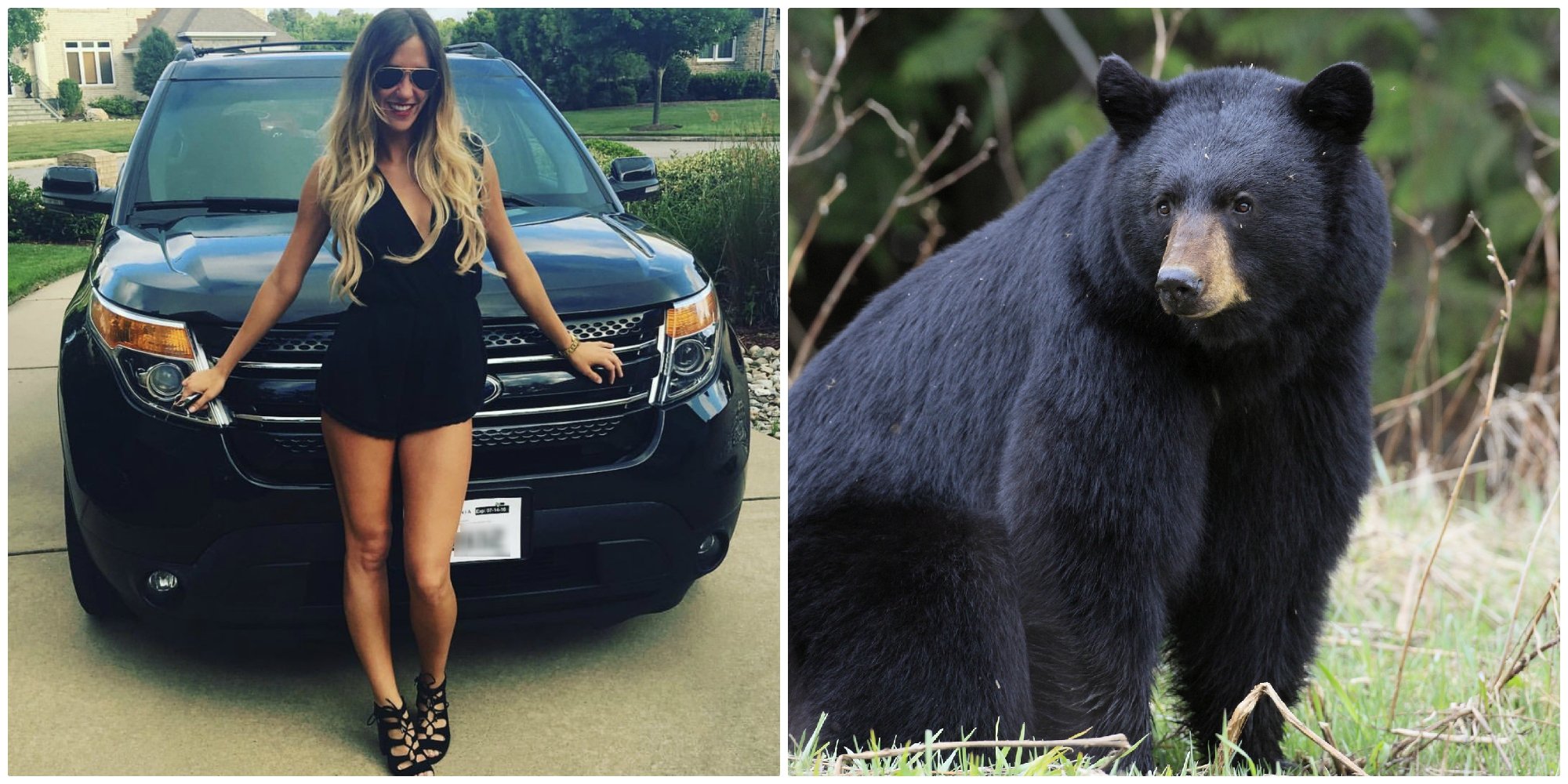 Kathryn Jones, a 28-year-old office manager from Virginia Beach, Va., is breathing a little easier these days, after a terrifying encounter with a black bear left her beloved car (and sole means of transportation to work) in need of major repairs.
"I was driving to see my family down a back country road," she recalls. "And on each side of this road there are no street lights." When the black bear came charging into the road, she was completely unprepared: "I didn't know bears could run that fast!" she recalls. 
"It's running across the street because it saw my car coming. I thought I might (be getting) attacked! I knew it wasn't a deer because it was way fatter than a deer, covered in black hair and moving very fast. To this day, I keep thinking, 'I really hope I didn't hit a Sasquatch or something."
Faced with a huge insurance deductible, Kathryn turned to Secret Benefits, a leading sugar dating website.
In case you're not familiar with the term, sugar dating occurs when a man and a woman engage each other in a mutually beneficial relationship… or, in other words, agree on an arrangement wherein the "sugar daddy" lavishes money and attention on his "sugar baby" in exchange for her "companionship."
"I've been sugar dating off and on for a couple of years," she explains. "There's no pressure. Sometimes I just meet (potential sugar daddies) for coffee and determine then whether I like them from there. You set the boundaries. You let them know what you're comfortable with."
While there are a plenty of sugar dating sites out there, perhaps the safest and most user-friendly is Secret Benefits, an online platform which includes a dedicated staff who screen and verify profiles, in addition to monitoring and following up on reports of unscrupulous and/or shady behavior. 
"I have used other sugar dating sites," Kathryn says. "But Secret Benefits is the only profile I keep active. I feel like it's the most user-friendly, and there are a lot less creeps."
When Secret Benefits announced a contest to "compete with Santa Claus" by rewarding one lucky sugar baby with "what she really wanted most this Christmas," Kathryn knew she had to give it a shot, and asked Secret Benefits for help paying for her car repair. After Secret Benefits reviewed all of the entries, Kathryn's was selected as the winner.
A joyful congratulations to @kathrynz__ for winning the 'Forget Santa' contest! 🎉

On Christmas Day🎄, while on her way to visit family, her Christmas commute was interrupted by a Black Bear! 🐻 While the bear walked away no worse for wear, this backwo… https://t.co/djkECSNK9Q pic.twitter.com/McHAwxEBmY

— Secret Benefits (@secretbenefits) January 25, 2018
"It's funny, because I never win anything," she exclaims. "It was the worst Christmas I ever had. I was starting to think 2018 may not be my year, but now it's looking like things are turning around."
Check out Secret Benefits whether you're a Sugar Baby or a Sugar Daddy now!