World's Sexiest Woman: Paige Spiranac Is Maxim's 2022 'Hot 100' Cover Star
The beautiful influencer and world's most followed golfer covers Maxim's Hot 100 issue.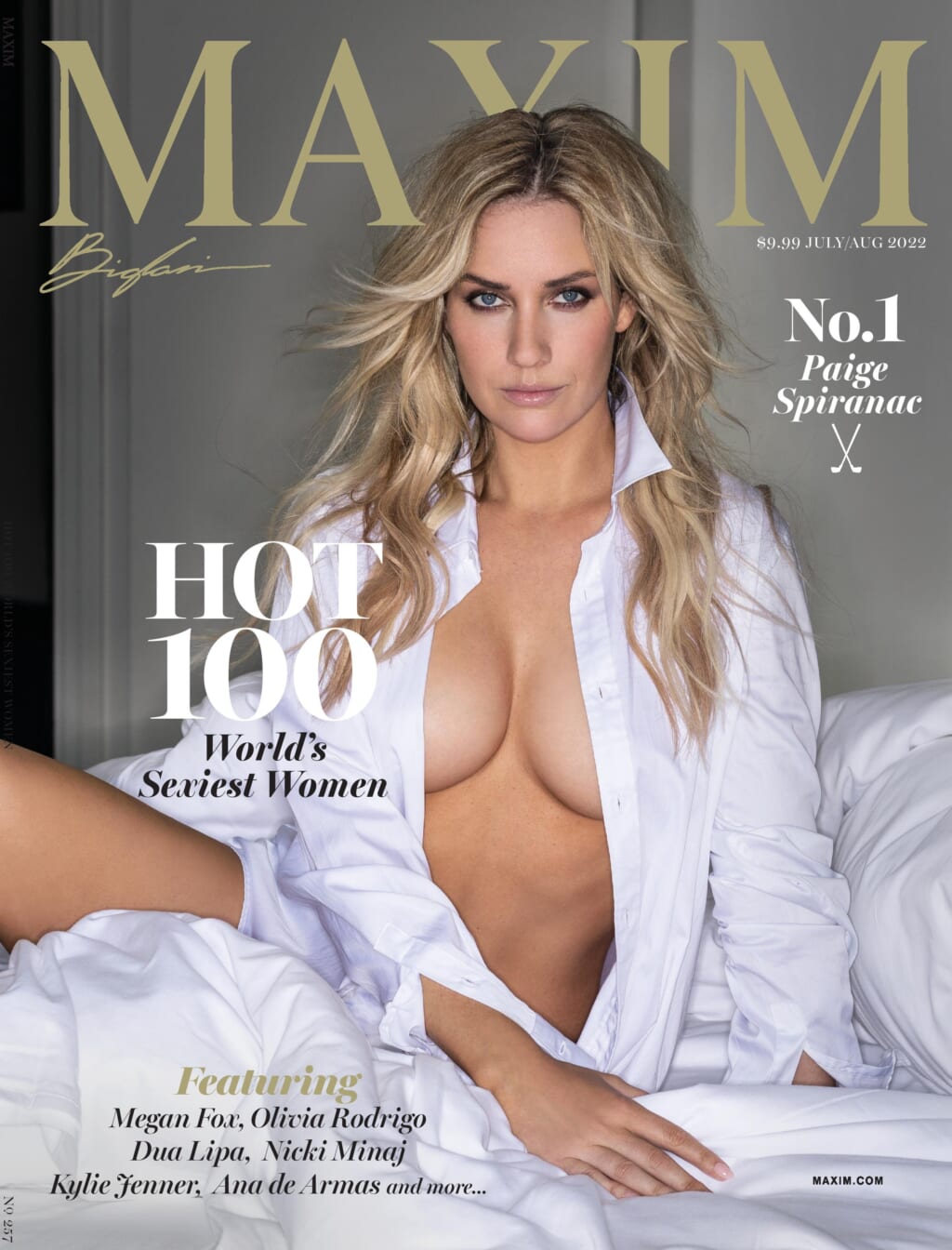 Take a poll and anyone with half a brain can tell you Tiger Woods is the most popular golfer on social media. But if someone with half a brain tells you that, they're wrong. Woods is not the most popular golfer on social media, neither is Phil Mickelson nor Bubba Watson. No, the most popular golfer on social media doesn't play professionally.
Her name is Paige Spiranac, she has 3.3 million Instagram followers and over 10 million across all social channels, and she's the hottest thing to ever hit the links.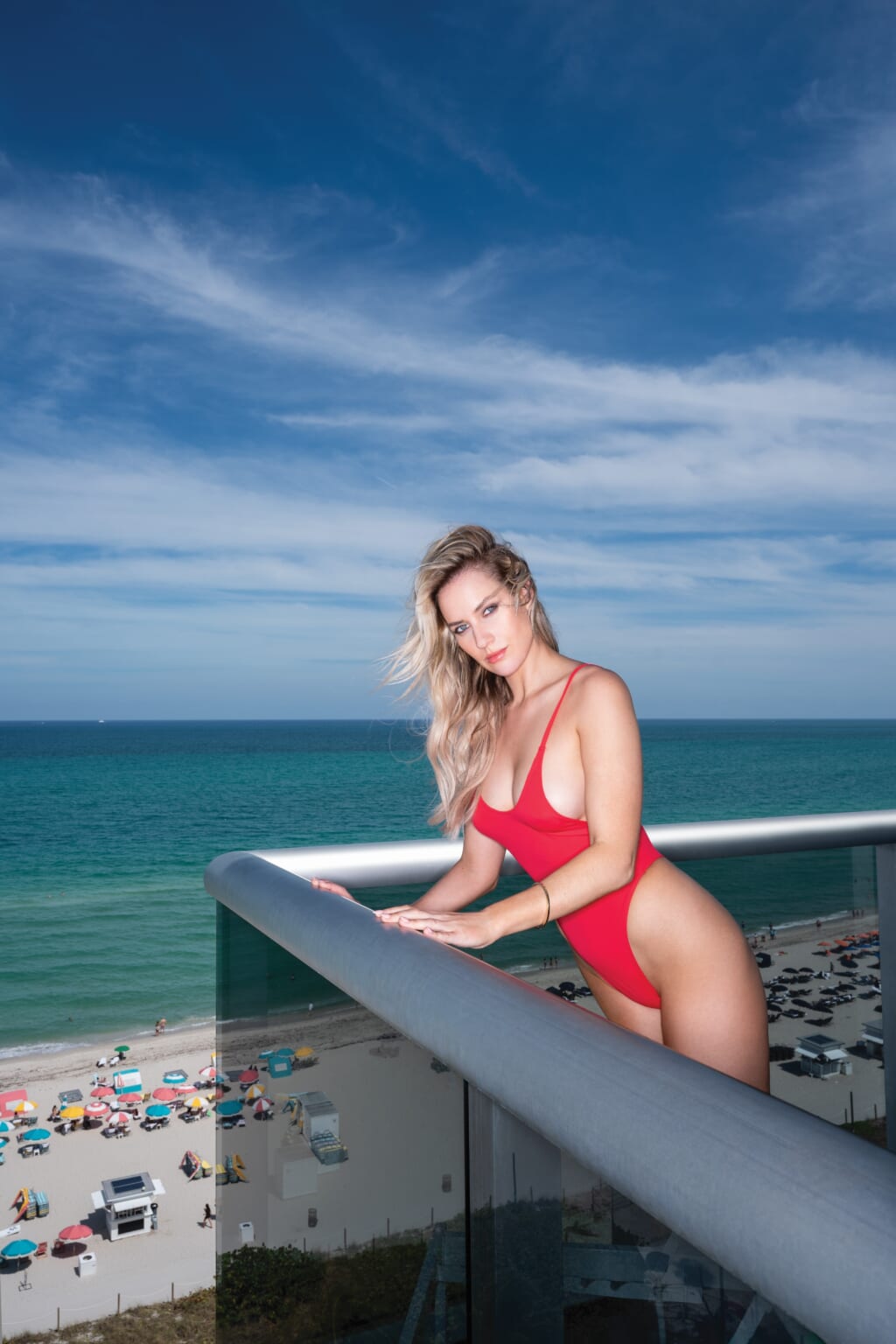 It started in 2015 with a win at the 100th Colorado Women's Golf Association Match Play Championship where she finished nine under par. Afterward the then 22-year-old was celebrating with her mother over ice cream when she realized her phone was blowing up with friends congratulating her on her win. It was more than usual and she couldn't figure out how so many of them knew.
"Later we find out from all the texts about Dan Regester, a writer at Total Frat Move. He found me on Instagram and wrote a love letter to me and it went viral," she says of an article on the site that singled out her swing, her looks and her game. "That's what started my entire career. I went from having 500 followers to having 100,000 followers overnight. My life completely changed in the blink of an eye."
Suddenly she was inundated with endorsement offers. She decided to parlay the attention and sudden cash flow into a professional career, which is not as easy as it sounds, even for a woman with Paige's looks who is also ranked among the world's best as a junior. That same year, she was invited to participate in her first professional tournament—the Ladies European Tour event in Dubai.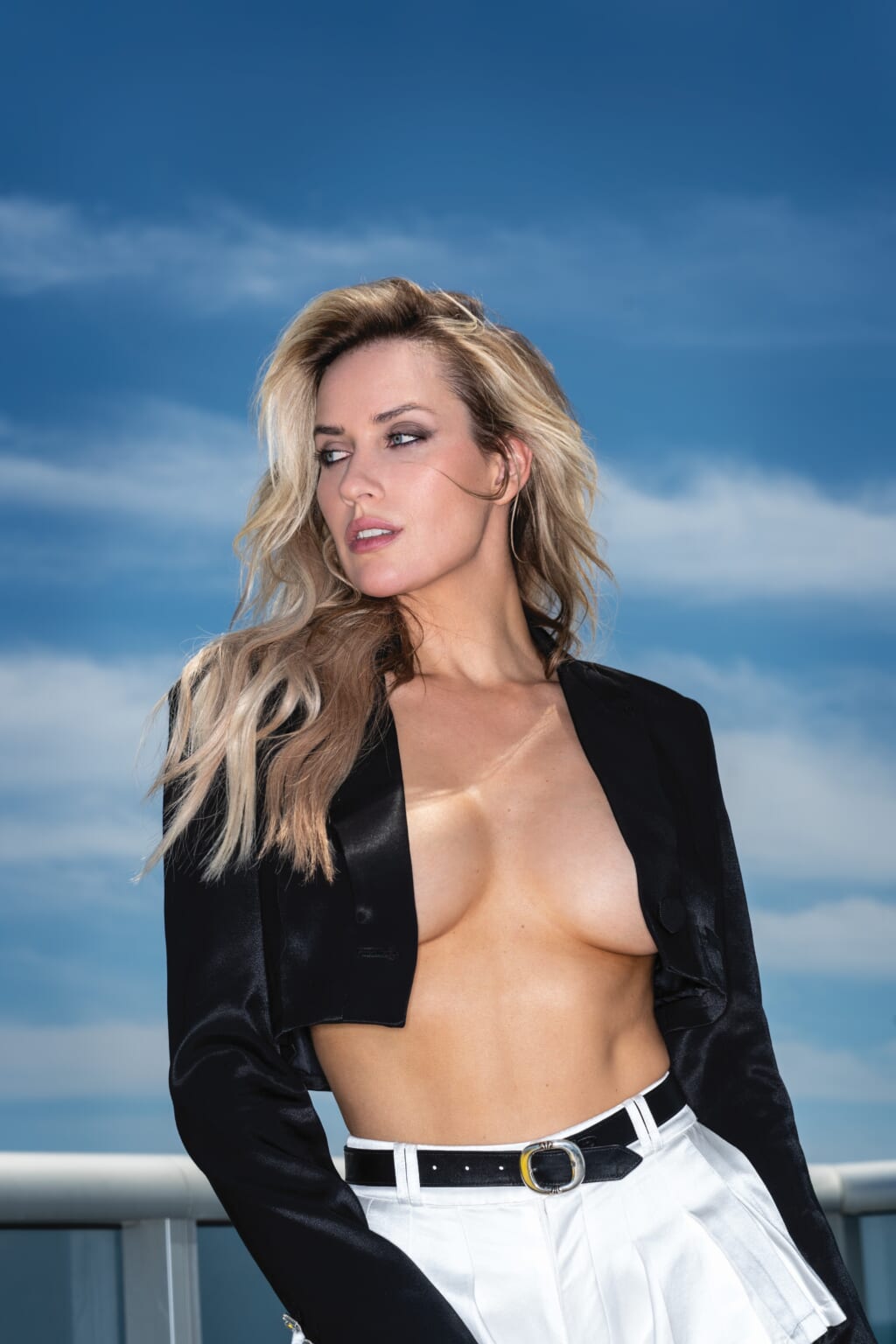 "I was terrified," Paige tells us. "My parents found me in a fetal position bawling my eyes out. I just didn't feel ready for this. No one can prepare you for your life to change overnight and have all these eyes on you and all these opinions and everyone has a comment on everything."
She finished 101st in a field of 107, but it didn't discourage her from pursuing a pro career with the LPGA. A year later she played her first qualifier, but failed to make the cut. Soon thereafter, and perhaps in response to Paige's relatively risqué golf ensemble, the LPGA introduced a dress code that restricts plunging necklines, leggings and short skirts.
"People say you're promoting women to show off their assets or to wear less to get more engagement online. My message is wear what you want to wear," she says about a subject that in some ways has come to define her.
"I get frustrated when they support everyone except for you 'cause you like to show cleavage," she says. "My dress code my entire life, I like to wear things that are more formfitting. I just became more comfortable wearing less because of my gymnastics background. I like being able to have movement in my swing. When I began wearing leggings it started a huge uproar. And now I go to the range and I see so many women wearing leggings."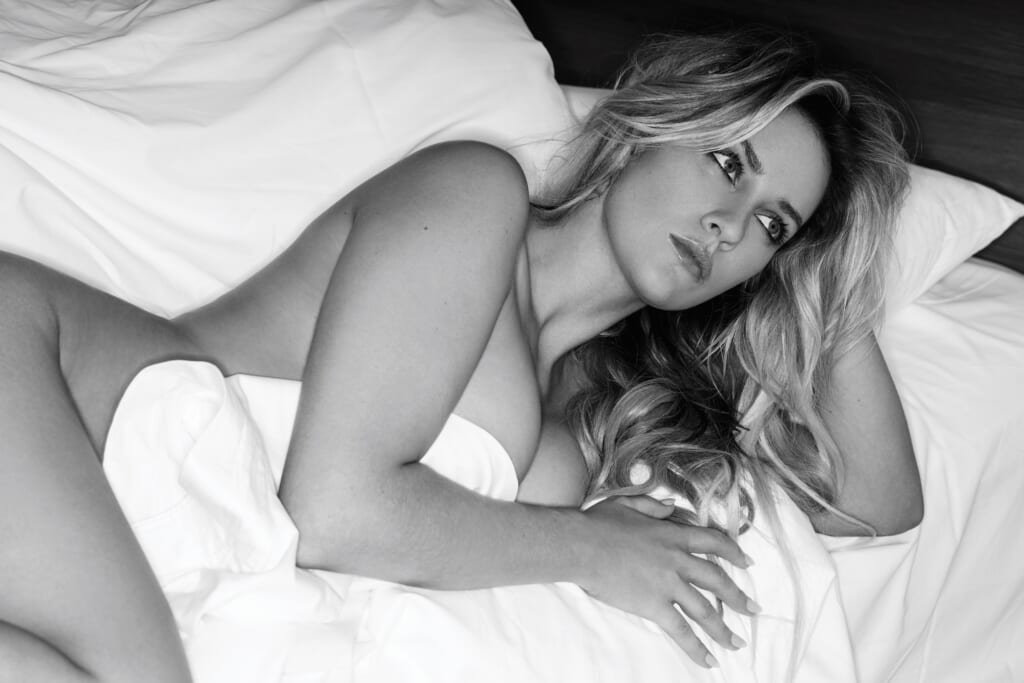 Raised in Arizona and Colorado, Paige hails from an athletic family. Her father played college football for the 1976 national championship-winning Pittsburgh Panthers, the same team legendary running back Tony Dorsett played for when he won his Heisman Trophy. Her mother was a professional ballet dancer, her aunt a professional tennis player and her older sister, Lexie, attended Stanford on a track and field scholarship.
As a child Paige excelled in gymnastics and dreamed of becoming a professional athlete, devoting all her free time to training. Asthmatic and suffering from a scalp condition that made her hair fall out, she was a social pariah. "Kids bullied me for that. I got into gymnastics, which is highly competitive. The girls were vicious. They would spit in my drink. I remember I brought in cake for my birthday and they all threw it out in front of me. I looked at my parents, like, 'I don't know."
Despite the bullying, it quickly became clear she could compete on a high level and had realistic Olympic aspirations. She was even invited to the prestigious Károlyi camp, run by now-disgraced trainers Béla and Marta Károlyi, which produced nine Olympic champions. But before she could sign up, Paige broke her kneecap. Twice. Having given up her dream at the age of 12, she tried tennis, working with her Aunt Bonnie Gadusek, a pro ranked tenth in the world in 1985.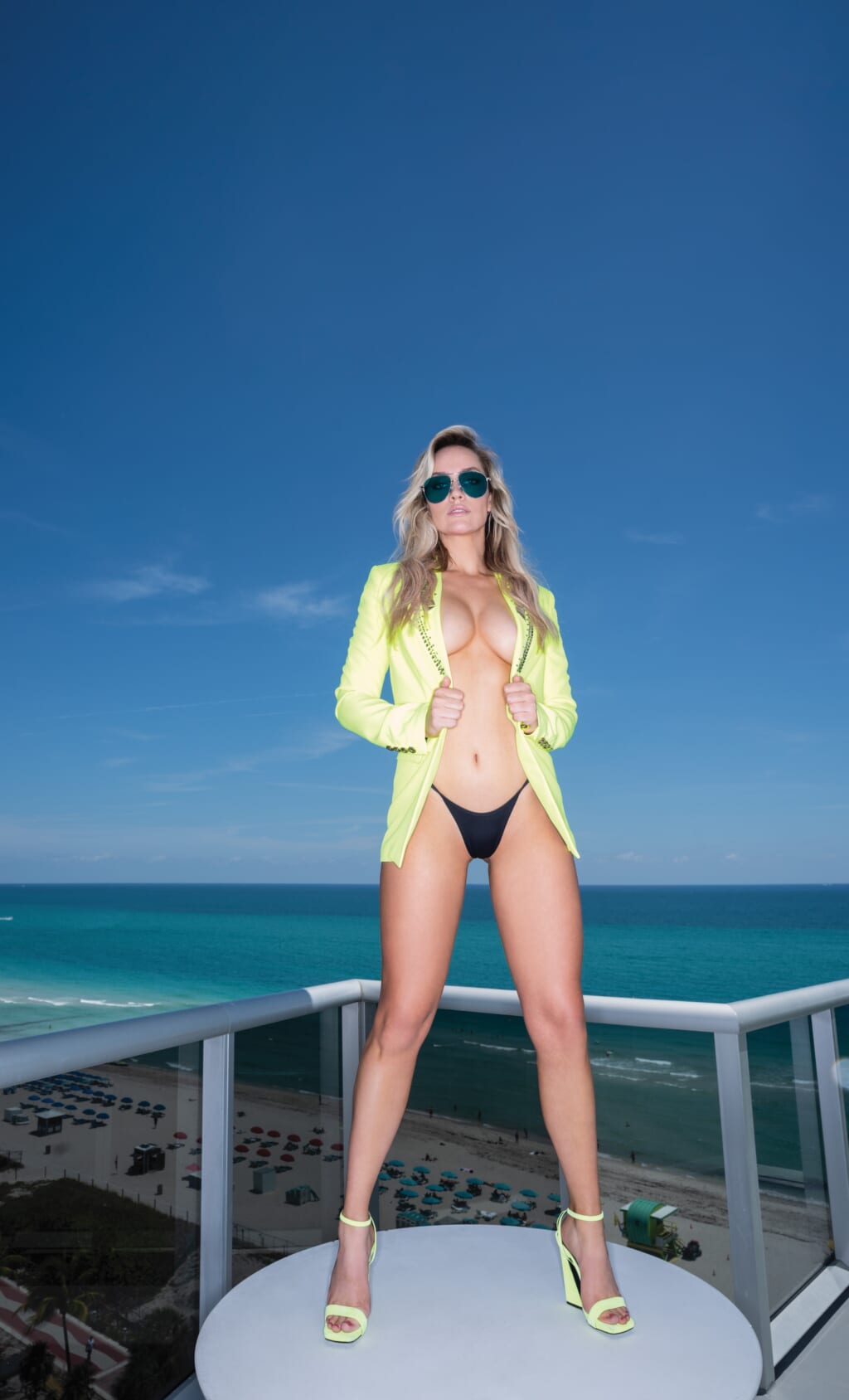 After a two-week boot camp, Paige determined tennis wasn't for her. Then one day her dad took her to the driving range. "I fell in love with it instantly. My parents always said put everything you have into it, or otherwise get a job."
As a teen, she enjoyed a promising career, winning five tournaments on Colorado's junior golf circuit, including the 2010 CWGA Junior Stroke Play. She stood in the world's top 20 junior players, was in the top five among college recruits, made first team All-American as a member of the Future Collegians World Tour and secured a golf scholarship from the University of Arizona.
"My sophomore-junior year in high school, at that point I had to contemplate, should I go to college or should I just turn pro and not go to university. That was a hard decision." Ultimately, she went to college. The idea was to get some life experience after years of homeschooling, work with great coaches and take her game to the next level.
"By the time I got to college I was kind of burned out and it showed." Paige finished fifth at the Cal Classic and nineteenth at the NCAA Central Regional Championships. "I think I had a better junior golf career than I did a college career. I didn't live up to the expectations I had or my coaches had. I'm athletically gifted and physically gifted and everyone could see I was talented. But mentally I didn't have enough time to develop, and was always being pushed to the next level."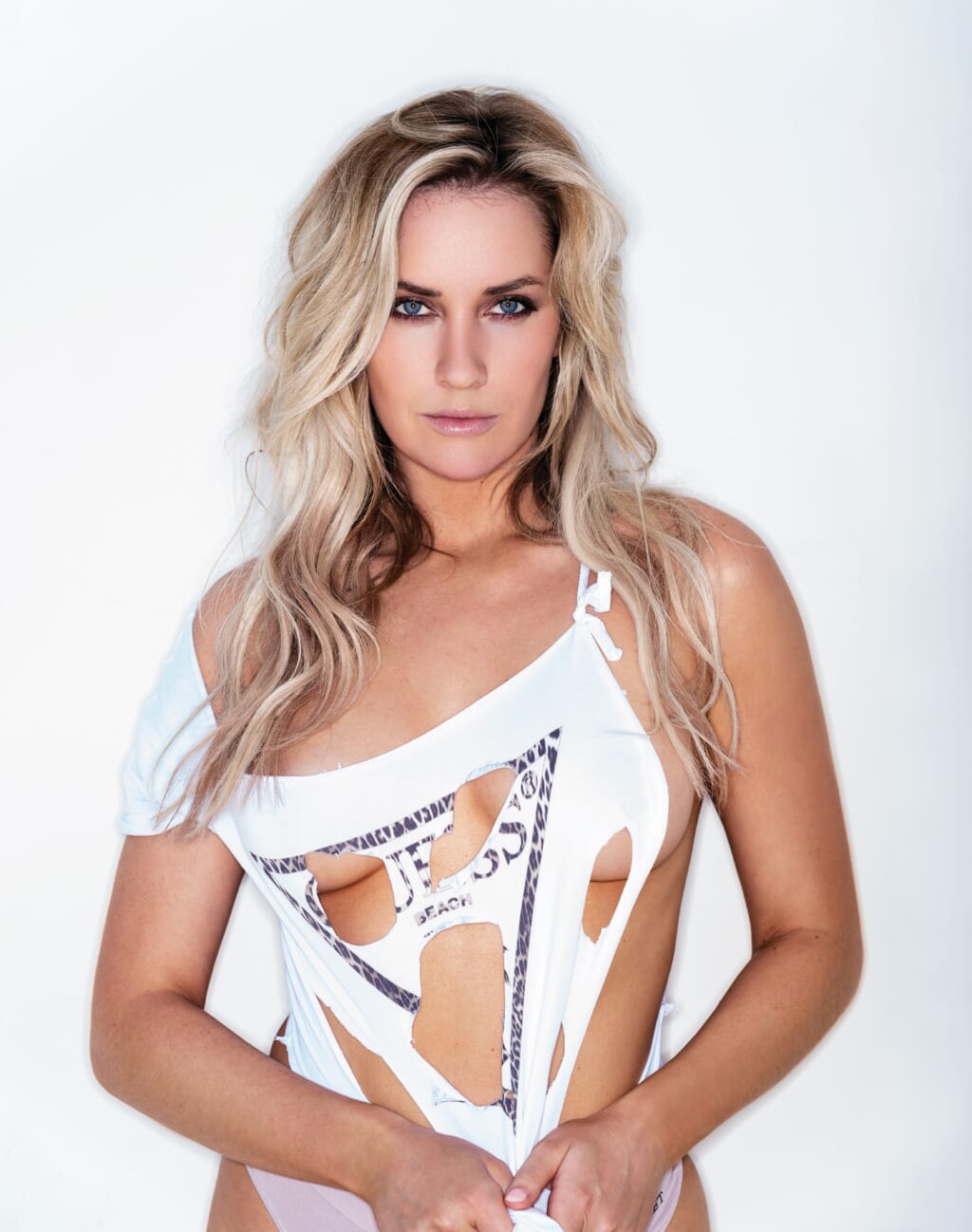 She transferred to San Diego State University where she ended up captain of the golf team and led them to their first Mountain West Conference Championship in school history. "It was my senior year, my very last tournament, and I said I don't have to play golf anymore," she recalls. "And it was the best feeling ever. Then I took two weeks off and missed it so much."
And while she sputtered as a pro, she's become the most promi­nent woman in the sport, partnering with numerous golf-related concerns such as Club Champion (a be­spoke club-fitter), X-Golf golf simulator, Shot Scope (a shot-tracker app), Swag Golf, and several sports bet­ting concerns including PointsBet, as well as Dynam­ic Brands, parent company to numerous premium golf equipment and clothing labels. She's also the host of her own podcast, Playing A Round with Paige Re­nee.
"Throughout Paige's partnership with Dynamic Brands, I've been able to witness firsthand her relentless drive, unwavering dedication, and natural gift for connecting with her audience," says the company's CEO Leighton Klevana. "I believe that her ability to constantly shape and redefine what it means to be a golf influencer is the reason she is and will continue to be a force in this industry for many years to come."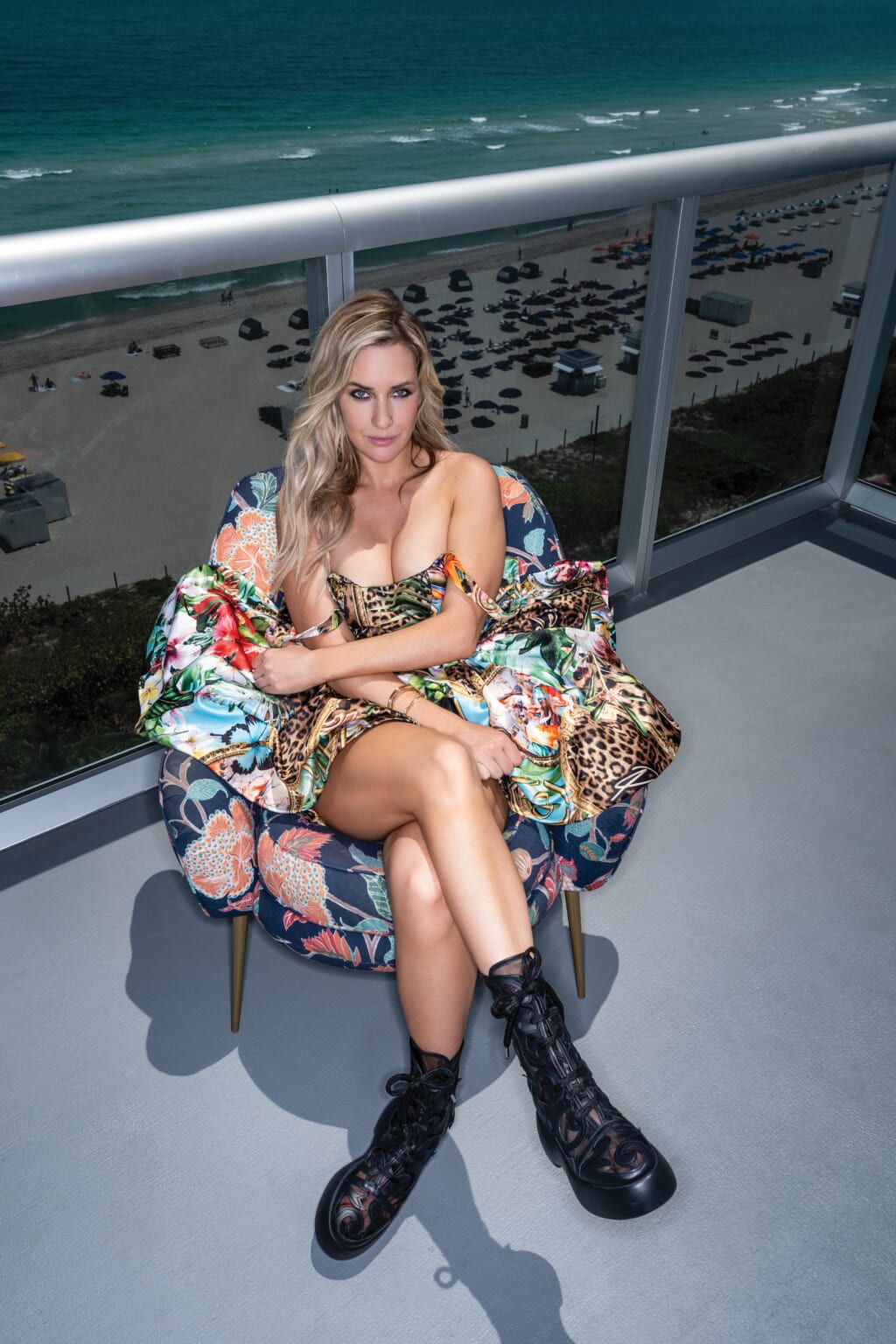 Paige points out that, "My business has been so successful because of the amazing community of people in my social media accounts. I take the time to respond to everyone. Whether it's positive or negative, I'll DM you back," noting the difference between a community and a following.
"When I first started posting, I showed my failure and the things people weren't discussing, mental health, failure on the golf course. The community I've built, they know me. Even the people who hate me, in the beginning it rattled me, but now I have fun with it. I think my skin is thicker. I know how to handle it."
She's come a long way from the bullied little girl on the gymnastics team. Maybe because she's confronted her past through advocacy work with the CyberSmile Foundation, dedicated to combating online bullying. With them, Paige has talked about the issue to kids at Boys and Girls Clubs as well as middle schools. She's still a fixture on the golf course, although her short game's starting to slip. And she's still an avid fan—Tiger Woods remains her number one inspiration. "He has progressed the game in a way no one thought possible."
What's she looking for in a partner? Someone who has "a good sense of humor. Someone who doesn't take themselves too seriously. I like to laugh and I like someone who can laugh with me and do fun, silly things. I like someone who isn't too bored working out. That's a big part of my life," she says, without taking a breath.
"I like someone who is caring and supportive, someone who supports me being a successful businesswoman and not be intimidated by me, and be confident with who they are. Someone who is smart who can teach me to learn new things. Someone who is adventurous, cause I tend to not be very adventurous. And someone who's calm and steady, cause I tend to be more on the anxious side."
Got that? "It's a long list," she concedes. "I learned to never settle!" She has and she hasn't. The goal from childhood was to become a professional athlete. She isn't one, but she came pretty damn close. And now here she is on the cover of Maxim—the Hot 100 issue no less.
"If you told me, senior year of college, that my life would take this path, I would have laughed in your face," she says. "I never expected any of this to happen, but I'm so grateful that it did. I'm really able to love who I am and what I'm doing through content creation and being an influencer. So, I'm happy with how everything turned out. I wish I played golf at a higher level and accomplished more, but I wouldn't trade this for the world."