There's Now a 'Sexy Mister Rogers' Halloween Costume, and People Are Predictably Outraged
"Won't you be my neighbor?"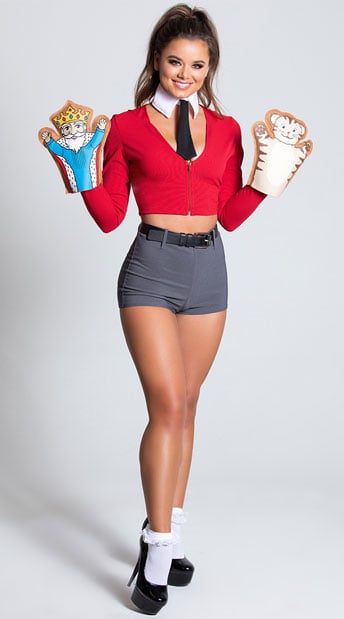 (Photo: Yandy)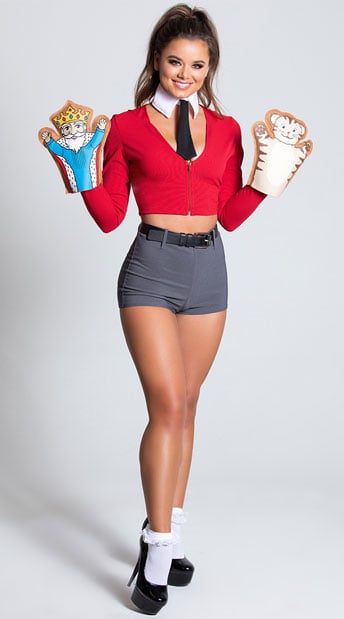 Online lingerie retailer Yandy has been making absurd Halloween creations for years featuring scantily-clad versions of inanimate objects, government officials, religious figures, and viral memes.
There's been a Sexy Pizza Rat, Sexy Poop Emoji, Sexy Pope…and now, the cheeky company has come up with a "Sexy Mister Rogers" costume.
Officially called "Yandy Nicest Neighbor Costume" that retails for $59.95, the racy outfit features a cropped red cardigan, a collar-and-tie combo, and grey booty shorts. The hand puppets, wig, belt, and socks are sold separately, in case you were wondering.
The description on the Yandy website reads:
Won't you be my neighbor? Entice your friends next door with your playful puppets! Suit up with a neck tie, and be the friendliest next door neighbor in town in this exclusive Nicest Neighbor costume featuring a red top with a V-neckline, long fitted sleeves, a white detachable collar with a black neck tie, and matching high waisted gray shorts with belt loops. (Hand puppets, wig, belt and socks not included.)
Clearly, it's a harmless costume that even the retailer itself poked fun at in a blog post titled "The Yandy Costumes You'll Make Fun of This Halloween." 
While some people agree and think it's hilarious albeit ridiculous (which is the point, according to Yandy CEO Chad Horstman), others have predictably taken offense at the jokey sexualization of their cardigan-wearing childhood icon, who is played by Tom Hanks in It's a Beautiful Day in the Neighborhood, a critically-acclaimed biopic that hits theaters November 22.
Instagram comments from aggrieved Mister Rogers fans under Yandy's post include: "Don't do that to him. Disrespectful," "Y'all done disrespected Mr. Rogers wholesome self with this," and the classic, "That's so wrong on so many levels."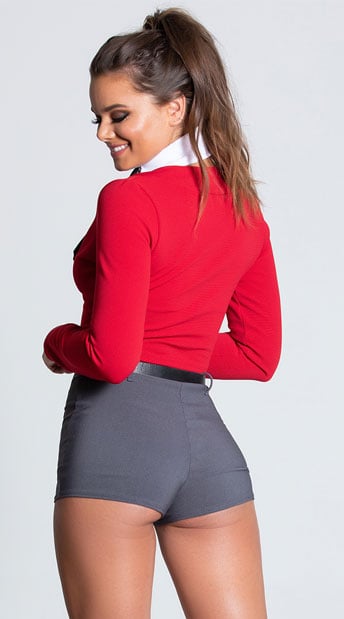 Angry fans of the late Fred Rogers might be taking things a little too far online, though. The model wearing the costume, Dessie Mitcheson, says she's been getting cyberbullied by folks from Pittsburgh, where Rogers was raised.
What internet trolls don't know, perhaps, is that Mitcheson herself is from a town called Apollo just outside of Pittsburgh. Plus, she's simply a model who posed for a picture wearing a costume she played no part in creating.
https://www.youtube.com/watch?v=8e3wwhCFabw
"It's kind of ironic because I was born and raised in Pittsburgh and so is Mister Rogers, like 20 minutes from where I grew up," Mitcheson told TMZ.
"I am getting a lot of hate mail from Pittsburgh people saying, 'How could you do this to Mister Rogers?' Someone wrote to me, 'Don't ever come back to Pittsburgh again.'"
Mitcheson, who has been modeling sexy costumes for nearly ten years, is laughing off the haters.
"As soon as I saw the costume I knew there were going to be people that loved it and there were going to be people that hated it, and people that just judged it. But I think it's getting blown out of proportion for sure. It's just a costume for fun."
H/T: BroBible