Watch This Idiotic Spring Break Bro Jump Into a Shark-Infested Pool
This dude is lucky to be alive.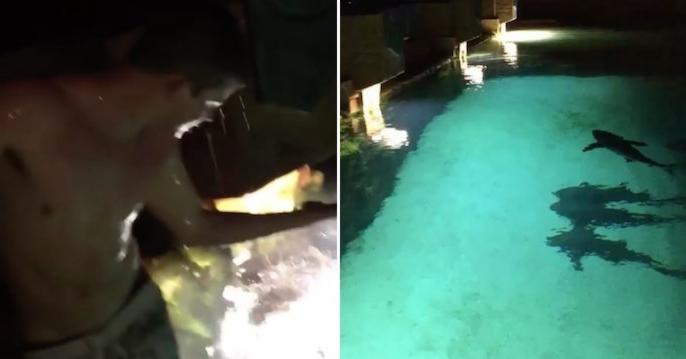 Image: Instagram via Elite Daily
" tml-render-layout="inline
Everyone knows that drunken college students partying at spring break can make bad decisions, but this just might be the absolute dumbest one we've ever seen. 
The video above from Total Frat Move shows a dude lurking near the edge of a goddamn shark-filled pool at Atlantis Paradise Island resort in the Bahamas before he decides to jump in.
One of buddies pleads "Dude get out, get out, get out!" While another can be heard losing his mind laughing before letting loose with an "Ohhhh shit!" 
Fortunately, our presumably drunk and/or brain-damaged hero manages to scramble out of the pool just as one of the aquatic death machines is closing in on him.
Granted, no destination hosting spring breakers should have an open shark tank for the obvious reason that liquored-up college heathens will try to pet, ride, or fuck one of the underwater predators. 
We're just glad this epically stupid stunt didn't hurt either of the parties involved. It does make for a pretty watchable video, though.