This $50 Million Waldorf Astoria Penthouse Is Taking Miami Real Estate To New Heights
South Florida's tallest residential tower will be topped with this incredible 13,119 square-foot penthouse.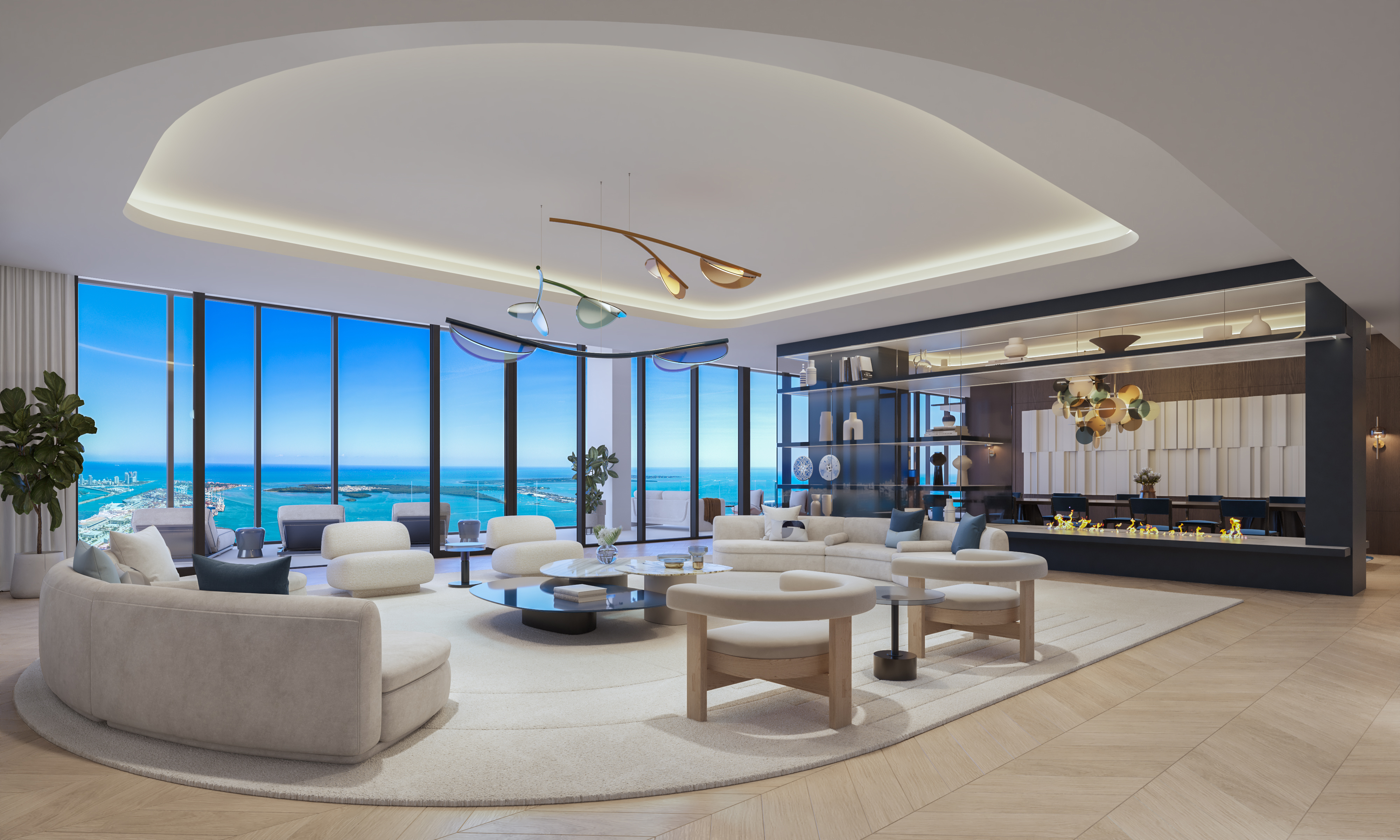 One of the loftiest and most luxurious apartments that South Florida has ever seen is about to hit the market for $50 million.
The property is a penthouse atop the Waldorf Astoria Residences Miami, an under-construction condominium comprised of 205 hotel rooms and 360 condos that's due for completion in 2027. The tower itself will be region's first "supertall structure"—loosely defined by architects as a tower that's at least 984 feet high, according to the Wall Street Journal.
The Waldorf Astoria Residences Miami, billed as the "tallest residential building south of New York City," will stand at 1,049 feet tall in the form of stacked offset glass cubes that will be wrapped in "glass skin." And the penthouse condo being its crown jewel.
A kingly 13,119 square-feet of customizable living space includes a private gym, theater, wine room, library, spa, pool, and enclosed balconies featuring 360-degreee views of Miami Beach, Downtown Miami and the Atlantic Ocean.
BAMO, an award-winning interior design firm, envisioned the space with six bedrooms, nine bathrooms, and floor-to-ceiling windows all around—practically a requisite design feature, given the location and altitude. Bespoke finishes, a primary suite with walk-in closets, custom Italian vanities with marble finishes in each of the six bedrooms, and smart home technology are other notable highlights.
Additionally, the owner will have access to a number of Waldorf Astoria amenities, including the Peacock Alley specialty restaurant, a resort-style pool deck with private cabanas, wellness spa and fitness center, billiard room, and an app from which the owner can access concierge services ranging from room service and house car reservations to package delivery and dog walking.
"The Penthouse at Waldorf Astoria Residences Miami is the city's most unique penthouse offering, setting the bar for sky-high luxury living with its contemporary design and sweeping views," said Ryan Shear, Managing Partner at PMG, the real estate firm that holds the listing.
"The magnificent residence within Miami's first Waldorf Astoria grants owners the ability to create a custom home to fit each and every need. Beyond their personal residence, owners will have access to five-star concierge services and a superb suite of private residential amenities within the tower, which will be a landmark structure shaping Miami's skyline."
Visit PMG's website for more information.