Tinder Announces New 'Festival Mode' to Make it Easier to Hook Up at Music Festivals
Happy swiping.
(Photo: Tinder)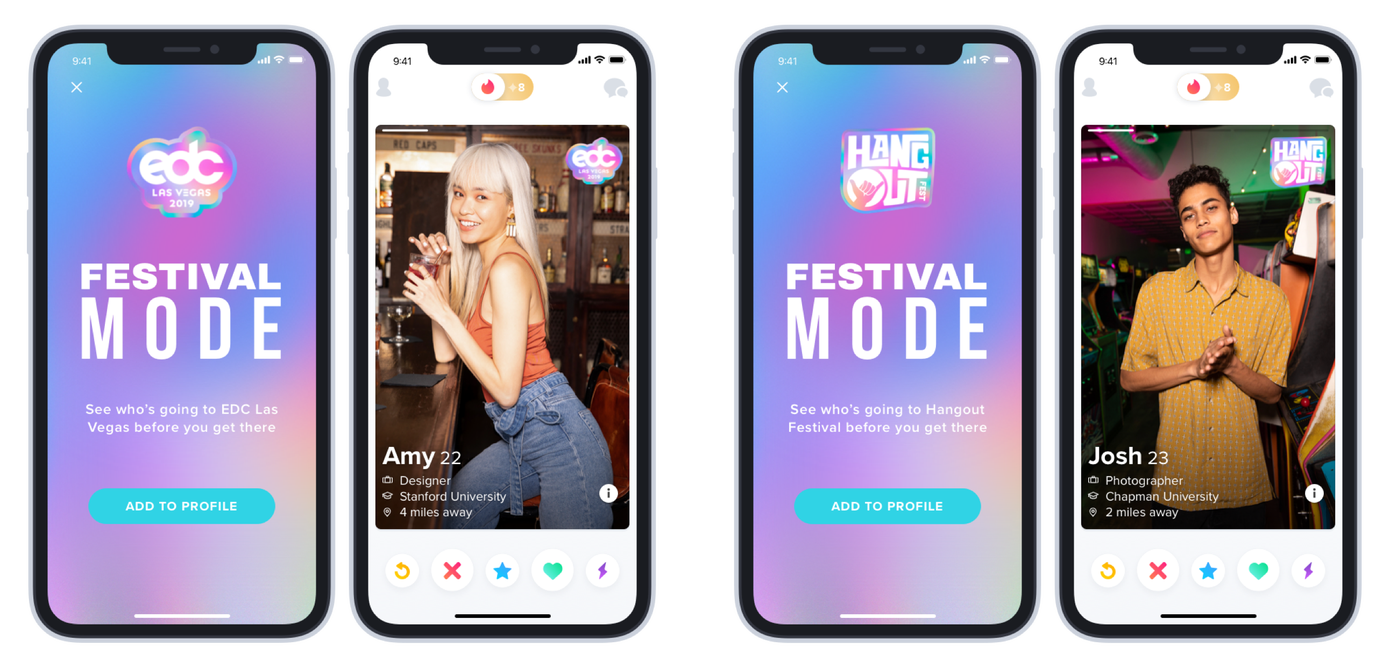 Online dating is about to get a whole lot crazier because dating app Tinder just announced the launch of a new "Festival Mode" feature, designed to match singles who looking for a little fun at music festivals.
The feature adds a badge to your profile, indicating the music festival you'll be attending to make it easier to spot someone who'll be at the same festival.
Festival Mode was developed in partnership with AEG Worldwide and Live Nation, and will be available at festivals in the United States, U.K., and Australia.
To get more specific, festivalgoers can swipe to their heart's content at:
EDC Las Vegas — May 17
Hangout Music Fest — May 17
All Points East (U.K.) — May 24
Governors Ball — May 31
Parklife (U.K.) — June 8
Bonnaroo — June 13
Firefly — June 21
British Summer Time (U.K.) — July 5
Lovebox (U.K.) — July 12
Faster Horses — July 19
Hard Summer — August 3
EDC Orlando — November 9
Considering the spike in Tinder use during past festivals, this is a great idea. At last year's Hangout Fest, registrations on the app increased 30-fold, and overall activity increased 300x at Bonnaroo in 2018.
"It's no secret that Tinder is a must-have app for singles attending music festivals around the world. We consistently see a spike in Tinder use as tens of thousands of music fans come together, so we wanted to create a new experience that makes it easier to connect with other concert-goers before even setting foot on festival grounds," says Tinder CMO Jenny Campbell. 
"We've partnered with some of the biggest names in the entertainment and events industry to make that happen, and we couldn't be more excited to help Tinder users find their crowd during these events for the rest of 2019."
In February 2019, Tinder had also launched a "Spring Break" mode to make booze-fueled college hookups even easier to find. This feature was only available until March 31, but luckily Festival Mode now exists to make up for it.