'Tinder Trap' Girl Who Duped Dozens of Men Into a Group Date Says She's 'Taking All the Hits'
Potential suitors competed for a date with the model in a now-viral video.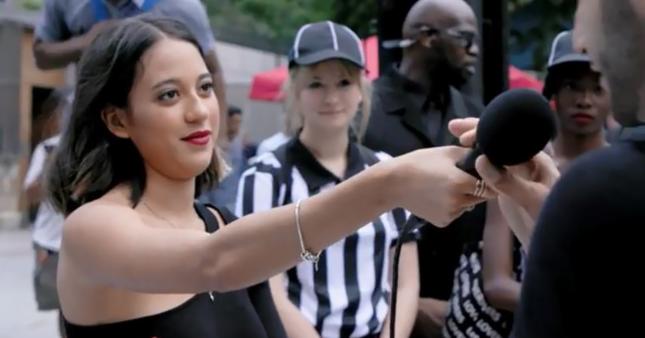 YouTube/Rob Bliss
The star of the viral "Tinder Trap" video says she's "taking all of the hits" after duping dozens of potential suitors into participating in a bizarre social experiment.
https://www.youtube.com/watch?v=Rz_2VYeHAx4
Using support from over 50 overseas workers, model Natasha Aponte initiated text conversations with hundreds of Tinder matches and lured them to the same location—a staged EDM concert in Manhattan's Union Square. 
Aponte then announced that each would have to compete for a date. She began by weeding out the crowd using the same type of superficial criteria some stipulate in their Tinder profiles.
"Half of you people here are in relationships, so those people should leave now. Anyone under [5 feet 10 inches], please leave as well. No beer bellies, no long beards, no bald guys, no khakis. Any less than six inches, you've got to go." 
The remaining potential suitors performed push-ups and sprints to prove their worth before lining up for an interview with Aponte. Eventually, one "lucky" fellow was selected for a date. 
In an interview with Good Morning America, Aponte explained she has no regrets despite being the target of backlash on social media.  
"I'm taking all of the hits right now, but I don't mind that," she said. "Because I know who I am and I'm secure in myself," Aponte said. 
"It's funny cause a lot of the negative [comments] that I'm getting, from these guys, are still in my inbox trying to date me," she said. 
The now-viral video's creative director, Rob Bliss, added that the whole stunt was a social experiment. 
"The purpose of making this video was to simply take the Tinder experience and bring it into the real world," Bliss explained.
"It's kind of become socially acceptable to like disqualify people and say, like, you have to be X height, you have to work X job," he continued. "This project proved that doesn't matter at the end of the day." 
Ultimately, Aponte urged people to "be open" when searching for a partner. 
"Be open because the person you actually might be with is something that you would never, ever choose," she said.
Still, some Twitter users weren't pleased with Aponte and Bliss' project. 
https://twitter.com/MeeshMiz/status/1032632776619687936
This is such garbage. You could have made your obvious point that online dating revolves around shallowness without humiliating all of these guys and wasting their time.

— JWP303 (@JWP303) August 23, 2018
The real story is you did an experiment on something everybody already knows: that many people reject people for superficial reasons. So no one learned anything new from your so-called experiment, and you embarrassed and disappointed a bunch of people who hoped to meet someone.

— Neurotic Workaholic (@WeirdWorkaholic) August 24, 2018
I really hope all 100 sue the hell out of you for doing such a horrible thing to those men. No one should be treated like this. I get you were trying to do a social experiment, but there are better ways to do it. I can't wait till you are paying out of pocket you and aponte.

— White cat (@CaxCaxCat) August 24, 2018
This wasn't any sort of experiment. This was a publicity stunt for the purpose of gaining fame and fortune at the expense of others. I didn't gain anything by being a part of this. I only lost time and money. Plus, there was violence. It could have been much more severe though.

— Mr Miyagi (@Mr_Miyagi_42) August 23, 2018
As for Aponte's date, Good Morning America reports that "they didn't have a love connection."