Tomi Lahren Just Roasted Millennials For Being Soft As America Teeters on Brink of War With North Korea
Twitter was NOT happy with this.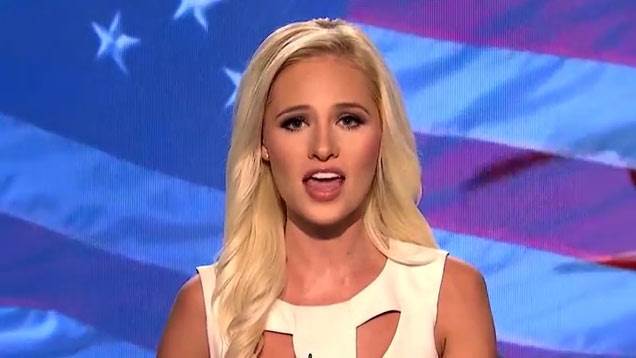 The U.S. and North Korea haven't been this close to war since the early 1950s, and Americans are definitely feeling the stress. 
Conservative pundit Tomi Lahren, who turned 25 today, touched on those fraying nerves recently when she decided to make a joke about the overall softness of some men in her generation. 
As I watch millennial men struggle to lift their bags into the overhead bin I am reminded how f'd we are if there's a draft.

— Tomi Lahren (@TomiLahren) August 9, 2017
Unsurprisingly, the clap back on Twitter to Lahren's joke was immediate—in part because there are plenty of hardass millennial men serving in the U.S. military.
1M+ young people served honorably in Afghanistan & Iraq. Thousands killed. Many more wounded. What in God's name are you talking about? 👎🏼

— Rep. Eric Swalwell (@RepSwalwell) August 9, 2017
Nice try at "comedy" but you're just a dumb person who tried to insult millennials and instead just insulted the people protecting you.

— Travon Free (@Travon) August 11, 2017
as i watch @TomiLahren struggle to make twitter jokes i am reminded how f'd we are if there's a last comic standing draft

— vanessa a. libratine ♎️🍂✌🏾 (@Vanessa_ABee) August 11, 2017
Lahren defended herself and others were quick to defend her as well.
First of all, take a joke. Second, you're right and those who have joined the military voluntarily would not be drafted. Eric meet my point. https://t.co/to7Rdr4QOB

— Tomi Lahren (@TomiLahren) August 10, 2017
She hit the nail on the head there. IF THERES A A DRAFT. Doesn't take a brain surgeon to figure out wat she's sayin. Morons.

— Matt Huston (@matthuston99) August 11, 2017
https://twitter.com/itsbuckyyoufool/status/896045240737386496
Lahren is playing it cool thus far and has dropped the subject. 
This all comes on the heels of increasingly heated tensions between the U.S. and the nuke-obsessed Hermit Kingdom.
https://twitter.com/realDonaldTrump/status/895970429734711298
But hey, regardless of your political viewpoint, who would blame her for moving on? 
No one wants to spend their birthday fighting everyone on Twitter.
h/t Uproxx