Tostitos' Hi-Tech New Party Bag Can Detect Booze on Your Breath and Call An Uber
This Super Bowl snack will keep you safe.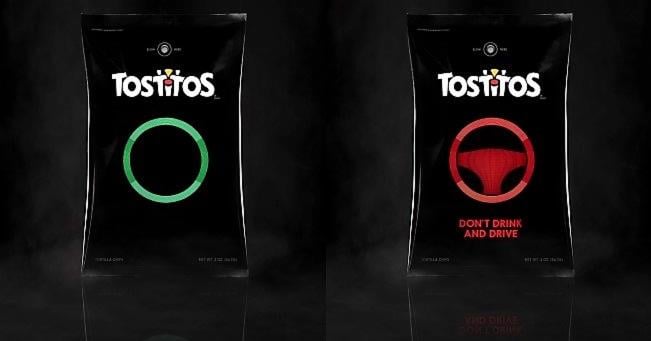 Tostitos via Adweek
The future of snack food has arrived. It comes in the form of a bag of tortilla chips that wants to help your drunk ass get a ride home on Super Bowl Sunday. 
In partnership with Uber and San Francisco-based Ad agency Goodby Silverstein, Frito-Lay is putting Tostitos in hi-tech bags equipped with devices that can remind snackers they've been drinking and hail them an Uber. 
The futuristic-looking black bags are outfitted with technology calibrated to detect small traces of alcohol on a person's breath. If you've had anything to drink, the green circle turns red and shows an image of a steering wheel, and the words "don't drink and drive" appear underneath.  

Should someone choose to heed this excellent advice, the bag also contains a Near-Field Communication (NFC) chip that will allow intoxicated people to call an Uber by simply tapping the bag with their phone.  
This might seem like a marketing ploy and, well, it is. 
But it's only part of the chip-maker's effort to combat drunk driving. Only a limited number of the "Party Safe" bags have been made, but almost all standard bags of Tostitos will include a $10 coupon code redeemable in the Uber app. 
"Our goal is to remove 25,000 cars from the roads that Sunday evening," Frito Lay chief marketing officer Jennifer Saenz chief told Adweek. "Whether watching the big game at a friend's house or at a local bar, a safe ride home is just a few easy taps away. By simply entering a participating Tostitos UPC code in the Uber app, fans nationwide can receive $10 off an Uber ride."  
We have to agree: Staying safe and eating chips is a pretty great way to spend Super Bowl Sunday night.  
h/t: Hype Beast