See How This Cheesy Tribal Tattoo Was Transformed Into An Amazing WWII Memorial
The photos have gone viral for a reason…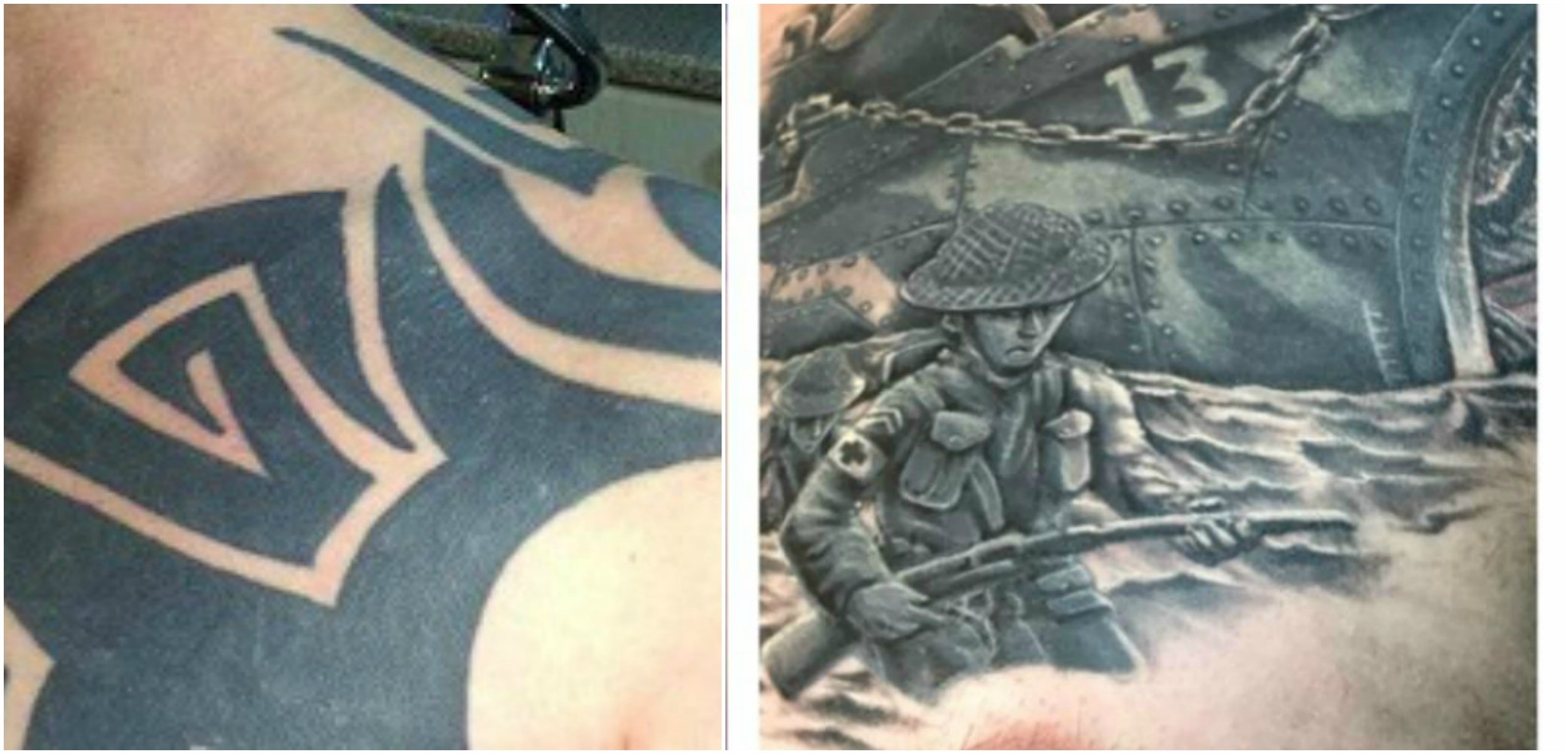 Bad tattoos are really unfortunate, mainly because you can't get rid of it unless you get it blasted off your skin with a laser, but also because you literally did it to yourself with your own money. Oof, rough.
But some of the lucky ones get their completely shitty tattoos turned into something beautiful, like this dude right here. Say hello to Wayne O'Toole's tribal sleeve tattoo. Hello, Wayne's tattoo!
Courtesy of tattoo artist Ben Boston at Tattoo Studio Bristol in Bristol, England, Wayne got his tribal tat transformed into something absolutely incredible in just 30 painstaking hours. I know, I know – 30 hours seems like an insane amount of time to have your skin shredded by a tattoo gun, but for Wayne, it was so totally worth it.
Over those 30 long, agonizing hours, Boston transfigured the thick lines of his played-out tribal tattoo into a seriously badass memorial honoring the fallen British soldiers of World War I and World War II.
Just look at it! There's not a trace of cheesy tribal tattoo under all that fresh ink. Ben Boston is truly an artist.   
" tml-embed-width="500″ tml-embed-height="503″ tml-render-layout="inline
After Boston posted the finished product on Facebook, the post racked up nearly 16 million hits, probably because a transformation like that is so remarkable. 
 I mean, have you seen what other tattoo cover-ups look like?
Haha. No thanks.
If you want to get a shitty tat transformed into a magnum opus like Wayne did, you can! Just reach out to Ben Boston at The Tattoo Studio Bristol and request an appointment. Thanks to the WWII tat going viral, they can't squeeze you in for a while since they're reportedly booked solid until 2018, but no matter. 
Good things come to those who wait, right?
H/T: UNILAD