Dog 'Arrested' for Being a Bad Boy, Photo of Him in Cop Car Goes Viral
The police detained the problematic pooch for attacking a deer.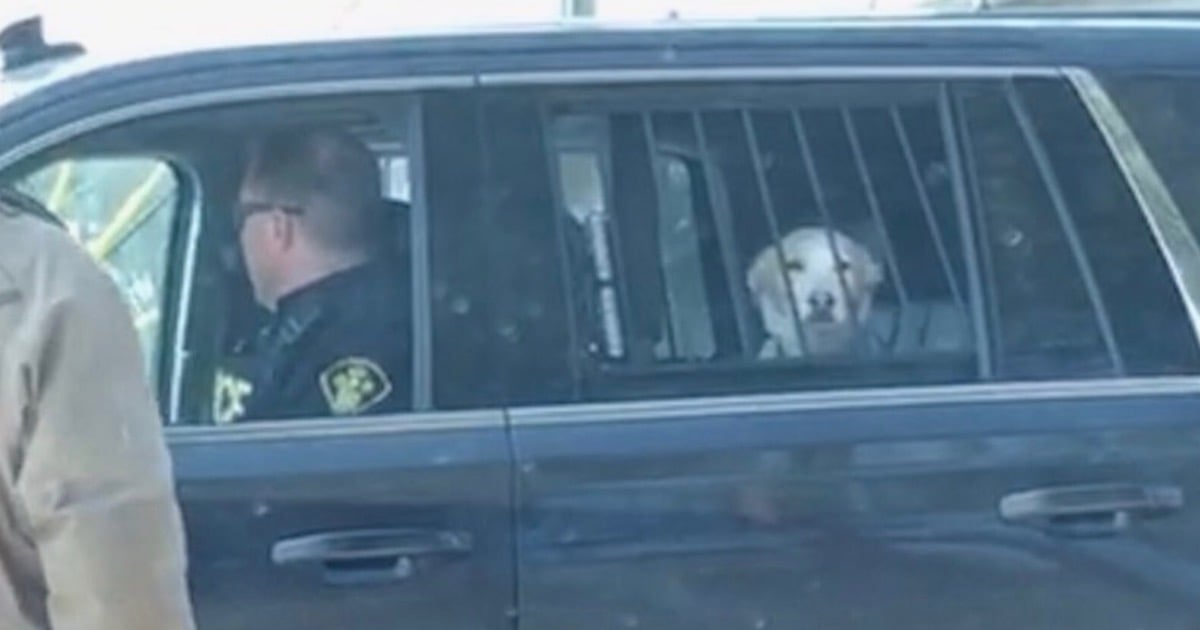 A photo of a dog sitting in the backseat of a cop car—after being a very bad boy—has gone viral.
Finn from Kenora, Ontario, Canada broke free from his owners during a walk in the woods. He then attacked a deer, prompting concerned onlookers to note the Ontario Provincial Police.
It all culminated in the most adorable arrest of all time.
someone called the police on my dog because he ran away and attacked a deer and i know this is serious but the sight of him in the cop car i'm alskdjfhsgh 😂😂😭😭 pic.twitter.com/czZqzzc3x3

— emme 🌻 (@emmethompsonn) April 14, 2018
"My dad and his girlfriend were walking Finn on some trails when he took off into the bush after something. They called him for quite a while, but he must have been too far because he didn't come back," Emme Thompson told Maxim.
"After walking back to the trailhead they received a call from the police saying that they had Finn in custody and that someone had called the police after seeing him chasing a deer along the side of the road."
When Finn was reunited with his owners, it was behind bars.
"When I first got the picture I thought it was hilarious, I didn't realize that it could have meant Finn could be put down. He said it was unlikely but we were still really worried."
Thankfully, Finn, now a viral sensation after Emme's photo blew up, has been returned to his owners. Still, he may not be out of the dog house. 
"They said someone might be in touch about what happened but we haven't heard any news, and we're taking no news as good news. He is home safe now and he was a little bruised up after his run in with the deer, but he's OK."
Despite his run-in with the law, Emme insists her dog is not a bad boy at all… but rather a very good boy.
thank you SO much for all the nice messages and replies asking about finny! i wish i had time to answer all of them – they let us off with a warning and he is going to be just fine! pic.twitter.com/yDakSOAY2a

— emme 🌻 (@emmethompsonn) April 16, 2018
"He's normally good at staying close by when we walk him but he has run away before. We have our phone number on his collar but normally someone will have seen him wandering the neighborhood, not detained by the police."