Watch This Terrifying  Video of Apocalyptic Wildfire Consuming The Los Angeles Hills
This is a nightmare.
" tml-render-layout="inline
California has always been plagued by wildfires, and every year Southern California is subject to the dry Santa Ana winds. When the two combine you get hell on Earth, and that's exactly what communities are experiencing around Los Angeles with the so-called Skirball Fire.
The video above was originally posted on Twitter early Wednesday, and it demonstrates that the devastation is widespread and not even close to contained. 
The Los Angeles Times reports that the flames have reached the wealthy suburb of Bel Air as of early Wednesday. The typically clogged 405 Freeway was closed on the northbound side and residents are fleeing mansion homes. 
Homes located on famous roads like Mulholland Drive and Sunset Boulevard are considered endangered.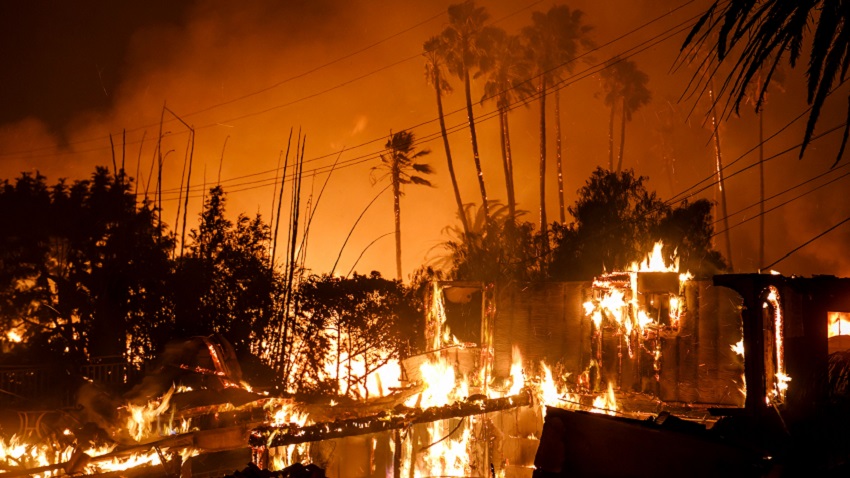 With the Santa Anas reaching 25 mph, the Skirball is only likely to continue spreading, and spreading fast. 
Celebrities like Kim Kardashian are tweeting about the fires, and several—including Kardashian and husband Kanye West—may need to evacuate for their safety.
I pray everyone in Los Angeles is safe from these fires and THANK YOU to all of the fire fighters working so hard to keep everyone safe!

— Kim Kardashian West (@KimKardashian) December 6, 2017
The entertainment industry has been seriously affected as well. A separate Ventura County fire called the Thomas Fire has shut down several productions, including CBS's new cop drama S.W.A.T. and HBO sci-fi hit Westworld.  
Social media users are posting photos and videos that might give anyone who has ever considered relocating to the sunny warmth of Southern California serious second thoughts.
Earthquakes, dams breaking, fires, Great Whites, Zodiac Killers, San Francisco 49ers. All reasons to not live in California. pic.twitter.com/PV5qHeT7ff

— BeatinTheBookie.com™️ (@BeatinTheBookie) December 6, 2017
This is a disaster that hasn't even reached its midpoint yet, if comments from emergency services officials are any indication. LAFD Capt. Cody Weireter's words to the Times were ominous. 
"You've got heavy, heavy brush," he said, "you've got the dryness — obviously, we haven't had any rain at all. A lot of the fire is topography-driven, which already becomes dangerous. The wind is going to increase that twofold."
Translation: It could get much worse before it gets better.