LISTEN: Weed-Smuggling Idiots Got Paranoid and Called 911
Don't get high on your own supply.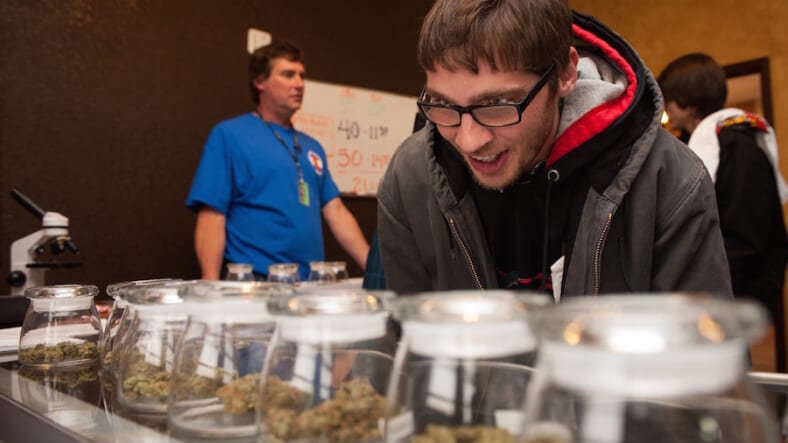 Perhaps due to all the bloodshed behind the saga of a drug boss like El Chapo, our perception of drug traffickers is of bloodthirsty despots ruling through fear and violence.
Two idiots from Idaho might change that.
In 2015, Idaho police nabbed two half-assed traffickers, 22-year-old Leland Ayala-Doliente and 23-year-old Holland Sward, for attempting to transport 20 pounds of marijuana across the border. Somewhere along their journey, these two aspiring criminals got high on their own supply and became incredibly paranoid. So paranoid they imagined undercover police were hot on their tails.
Naturally, they called 911 to surrender themselves. Police just released their sadly hilarious 911 tape. Listen below:
" tml-embed-width="600″ tml-embed-height="355″ tml-render-layout="inline
Ayala-Doliente, clearly the mastermind behind the operation, began, "Hi. Uh, we're the two dumbasses that got caught trying to bring some stuff through your border."
When asked by the police if they had any weapons in their vehicle, Ayala-Doliente said "just a bunch of snacks and stuff." Because of course they had snacks.
This crime went down last year on January 23, 2015. According to UPI, the duo has since been charged with felony marijuana possession. Sward got off easy with five years of probation and 30 days in jail. Emerging genius drug baron Ayala-Doliente got the shaft with one and half to eight years in prison.
Luckily, they received no charges for the snacks.