How Vincent Camarda Built One Of America's Top Investment Management Firms
As CEO of AG Morgan Financial Advisors, Camarda leads one of America's most respected financial planning firms.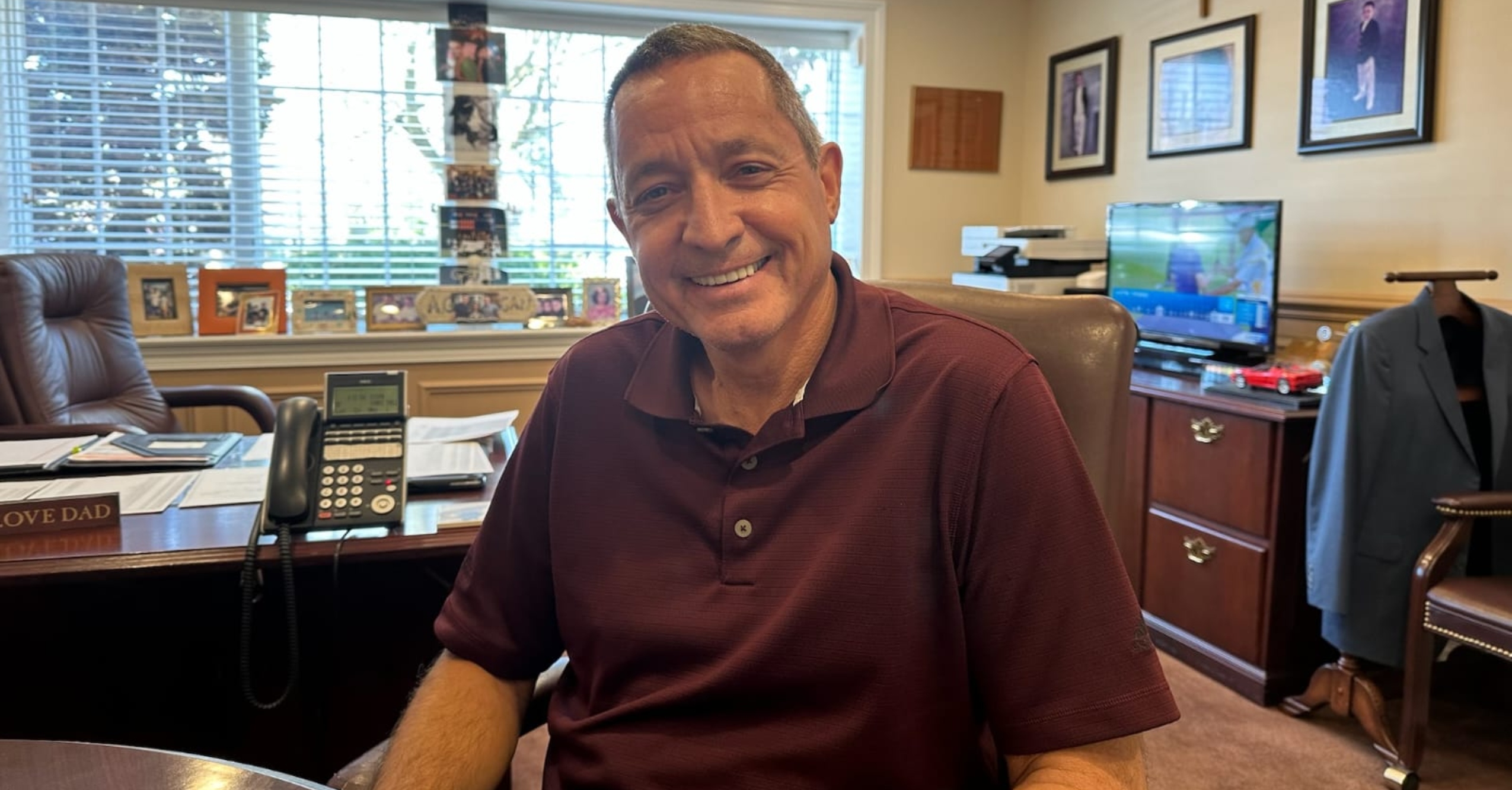 (Vincent Camarda)
Presented by TDM
In an industry where trust and expertise are paramount, Vincent Camarda has built a stellar reputation as a financial advisor and business leader. As chairman and CEO of AG Morgan Financial Advisors, LLC, Camarda has consistently demonstrated a commitment to helping clients achieve their financial goals. His journey from humble beginnings to leading one of the most respected financial planning firms in the country is a testament to his perseverance, skill, and dedication to his clients.
Camarda's journey began when he graduated from Hofstra University with a bachelor's degree in business administration, majoring in accounting. He quickly entered the financial industry as a financial advisor with American Express, where his talent and hard work saw him swiftly rise through the ranks. By 2003, Camarda had become American Express' second-highest producing financial advisor in the entire country, with his client base growing rapidly thanks to referrals and word of mouth.
In 2005, Camarda made the bold decision to leave American Express and establish his own independent investment management firm. The result was A.G. Morgan Financial Advisors, LLC, a full-service financial planning firm that would soon garner a reputation for excellence and client satisfaction.
At the heart of A.G. Morgan's philosophy is the belief that clients should be empowered to make prudent choices about their financial lives in pursuit of long-term financial independence. By creating comprehensive financial plans tailored to each client's unique needs and goals, A.G. Morgan's team of advisors helps clients turn their dreams into reality.
AG Morgan Financial Advisors offers a wide range of services designed to cater to the diverse financial needs of its clients. These include investment services such as bonds, stocks, private placements, and various types of Individual Retirement Accounts (IRAs). By offering a diverse array of investment options, A.G. Morgan ensures that clients can find the right mix of assets to suit their risk tolerance and financial objectives.
In addition to investment services, A.G. Morgan provides financial planning services such as tax planning, college planning, retirement planning, and money management. By taking a holistic approach to financial planning, the firm ensures that clients are well-prepared for all aspects of their financial lives, from saving for their children's education to planning for a comfortable retirement.
Finally, A.G. Morgan's insurance services, which include life insurance, disability income, and long-term care insurance, provide clients with the peace of mind that comes from knowing their loved ones will be taken care of in the event of unforeseen circumstances.
A Strong Leadership Team
Camarda's leadership at AG Morgan Financial Advisors is complemented by that of President and Chief Compliance Officer James McArthur. Together, they have assembled a team of dedicated professionals who share their commitment to client satisfaction and success.
A Life in Balance
Camarda's success in the financial industry has not come at the expense of his personal life. He is a devoted father to his three children and considers them the most important things in his life. His ability to balance his professional and personal commitments is an inspiration to those who work with him and a testament to his strong character.
The Future of A.G. Morgan Financial Advisors
Under the guidance of Camarda and McArthur, A.G. Morgan Financial Advisors is poised for continued growth and success. With a solid foundation built on client trust and satisfaction, the firm is well-positioned to continue helping individuals and families achieve their financial goals for years to come.
A Commitment to Education and Growth
One of the keys to Camarda's success has been his commitment to ongoing education and professional development. By staying informed about the latest trends and advancements in the financial industry, Camarda ensures that his firm remains at the cutting edge of financial planning and investment management. This dedication to knowledge is evident in his numerous FINRA Series 7, 63, and 66 securities registrations, as well as his licensure as an insurance agent.
This commitment to excellence extends to the entire team at A.G. Morgan Financial Advisors. Advisors at the firm are encouraged to pursue continuing education and professional development opportunities, ensuring that they remain well-versed in the latest financial strategies and tools.
Navigating Complex Financial Markets
Camarda's nearly three decades of experience in the financial industry have given him invaluable insights into the complexities of financial markets. His understanding of market trends and his ability to identify potential opportunities have been instrumental in helping clients build robust investment portfolios.
Camarda and his team are well-versed in navigating the ever-changing financial landscape, ensuring that clients receive sound, well-reasoned advice on investments, financial planning, and insurance.
Community Involvement and Giving Back
A.G. Morgan Financial Advisors' commitment to excellence is not limited to its work with clients. The firm has a strong belief in giving back to the community and supporting charitable causes. Under Camarda's leadership, A.G. Morgan Financial Advisors has been involved in numerous philanthropic endeavors, reflecting the firm's dedication to making a positive impact in the world.
By aligning its values with those of its clients, A.G. Morgan Financial Advisors has been able to cultivate strong, long-lasting relationships built on trust, integrity, and a shared commitment to making the world a better place.
Client Testimonials: Stories of Success
The true measure of a financial planning firm's success lies in the satisfaction of its clients. A.G. Morgan Financial Advisors has helped countless individuals and families achieve their financial goals through personalized financial planning, investment management, and insurance services.
Clients often praise the firm's attentive, personalized approach, which prioritizes their needs and goals above all else. By taking the time to truly understand each client's unique financial situation, A.G. Morgan Financial Advisors has been able to create customized financial plans that yield tangible results.
The Power of Teamwork
At A.G. Morgan Financial Advisors, collaboration is key. Camarda has built a team of professionals who work closely together to provide clients with the best possible financial advice and support. This collaborative approach allows the firm to draw on the unique skills and expertise of each team member, ensuring that clients receive well-rounded, comprehensive financial guidance.
This spirit of teamwork extends beyond the walls of A.G. Morgan Financial Advisors. The firm frequently partners with other financial professionals, such as accountants and estate planning attorneys, to provide clients with a seamless, integrated approach to managing their financial lives.
Conclusion
Camarda's inspiring journey from a young financial advisor to the Chairman and CEO of A.G. Morgan Financial Advisors has been marked by his unwavering commitment to his clients and his passion for helping people achieve financial independence. Through his leadership, the firm has become a trusted partner to individuals and families across the country, offering a wide range of financial services designed to empower clients to make prudent choices about their financial lives.
With a strong foundation of trust, expertise, and a commitment to client satisfaction, A.G. Morgan Financial Advisors is poised to continue its success well into the future. Under the guidance of Camarda and his dedicated team of professionals, clients can feel confident that they are in the best possible hands as they navigate the complexities of their financial lives. With a strong leadership team, a commitment to ongoing education, and a focus on collaboration, A.G. Morgan Financial Advisors is well-equipped to guide clients towards their financial goals and dreams.
As Camarda and his team at A.G. Morgan Financial Advisors continue to push the boundaries of excellence, clients can expect the same level of personalized, attentive service that has become the firm's hallmark. With an unwavering dedication to empowering clients to make informed financial decisions, A.G. Morgan Financial Advisors is poised to remain a trusted partner in the pursuit of financial independence for many years to come.