Meet 10 Inspirational Women Through Their Success Stories
From accomplished entrepreneurs to industry disruptors and rising stars.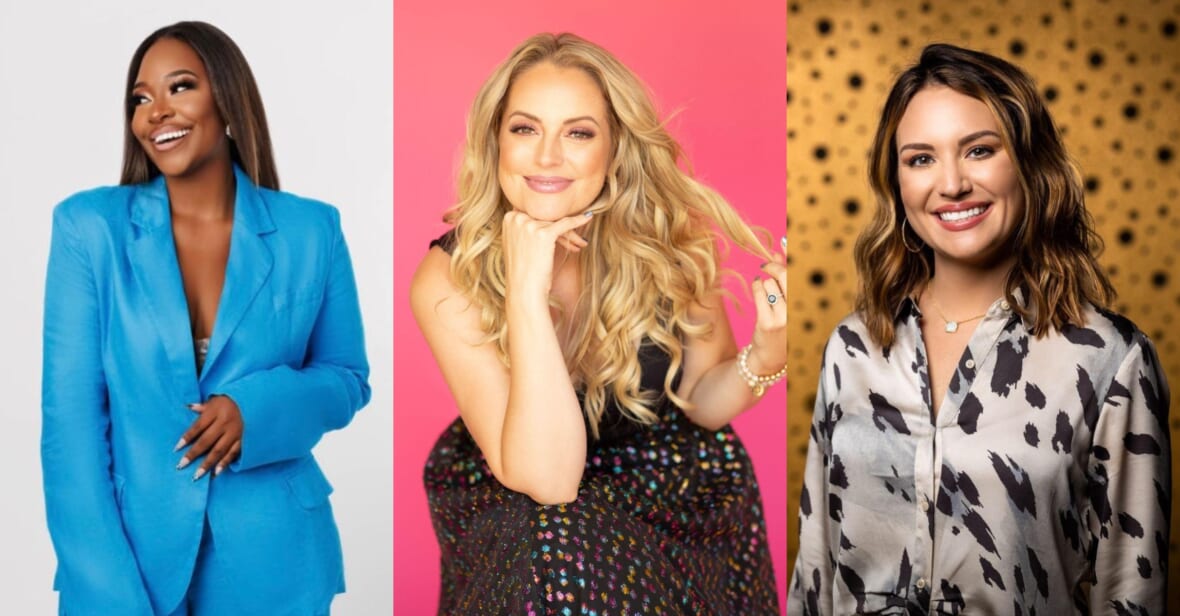 Presented by Fame Media
Whether you're just starting a career or you're looking to take your business to the next level, these women's success stories can provide valuable insights and motivation. They've all shared their experiences, strategies, and thought processes on social media and through various platforms, giving anyone the opportunity to glean insights.
From well-known industry giants to rising stars, these women are sure to make an impact and inspire others' paths to success.
Elena Cardone
Elena Cardone is an entrepreneur, speaker, and author. She is the CEO of the Cardone Group, a real estate investment company, and the co-founder of the 10X Growth Conference. She has also written several books, including Be Obsessed or Be Average and The 10X Rule: The Only Difference Between Success and Failure.
Elena was born and raised in New York City. She got her start in business at a young age, working in sales and marketing for various companies. In 2010, she and her husband Grant Cardone founded the Cardone Group, which has since become a successful real estate investment firm. In addition to her work at the Cardone Group, Elena is also an accomplished speaker and author. She has given talks at events all over the world and written several books on business and personal development.
In addition to her professional pursuits, Elena is also dedicated to philanthropy and giving back to her community. She is a board member of the Grant Cardone Foundation, which works to empower underserved youth and provide them with the tools and resources they need to succeed.
To learn more about Elena Cardone and her work, you can visit Elena Cardone's website.
Kim Perell
Kim Perell is a highly accomplished entrepreneur and business leader, known for her innovative approach to business and her dedication to empowering other women in the workplace. With a background in technology and marketing, Perell has built a successful career as a CEO, author, and speaker.
Perell began her career in the tech industry, rising through the ranks to become the youngest executive at Amobee, a global technology company. In 2013, she became the CEO of Amobee and led the company through a successful IPO in 2014. Under her leadership, Amobee became one of the fastest-growing tech companies in the world.
In addition to her impressive career in tech, Perell is also a bestselling author and motivational speaker. Her book, The Execution Factor, offers practical advice and strategies for achieving success in business and in life. Perell is also a strong advocate for women in business and has been recognized for her efforts to promote gender diversity and equality in the workplace. She is a role model for aspiring female entrepreneurs.
To learn more about Kim Perell and her work, click here.
Jenna Phillips Ballard
Jenna Philips Ballard was given a second chance at life after recovering from a head trauma-induced coma and brain damage in 2000. The odds were stacked against her, and doctors feared she'd never be the same, but she continued to fight and defy expectations. She made a full recovery and this motivated her to be an inspiration for countless people.
Jenna began her career in Los Angeles as a personal trainer and mindset coach, working with celebrity clients such as Ben Stiller, Katy Perry, Jeremy Piven and the founders of Guess, as well as Saudi Arabian Royalty. After over a decade in the fitness sector, Jenna developed a greater passion for coaching successful leaders in emotional intelligence and personal and professional development.
This led her to co-found Ascension Leadership Academy (ALA) with her husband to help people achieve their full potential. Since its inception, ALA's students have raised over $3 million for nonprofit organizations, and in just 18 months, 10 new teams of leaders have experienced their curriculum in Austin. ALA has become America's leading emotional intelligence center, coaching thousands of individuals across the globe. 
Looking to the future, Jenna and her husband envision continuing to serve the top 1% leaders of the world and expanding their operations internationally. People travel from all over the world to attend their trainings, and they hope to make it easier for busy individuals to benefit from their work. After having countless companies experience hockey stick growth with ALA's guidance, they are beginning to offer high-level retreats internationally to create an even deeper level of healing and integration. With Jenna and her team at the helm, the sky's the limit for ALA's continued success and impact.
To learn more about Jenna Philips Ballard, click here.
Danelle Delgado
Danelle Delgado, also known as the "millionaire maker," is a serial entrepreneur and motivational speaker. She rose to success after facing the challenge of raising her three children on her own. Delgado went from working three jobs, 80-90 hours a week to survive, to becoming an award-winning success in the business world. Her commitment to accelerated growth has caught the attention of the leading publications like including Forbes, USA Today, and Success Magazine. She has built some of the fastest-growing online personal and business development training companies to date, helping solo-preneurs, small businesses, and large corporations achieve their goals.
Delgado is also an international speaker, best-selling author, and online influencer. Her book, I Choose Joy, has inspired many people around the globe. She is known for her unmatched skills in guiding entrepreneurs to success, both online and offline and believes that life is too short to not live it to the fullest, and is determined to help others do the same. Danelle is committed to making sure that anyone who is ready to learn and apply her training methods can access them in order to achieve their desired results.
Through her work, Delgado aims to empower people to fulfill their potential and monetize it. "When people earn, they can give. That's how we change the world." She is dedicated to helping the committed earn and make a difference with it. She won't stop until the world understands the importance of individual success and how it can lead to the impact of others. Her message is one of positivity, determination, and the belief that with hard work, anyone can achieve their goals.
To learn more about Danelle Delgado, click here.
Ellie Shefi
Ellie Shefi is an attorney, advisor, entrepreneur, leadership consultant, corporate trainer, keynote speaker, and No. 1 international best-selling and award-winning author who helps organizations optimize their culture and individuals expand their influence. As the founder of MTC Consulting, Ellie leverages more than 30 years of experience in law, business, education, and human rights advocacy to help organizations build resilient teams and world-class cultures while developing influential leaders. Serving as a strategic advisor to governments, universities, corporations, entrepreneurs, and NGOs, she has successfully helped organizations mitigate risk, optimize their operations, and align their teams.
Dedicated to empowering others to use their voice, Ellie founded Made to Change the World™ Publishing, a full-service independent publishing house, where she guides aspiring best-selling authors through the writing and publishing process and helps leaders amplify their message so they can scale their impact. Additionally, Ellie appears on top platforms like NBC, ABC, and CBS and hosts the Free by Design television show, the Creating an Impervious Mind YouTube series, and the You Are Not Your Scars podcast.
An outspoken advocate fighting against injustice, Ellie is proud to serve on the leadership councils and advisory boards of nonprofits focused on civil rights, human rights, criminal justice reform, disaster recovery, fighting human trafficking, and ending mass atrocities. Ellie has spent decades cultivating her unique expertise that she now shares with her clients to create well-rounded organizations and businesses that best serve their wider communities.
To connect with Ellie and learn more about her services, click here.
Alice Chen & Simran Kang
Simran Kang and Alice Chen founded MyFO—the first scalable WealthTech SaaS platform that is on a mission to democratize and digitize Family Office management for everyone building wealth. The two co-founders ran a multi-family office together at first and quickly noticed their workflows were inefficient due to lags in technology. Realizing the software they wanted to license hadn't been built, they decided to embark on the challenge to build it themselves.
Simran Kang, CPA, is a recognized leader in family office management with over a decade of experience advising ultra-high net worth families from a multi-faceted career in accounting and finance.
Alice Chen is a serial entrepreneur who has established a variety of seven-to-eight figure businesses. Her business talents were quickly showcased in her first venture, which led to her being named a Top 40 Under 40 in 2013, three years into pivoting from a career practicing law. The diverse backgrounds of its founders have driven MyFO to be distinct from anything in the marketplace.
As the WealthTech industry continues to grow, it is becoming increasingly important for banks to cater to millennials and their unique needs in managing finances. If banks lose millennials' interest by not adapting to their technological standards and unique needs, they will be left with no other option but to close their doors.
Millennials have grown accustomed to technology, so they expect the same level of innovation from their banks as they see from Silicon Valley startups. They want to access their accounts from anywhere and have instant access to information about all aspects of their finances.
With over two decades of collective business acumen, Alice & Simran were able to develop a revolutionary platform which consolidates all of one's assets, key people in their life, as well as key documents —governing one's existence within just one convenient subscription.
To learn more about Alice Chen & Simran Kang, and their revolutionary platform, click here.
Mandy McEwen
Mandy McEwen is the Founder & CEO of Mod Girl Marketing, an award-winning social media consultancy, and Luminetics, a LinkedIn training company. For over a decade, McEwen has been a pivotal figure in the digital marketing sector. She's been recognized as a Top 24 Business-to-Business Marketer by LinkedIn, and also as a Top 10 Marketer by DigitalMarketer. In addition to these distinctions, she has been featured in dozens of industry outlets including Inc. and the Huffington Post. 
As a corporate social selling trainer for Luminetics, McEwen empowers and educates ambitious sales and marketing teams across the globe to better leverage LinkedIn. The immeasurable value she is able to bring to her clients through her programs like the Modern Social Seller has led to positive results within 48 hours.
McEwen and her team at Mod Girl also provide modern social media training for global marketing teams and organizations like DigitalMarketer. Mod Girl gives innovative brands the social media advantage they need to outsmart, outperform, and outlast the competition.
When she's not training sales and marketing teams, McEwen is traveling the globe as a nomad and presenting on stage as a keynote speaker.
To learn more about Mandy McEwen, as well as her companies Mod Girl Marketing and Luminetics, click here.
Rachel Botta
Rachel Botta is a top-producing realtor based in Knightsbridge, London. With an MSc in Finance & Economics from Warwick Business School and an MSc in Law & Accounting from the London School of Economics, her background in finance has allowed her to foster relationships with a wide array of high net-worth individuals and corporations across the city and globally.
Her discerning client base includes fast-growing startups, Fortune 500 CEOs, celebrities, international industry-makers, prominent real estate brokers, developers and investors as well as financiers and wealth managers, family offices and real estate funds on both a national and global scale.
An expert networker, Rachel is ultra-attentive, diligent and tenacious, as well as a leading expert in both the luxury and institutional real estate industries. This networking ability coupled with her rigid moral compass and in-depth market knowledge allows her to create a totally unique approach to marketing that places her head-and-shoulders above the competition. Rachel Botta is fast becoming one of the UK's most sought-after luxury real estate agents, having completed hundreds of millions of pounds in residential and commercial real estate sales over the last couple of years alone.
Keri D. Richardson

Born and raised in the South, Keri is a luxury marketer and experience creator associated with Essence Ventures, the parent company to AfroPunk, BeautyCon, Essence Communications, Essence Studios, and many more. She is responsible for the execution and development of partnership initiatives, leveraging Essence's wide presence to create branded content, custom programs, experiential activations, and strategic events.
Recognized on the list of 2023 Luxury Women to Watch by Luxury Daily, Keri is a well-known speaker and has graced events like Cannes Lion, South by Southwest, and Miami Art Basel. Moreover, she has appeared on Brand Innovator's 40 Under 40 list.
When not at work, she is a certified gelato chef and licensed private pilot. She was recently named Vice President of Brand Activations at Essence Ventures. Keri's key marketing recommendation is for brands to create authentic connections with their consumers and for them to seek out storytelling opportunities highlighting rich cultures.
Click here to know more about Keri and Essence Ventures.