Red Iron Construction Founder Justin Waller Shares The Importance Of Positivity
The self-made entrepreneur and investor's uses self-belief to overcome life's adversities.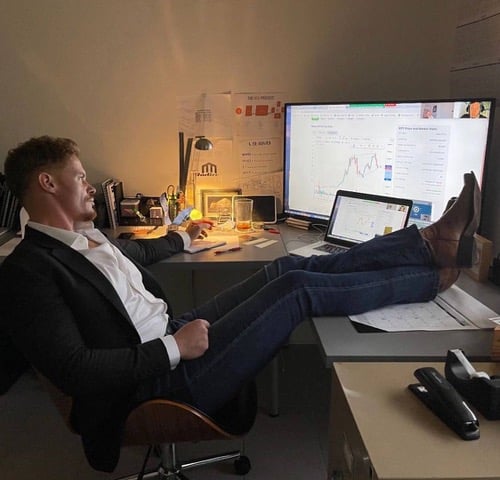 Presented by Ascend Agency
In a world where everyone is motivated by fear of failure, many people often tend to forget the importance of positive thinking. In most cases, people are worried about things going wrong, which can negatively impact their quest for success. This is by far a major "dream killer" as only a few are bold enough to overcome and conquer their fears. Nevertheless, adopting a positive mindset could be a pathway to success.
If you focus on the positive, you will find it easier to find solutions to every challenge. It also gives you room for mistakes but, more importantly, the avenue to learn and build from. This then helps you create a solid foundation for the realization of your dreams.
Self-made entrepreneur and investor Justin Waller shares an uplifting journey of self-belief and overcoming life adversities to realize his dreams. The construction and real estate businessman is one of the fast-rising steel erectors in the country. He is the founder of RedIron Construction, a 130-employee company working in all 50 states and the Caribbean. Under Justin's leadership, RedIron Construction provides an array of construction services to the metal building industry from airplane hangars to huge department stores like Rooms To Go and Costco.
Justin is also renowned for his unmatched work ethic and business strategies. In addition to being a member of the Metal Building Contractors and Erectors Association, he takes pride in including women in construction management.
A successful entrepreneur, Justin strongly believes in the value of learning from others, including eminent authors like Robert Kiyosaki, Patrick Lencioni, and Robert E. Gerber, among others. The knowledge he acquired is demonstrated in the success of his entrepreneurial strategies.
More importantly, Justin has emerged as a mindset champion. His journey from a small town to success taught him the value of a positive mindset, especially when facing challenges. Positive thinking opens up your mind to new possibilities and solutions. As a result, Justin champions turning every hurdle into a learning curve and extracting the most from them.
Along with positively overcoming every obstacle, creativity and invention are also crucial. Justin says that these difficulties will equip you with the necessary lessons for the next stage of your journey.
Surrounding yourself with successful and like-minded individuals is critical in the quest for success. Such people might share the same beliefs and support your aspirations, which can become the inspiration to test your limits. The secret is to have a mentor who will push you outside your comfort zone toward the path to success. Also, Justin believes in never giving up. To him, there is always a way around every hurdle.
Justin has the potential to achieve tremendous success. He plans to concentrate on real estate and make progress in the sector. He also intends to make cryptocurrency investments and provide company clients with success-building guidance. Now that Justin solidly established himself in the real estate and construction industries, he sees himself guiding others to the success they deserve.