Tequila Gran Diamante Is An Award-Winning, Top-Shelf Spirit
The premium spirit's unique bottle took home the Beverage Testing Institute's Best Design Award in 2023.
Presented by The Luxury Lifestyle Magazine
It appears that in the world of spirits, there is a new tribe in town. Tequila Gran Diamante is an award-winning, ultra-premium tequila that's stirring up excitement on the spirits scene.
Named after the Spanish word for diamond, Diamante was created with no additives. And like a diamond, it has survived under different pressures and undergone many refinements since its birth.
Invested in the concept of greatness and producing "nothing but the best," Diamante's founder, Rafi Hannouche, took his time in launching the brand. Hannouche wanted the world to "rethink sexy" and "rethink luxury" when it came to his tequila and the the packaging it came in.
With the intricacy of a multi-faceted diamond, the Diamante bottle pays tribute to its Mexican heritage with symbols resting around its collar and cap, situated atop a thick, frosted glass. With a look inspired by a fragrance bottle, Diamante's unique bottle design took home the Beverage Testing Institute's Best Design Award in 2023.
Diamante's tequila aims to make you "rethink smooth." Aside from its specialty offerings of Extra Añejo and up-and-coming Mezcal, the brand offers the three main expressions of Plata, Reposado, and Añejo. The Reposado and Añejo are aged in French Oak barrels for eight months and 18 months, respectively.
The Plata features aromas of spice, slight vanilla, vegetal, and floral tones; while the Reposado hits the palate with caramel, slight wood and smoke.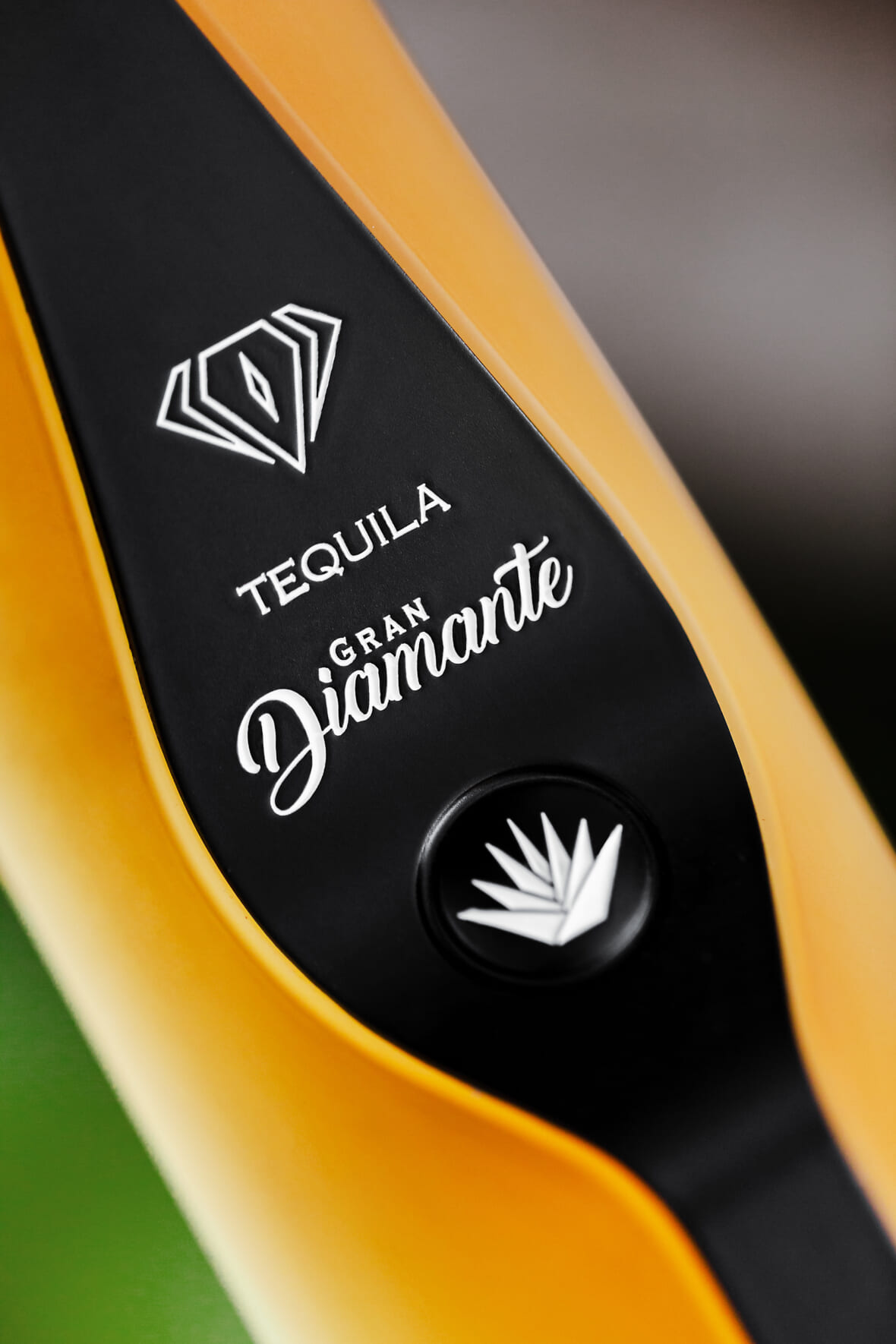 The multi-dimensional flavors of Diamante's Añejo include muted spice, pepper, and oak undertones along with butterscotch, cinnamon and nutmeg spices, slight smoke, wood, and hints of chocolate and cigar. The entire line of tequila is made from 100% Blue Weber Agave.
Diamante's different expressions are decorated with myriad awards, and the brand continues to receive accolades. A few include the Silver Award for its Reposado, Añejo, and Plata in 2022's Las Vegas Global Spirits Awards, as well as the Double Gold Award for its Añejo, the Gold Award for its Reposado, and the Gold Award for its Plata at the 2022 Proof Awards.
Seasoned mixologist and tequila connoisseur, Jose Ricardo Aguilar, has worked in cities like Las Vegas, Houston, Orange County, and Los Angeles, creating specialty drinks with different types of tequila over the years. Aguilar conducts tasting sessions for his cocktails known as Tequila/Mezcal Sessions, where Diamante has become a staple for him. It is also the driving force behind Aguilar's hit signature drinks at many big events.
His "Gran Passion" cocktail consists of Diamante's Plata or Reposado paired with his own secret passion fruit sour mix recipe. Being introduced to the world one party at a time, Diamante made many appearances in 2022 including the LA Tequila Fest, the Newport Beach Film Festival, and James Harden's Birthday club party.
It was also the featured drink at Harden's All-White Yacht birthday event, served in a "white cocktail" Aguilar created with coconut milk. Tequila Gran Diamante also started 2023 shining bright as it was introduced to many at Saks Men's Line relaunch in New York City in January, quickly becoming a guest-favorite.
Diamante is not your dad's tequila. With its custom-designed, sleek casing, this line is captivating a new crowd of tequila savants. Expect to see these frosted bottles on the top shelves of more stores, bars, and restaurants in the coming months. With its sexy presence and bold, adventurous taste, Diamante is a deserving, more approachable top-shelf tequila for today's generation.