The Best New CBD Oils To Try In 2022
Presented by Ascend Agency January saw the third annual celebration of National CBD Month, continuing the industry's exponential growth. Once […]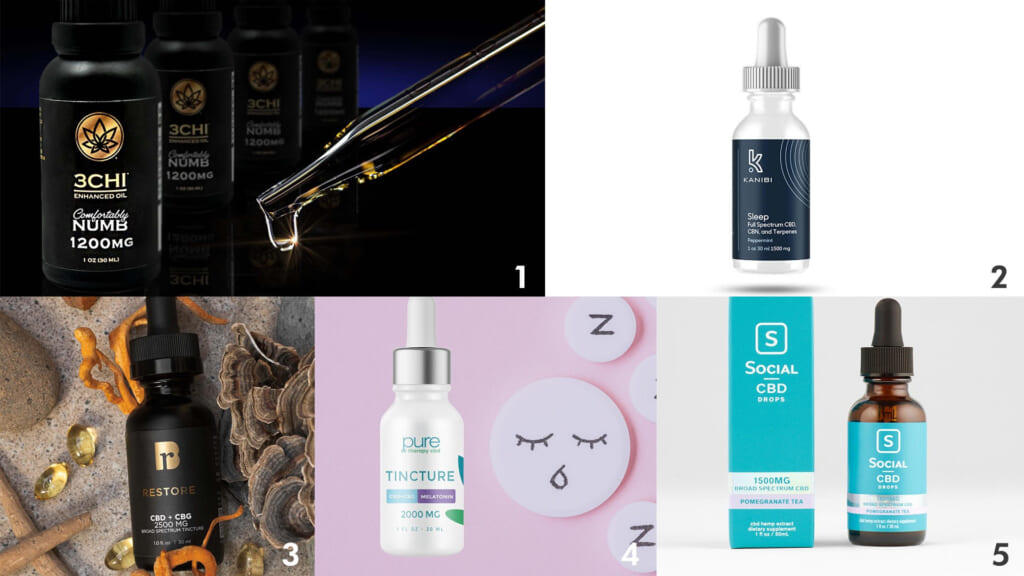 Presented by Ascend Agency
January saw the third annual celebration of National CBD Month, continuing the industry's exponential growth. Once considered a mystery ingredient, CBD has gained a stamp of approval from multiple sectors including beauty, pets and sports medicine.
CBD, along with sister cannabinoids CBG and CBN, is legally derived from the hemp plant and has been demonstrated to have multiple benefits, including anti-inflammatory properties that aid in muscular pain relief, gastrointestinal issues, and skin flare ups such as eczema. It's perhaps best known for its ability to effectively reduce and manage anxiety. This is where the quality and potency of ingestible CBD oil comes into play.
To help kick start your wellness journey, here are the top five premium CBD oils to try now:
3CHI Comfortably Numb Tincture
Ever since it came on the market, 3CHI has continued to set the industry standard for quality and testing, with all its products undergoing thorough testing at a third-party laboratory. This has enabled them to develop the number one product on this list.
Just like the name suggests, the Comfortably Numb Tincture by 3CHI brings about an extremely comfortable and relaxed body-focused feeling. It has a 1:1 Delta 8THC and CBN ratio, with CBC and proprietary terpene blend high in beta-caryophyllene to maximize effects. This blend is perfect for soothing relief and taking it easy.
Kanibi-Kanibi Sleep Full Spectrum CBD + CBN Oil
The Kanibi Sleep Full Spectrum CBD + CBN Oil contains the same base formula as their full-spectrum CBD oil tinctures but is enhanced with CBN and Terpenes. This has enabled it to be more effective as CBN is considered to have sedating effects that can improve sleep. When combined with potent terpenes, formulas with CBD and CBN stimulate deeper sleep with lower doses of CBD.
The Kanibi Sleep Full Spectrum Oil should be taken before bed. Turn off the lights and relax in bed without electronics for best results.
RESTORE CBD + CBG Tincture by Raw Botanics Co.
RESTORE is the ultimate go-to product if you want the maximum benefit of CBD, CBG, functional mushroom, and adaptogens. The RESTORE CBD+CBG tincture can help boost your immunity, enhance muscle recovery, improve gut health, lower inflammation, and ease hangovers while reinvigorating your mind, body, and soul.
Made in the USA from premium Kentucky hemp, RESTORE has no added additives/preservatives, no sugar and is keto, and Paleo-friendly.
Pure Therapy CBD
Is getting better sleep one of your New Years' resolutions? Pure Therapy's therapeutic grade CBD + CBG + Melatonin premium "sleepy time" mix is one of the strongest CBD oils on the market, and is now available for pre-order.
With 100MG of CBD per 1ML dose – 3000MG per 30ml bottle – you'll fall asleep quickly, and stay asleep through the night, awakening refreshed and ready to take on the day. This blend should be taken 15 minutes before bedtime for the best effect.
Social CBD
The Pomegranate Tea Broad Spectrum 1500 MG by Social CBD has exemplary benefits. The Pomegranate tea broad-spectrum CBD provides the perfect balance of sweetness. It helps regulate mood, stress response, and other vital activities.
CBD oils have numerous benefits, which depend on the quality of the oil and other ingredients in the mix, as well as the potency and amount being used. Check out each option above to learn more about how they can help improve your health and lifestyle.