The 10 Best And Worst Cars at the New York Auto Show
From the Aston Martin Vulcan to the Lincoln Continental concept, we look at the cars that hit, miss, and could go either way.
The cliché is that New York, and New Yorkers, don't know or care about cars—at least those without an Uber driver aboard. But the New York International Auto Show defies the stereotype: Once a second-tier affair, New York has risen to become a worthy final whistlestop on the yearly international show schedule. This year's media preview circus featured a raft of global or North American debuts, including several cars we can't wait to reel in, and only a few we'd throw back. Following these models' twirls on the runway, here are Maxim's show hits and misses, with a "Jury Out" status for a pair of Detroit sedans that need to deliver on early promise.
HITS
McLaren 570S – "Affordable" is a relative term. But at a rough estimate of $180,000 to start, the 570S is attainable by McLaren's F1-loving standards, looks smashing and rumbles with 572 horsepower from a mid-mounted, 3.8-liter twin-turbo V8. McLaren pegs a 3.2-second excursion from 0-60 mph and a 204-mph top speed, within champagne-spitting distance of the much pricier 650S.
Aston Martin Vulcan – Fresh from conquering Geneva, the Vulcan performed its mind meld on New Yorkers. Leave it to Aston Martin: They've somehow made this radical, raptor-winged beast look fetching and approachable – or as approachable as possible for a track-only, 800-plus-horsepower supercar. Aston collectors, insiders and likely a sultan or two are jostling for one of just 24 Vulcans to be produced, each commanding roughly $2.5 million.
2016 Porsche Boxster Spyder – With the larger, 3.8-liter flat six from the 911 nestled in its mid-engine core, the $83,095 Spyder is the sexiest, strongest and fastest Boxster yet. Like the beloved 2011 edition, the Spyder is a hardcore performer, lightened to just 2,899 pounds. The original's maddening, pup-tent style roof is replaced with a simpler affair that tucks beneath a gorgeous pair of headrest fairings. With 375 horsepower, a 180-mph top speed and a sprint to 60 mph in the low 4 seconds, this Porsche is a stinging rebuke to every glib, drunk or insecure guy who dismissed the Boxster as a chick car.
Bentley EXP 10 Speed 6 Concept – The emerald-painted jewel in Bentley's ultra-luxury crown, the EXP 10 concept sparked alcohol-fueled lust in every man and woman who laid eyes on it at Bentley's party in SoHo. Pleasingly scaled down from Bentley's usual dreadnought standards, the Aston-esque EXP 10 is only a concept for now, but the giddy critical response is surely resonating with the suits in Crewe. Build it, Bentley.
Mercedes-AMG GLE63 – Guilty-conscience types can choose the plug-in hybrid version of the new GLE, formerly known as the M-Class. If you'd rather turn a German Panzer loose in the burbs, the GLE63 is the one. This ostensible family SUV has some unusual values, expressed by its barrel-chested front end, gulping air intakes and glitzy three-pointed star. AMG's hand-built, 5.5-liter V8 generates 550 horsepower (or 577 for the GLE63 S) for an improbable 4.2-second surge to 60 mph.
Honda Civic Concept – The current Honda Civic, anonymous and technically complacent, has been a disappointment in every area save sales. But the extroverted Civic coupe concept floated in New York – and flaunting petri-dish green paint — raises hope that Honda might again seize the high ground in affordable small cars when a production sedan and coupe go on sale as 2016 models.
NEARLY THERE
Cadillac CT6 – Middling interior design and materials won't have Audi or Mercedes losing any sleep. But Cadillac's CT6 could challenge the Jaguar XJ as the sportiest sedan in the large-inseam class, the one that has back-seat loungers holding on for life. As generously sized as a standard-wheelbase BMW 7-Series, yet as light as some midsize models, the Cadillac still faces obstacles that stellar dynamics alone won't overcome: To pry a happy man from his BMW, Mercedes S-Class or Audi A8 is not an easy task, especially for a brand that hasn't fielded a legitimate top-tier sedan in decades.
Lincoln Continental – The Continental concept set off an impressive series of hissy fits: Bentley's chief designer flatly declared it a rip off of their Flying Spur. Skeptical journos recalled how many times Lincoln has cried wolf on reviving the Continental and its Camelot-era swagger. But setting aside the overused chrome – 10 Harleys appear to have been melted down and poured over the Lincoln – the Conti's plush blue, PanAm-style interior and powerful presence could make for the first no-apologies Lincoln in ages; the kind of America-first sedan that Matthew McConaughey might actually be at ease in, rather than an easy target for parody.
MISSES
2016 Nissan Maxima – With more tortured surfaces than the 50 Shades of Gray trilogy, the Maxima seeks to differentiate itself from the smaller Altima, and every other mainstream sedan. Like some other recent Japanese cars, the festooned Nissan works so hard to push the envelope of design that it ends up pushing the boundaries of taste. Give Nissan points for daring, perhaps, but it's hard to see this Maxima aging well.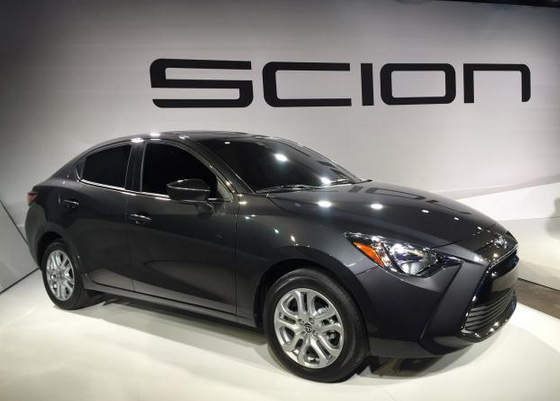 Scion iA – How do you spoil a Mazda2 hatchback? Slap a mouth on it that recalls a gasping, irradiated carp. Fortunately, the rest of the iA, Scion's first-ever sedan, does appear up to the standards of its Mazda donor car. That includes a price and fuel economy that will let young dudes pay for extra rounds of PBR's: About $16,000 to start, with up to 42 mpg on the highway.