10 Adventure Vans That Let You Own The Outdoors In Style
Why rough it?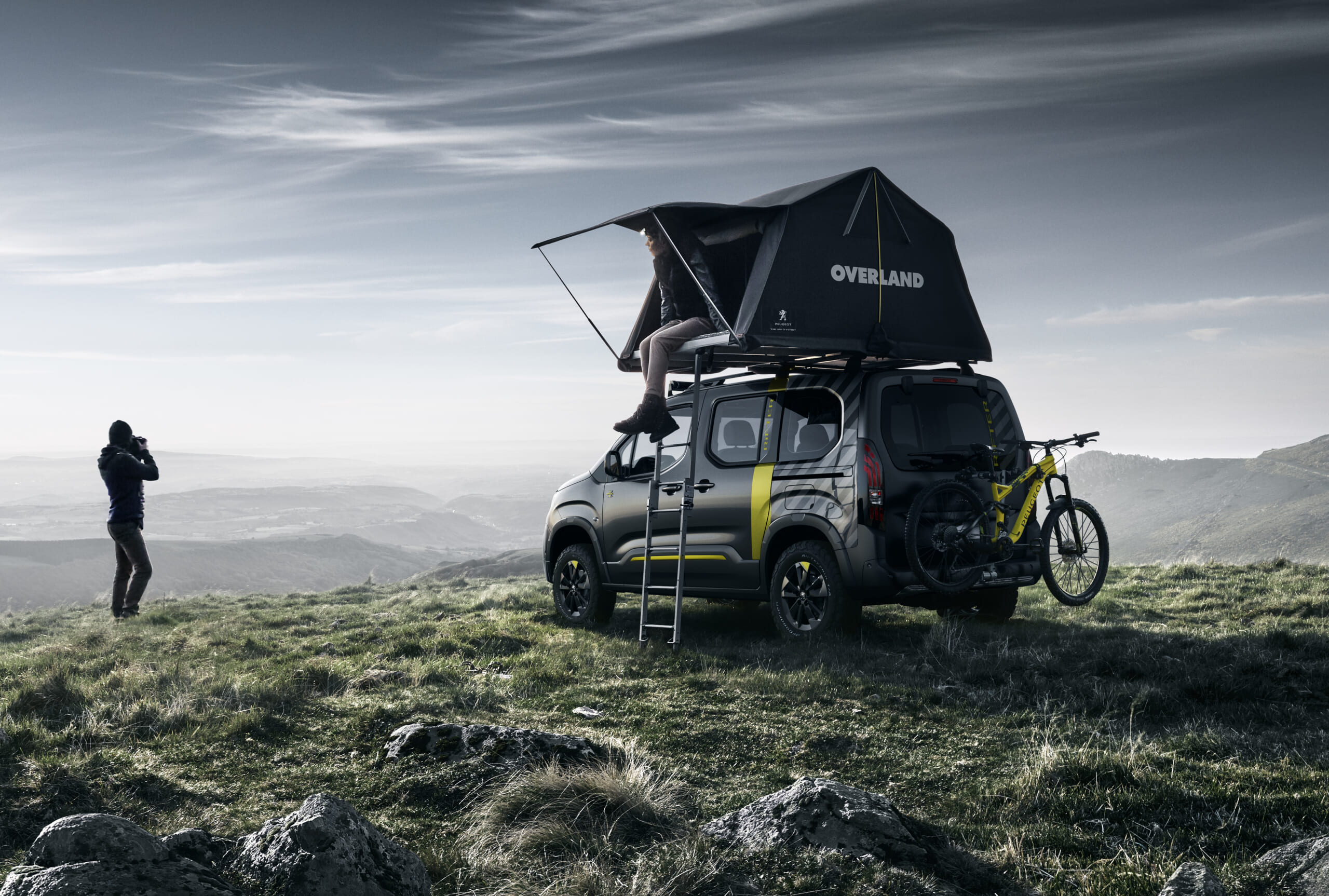 What's cooler than a van for getting off the grid? Put in a bed and add four-wheel-drive, and now you're really talking. Sure, maybe you can pull it off in an old '70s love van, but modern adventure vans are a breed apart.
With that in mind, we thought we'd better get together a roundup of adventure vans to get you ready for the summer festival season.
Peugeot Rifter 4×4 Concept
French automaker Peugeot gets the party started with a cool concept car for the Geneva International Motor Show with the unveiling of the Rifter 4×4 concept van. The Rifter van is outfitted with four-wheel drive, a rooftop tent, an extra three inches of ground clearance and custom knobby B.F. Goodrich off-road tires to ensure you'll reach your off-the-grip location.
"Through the Rifter 4×4 Concept show-car, we succeeded in creating an even more multipurpose and effective vehicle with a very modern and distinctive style that plays on the contrast of colors and materials," explained Keith Ryder, Peugeot Rifter design manager.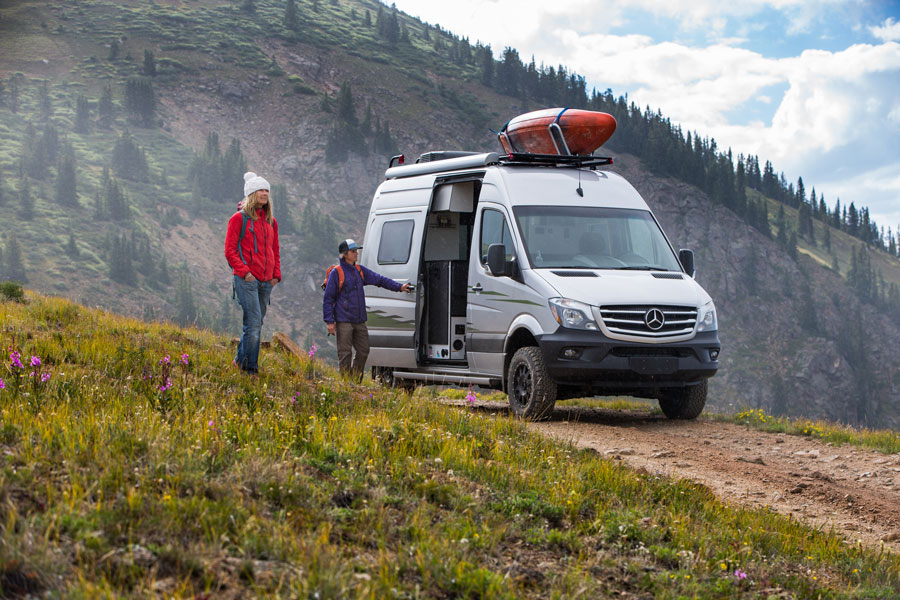 Unlike the Rifter 4×4 Concept, the Winnebago Revel 4×4 adventure van is ready and waiting for you (and your good credit) at a nearby Winnebago dealer. The $134,799 Revel is built on a Mercedes-Benz Sprinter van chassis with a 3.0-liter turbodiesel V6 that is rated at 325 lbs./ft. of torque.
Winnebago builds in a 140-cu. ft. gear garage for your equipment that has with a power lift bed above it. There's also aA full kitchen with a 2.5-cu. ft. refrigerator, a standard 200-watt solar power system, and a diesel-powered heater.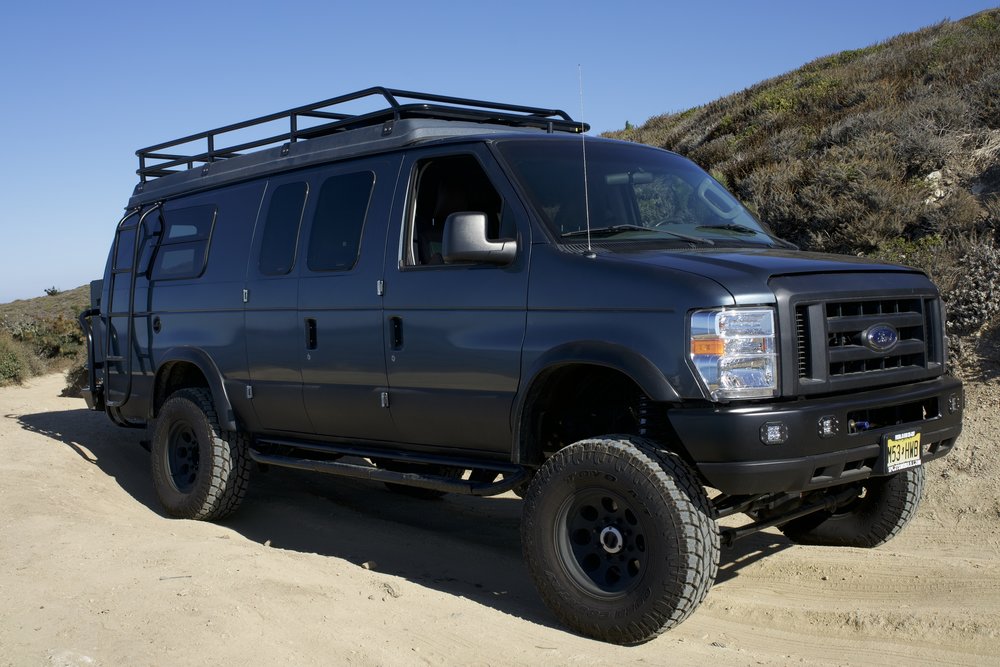 The Advanture Co. isn't going to have your new van in stock. Instead, you'll have to place an order for a custom build, like the Labryinth Ford E350. Advanture lifts the suspension for ground clearance and adds a water system, audio system, kitchen, and a diesel heater to make the cabin comfy in the boondocks.
Oregon's Outside Van starts with the ever-popular Mercedes-Benz Sprinter van to build the Solstice, which seems focused on overnight comfort, with a built-in three-panel bed, sun shades for the windows, and a 10-speed roof vent to keep it from getting hot inside on summer nights. Of course, the bed is raised, leaving plenty of space for mountain bikes and other outdoors gear, safe inside the van.
Sportsmobile customizes a variety of vans, but adventurers will want the Ford E-Series-based Classic 4×4 van to get them well off the beaten path. This beast is reinforced with heavy-duty off-road hardware for serious off-road capability, while also offering a 10,000-lb. towing capacity for you to bring other toys along for the trip. The pop-up roof means you'll be able comfortable stand inside while changing into your wetsuit, snowsuit or any other kind of suit.
Vanlife Customs builds its vehicles by special order, so this Ram Promaster is an example of what's possible rather than an off-the-shelf product ready for purchase. The Ram includes 300W of Renogy Eclipse solar panels to power a Battleborn lithium battery. There is also an Isotherm 12-volt refrigerator, efficient LED lighting, a diesel heater, and interior power outlets for your devices.
The plush Chinook Bayside is also based on the Mercedes-Benz Sprinter, but this is a much more spacious and plush take on the theme. Thanks to four-wheel-drive, however, the Bayside is still capable of getting you to some remote destinations. Equipment such as a bathroom with hot water ensures that you don't have to rough it once you get there.
When is an adventure van not an adventure van? When it is a Jeep Wrangler with a popup top! When a van just won't get you there, consider converting a Wrangler into a roomy camper. The Ursa Minor pop up roof starts at $6,550, with available options like a rooftop solar panel, luggage rack, and paint to match your Wrangler. 
San Fernando, California's Automotive Designs & Fabrication builds proper adventure vans based on the familiar Mercedes-Benz Sprinter van. The mop-it-out plastic diamond plate flooring tells you this van is meant to get dirty, while the fridge and stove keep you nourished while kayaking in remote locations.
Ford's Transit seems destined to become a favorite for #vanlife-ers, but its lack of four-wheel drive will limit its utility as an adventure van. Still, Colorado Camper Van's massive pop up roof makes the Transit seem nearly as spacious as a motorhome, so it might be a good call for families with kids who don't need to get too far into the outback.
It will definitely get you to Coachella or Burning Man, so that oughta be off-road enough… right?