The 15 Greatest Cars from The 'Fast and The Furious' Movies
Celebrate the 15th anniversary of 'The Fast and the Furious' with these killer cars.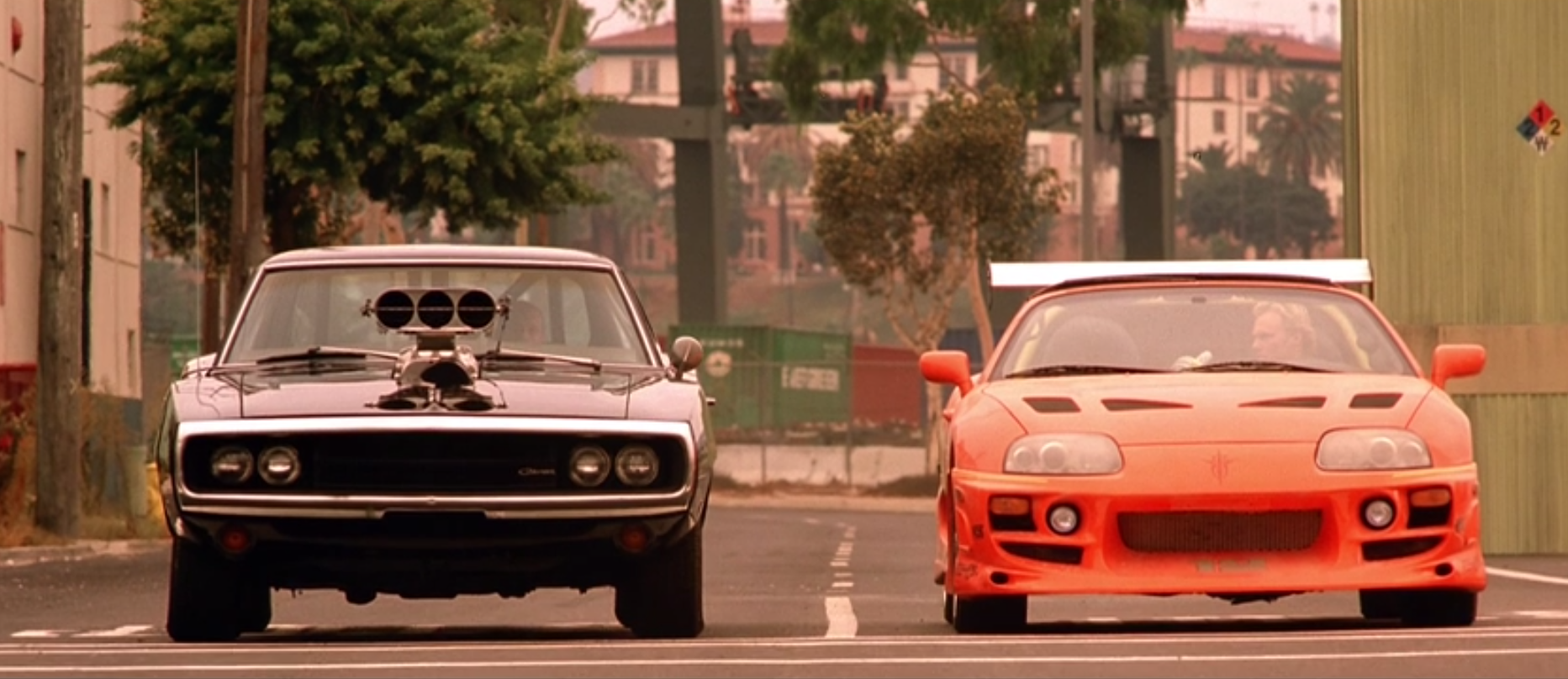 Time flies when you're having fun, or jumping hot cars from skyscraper to skyscraper. Wednesday marks the 15th anniversary of the release of the original The Fast and the Furious, and to celebrate this momentous occasion we've rounded up our fifteen favorite cars from the seemingly unstoppable action franchise.
From muscle cars and tuners to high end supercars and even the occasional tank, the Fast and Furious franchise has always featured its vehicles alongside the actors as stars of the films, and these fifteen examples are the ones we find most memorable.
1. 1994 Toyota Supra MK IV
Getting us started is the '94 Toyota Supra rebuilt and driven by the late Paul Walker's character Brian O'Conner in the original film, The Fast and the Furious. While chasing down gunman on dirt-bikes or jumping a railroad crossing mere inches in front of an oncoming train are impressive, our favorite scene is when Walker is challenged by a snobby Ferrari owner to a drag-race, only to destroy the Italian sportscar against the stunning backdrop of the Pacific Ocean.
2. 1993 Mazda RX-7 FD
It is in this monster that we first meet Vin Diesel's character Dominic Toretto, and while the car doesn't make many appearances after the opening half-hour of the film, it serves as a more than adequate introduction into tuner cars and the idea that racing Toretto is always a bad idea. It also helped make VeilSide a household name for those unfamiliar with the industry. (The car also makes an appearance in Tokyo Drift, as Han's street racer in the Japanese capital city.)
3. 1970 Dodge Charger R/T
This classic muscle car is the mythical beast of the first film in the franchise, sitting undisturbed for decades in a garage, only to be restored just in time to crash it into a big rig. But seriously, watching the car's 900HP engine launch the front wheels off the ground in a stunning display of torque remains one of the signature images of The Fast and the Furious. The car has also made numerous cameos in the subsequent films.
4. 1999 Nissan Skyline GT-R R34
It is in this legendary tuner that we find Walker at the beginning of 2 Fast 2 Furious. Armed with a 2.6 liter twin-turbo inline six, the Skyline actually needed to be altered by the production crew, as the car's traction controls and grip were so extreme that the burnouts needed for the film shoot were nearly impossible to perform. It's a shame the car was confiscated by the Feds early in the film, as it was a rocket-ship on four wheels.
5. 2011 Lexus LFA
Granted, for a franchise built on modified vehicles and self-built racers the LFA is an outlier. However for a car widely held to be one of the most incredible street-legal vehicles every built, we felt a spot on our list was justified. Beyond the insane power and technology, the LFA sounds like a Formula 1 car and allows one to drive the Autobahn with Gal Gadot sitting on your lap. That's a winner in our books.
6. 2012 Nissan GT-R R35
If you're trying to dodge incoming drone strikes, this might be your best hope. Just as fast around curves as in a straight line, this street racer even brings back one of our favorite actions sequences from the original film, as it has an adjustable suspension that allows it to drive under the trailer of an 18-wheeler. Ironically, despite being blown sky high by a Hellfire missile, it is the only car from Furious 7 that wasn't destroyed at the end of filming.
7. 1995 Volkswagen Jetta A3
This car makes our list for both practical and sentimental reasons. It is unassuming in appearance, which only makes its power and race-tuning more surprising. Most audiences didn't expect a Jetta that looked similar to those in every high school parking lot to be a legitimate street-racer. That being said, it makes our list based on our sympathy for its co-owner, Jesse (played by Chad Lindberg), who was gunned down in the climax of the first film, and subsequently missed out on the next seven versions (and the related paychecks).
8. 2007 Koenigsegg CCXR
A car that isn't even driven at speed in the films, the CCXR is content to look amazingly stylish while transporting stunning women in the final scenes of Fast 5. In reality, only 6 of the cars were built, and each produced over 1000 hp despite featuring an engine designed to run on bio-fuel. Originally sold for around $2 million, the car has been called one of the most beautiful of all-time, and you won't find many who disagree with such high praise.
9. Flip Car
There should probably be a more specific name for this Frankenstein of speed, but Flip Car will have to do. Essentially a Formula 1-type chassis with a large metal plate where the windshield should be, it allows the driver to both outrun their pursuers as well as destroy anyone fast, and foolish, enough to keep pace. You also have to love the sound of that sequential gearbox revving to the limit.
10. Gurkha LPV/Navistar MXT
We've decided to pair up these two monstrosities as they are similar in how dissimilar they are to the rest of the Fast and Furious vehicles. Utilized by Dwayne "The Rock" Johnson's Agent Hobbes, these quasi-military trucks are seemingly unstoppable. We mention that because the filmmakers have seemingly tried every possible manner of totaling these brutes, but after crashing through walls, absorbing gunfire and demolishing everything in their way, we have to show respect for the immortal Gurkha LPV and Navistar MXT.
11. 1965 Ford GT40
This classic American supercar has curves so beautiful it distracts from the fact that an explosive V8 lives under its hood and it was one of the premier racers produced during the '60s, even winning the famous 24 Hours of Le Mans. While the car is utilized more as a lock box for stolen technology than as a speed demon in Fast Five, it is still a scene-stealer, even when motionless.
12. Lykan Hypersport
If the franchise began with affordable cars being upgraded with aftermarket parts, the appearance of the Lykan Hypersport in Furious 7 signifies exactly how far Toretto, his crew and the franchise itself has come since 2001. This multi-million dollar hypercar refuses to be overshadowed, and proves that if a car is fast enough it can fly. Well, jump from skyscraper to skyscraper high above Dubai may be more accurate, but for a stunt as extreme as that one, a car as extreme as the Lykan was more than welcome.
13. 1970 Plymouth Barracuda
This vintage muscle car just looks dark, dangerous and even a little angry. Driven largely by Letty in Furious 7, it may not be the most agile or quickest of the Fast and Furious cars, but it just has an attitude about it that jumps off the screen. It's also a welcome change to see someone other than Diesel's Toretto being entrusted with some old-school American muscle instead, as Letty uses the 'Cuda to destroy an Audi R8 at Race Wars.
14. 1967 Ford Mustang Fastback
Regardless of your opinions of Tokyo Drift, you have to admit that watching a stunningly beautiful American muscle car drifting against the standard Japanese tuners is an impressive sight to behold. Watching this classic drift around corners on a mountainside is mind-boggling as the car likely weighed twice as much as its competition. If a car was to be symbolic of the American taking his place in Tokyo's street-racing culture, you couldn't choose much better than this classic example of Detroit muscle.
15. 1970 Plymouth Road Runner
Watching this beauty collide head-on with the villain's Maserati in Furious 7 is painful as it is such a wonderful example of a balance between raw power and refined style. Versions of this car actually appeared in multiple F&F films, including the end of Tokyo Drift when Diesel makes his cameo, marking his return to the franchise after skipping 2 Fast 2 Furious completely. It's also nice to remember that two different Plymouths have made this list, which is surprising considering Plymouth's aren't known for their speed (or for existing as a company anymore).