The Last Land Rover Defender Made for the U.S. Can Now Be Yours
Own a piece of off-road history.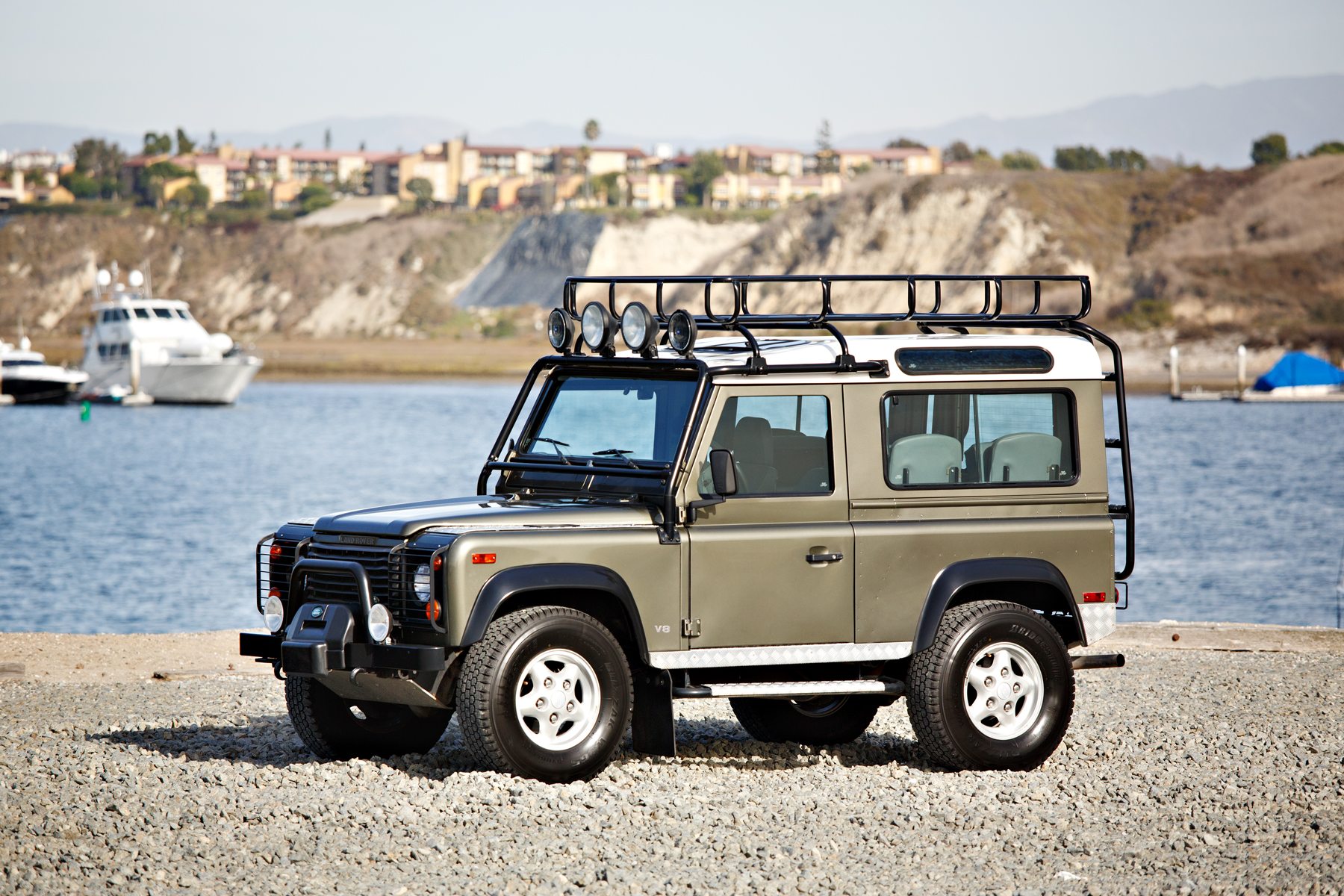 For the first time since Land Rover stopped selling the Defender stateside in 1997, the British automotive marque finally brought a new model to the U.S. for 2020. But the vintage 4x4s are now considered classics, and you can buy the absolute last Defender model made for American soil before its recent return through an upcoming Gooding & Company auction.
Making the brawny vintage off-roader particularly desirable is the fact that it's also the very last of a series built to Land Rover's North American Specification (NAS), a trim that commemorates the retirement of the Defender 90 on this continent. 
Like all NAS models, No. 300 of 300 is painted in "Willow Green" with a white roof and boasts diamond-plating on the front wings, lower sills, side steps, as well as a full sleeper rack with two ladders in the rear for easy access. Up front is a brush guard, a 9,000-pound winch, and four high-mount Hella driving lights. The interior got subdued gray twill vinyl-upholstered seats with gray mats. 
Under the hood is a 182-horsepower 4.0-liter V8 with Bosch fuel injectors that's mated to a 4-speed automatic transmission. The odometer only has 36,000 miles on it, so the  set of ventilated disc brakes and live axles should still be in great condition.
Offered with its owner's manual, winch hand control, two sets of keys, and its numbered "300" plate on the rear, the 1997 Land Rover NAS Defender 90 Limited Edition is expected to fetch between $200,000-$250,000. 
If interested, here's everything you need to know about the auction: 
Dates: Friday, January 17 at 11:00am and Saturday, January 18 at 11:00am
Location: Scottsdale Fashion Square, 4700 N. Scottsdale Road, Scottsdale, AZ 85251 | Corner of N. Scottsdale Road and E. Highland Ave.|
Public preview: Wednesday, January 15 – Saturday, January 18
Auction catalog: $100, includes admission for two to the viewing and the auctions
General admission: $40, includes admission for one to the viewing and the auctions