Check Out The Powerful Black 2017 Ford GT Heritage Edition
We've got the first pictures of the car outdoors in the real world.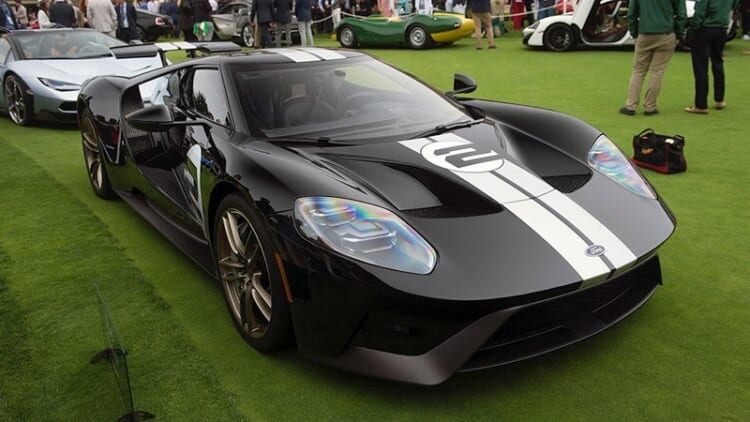 After a steady diet of plastic computer renderings and antiseptic indoor auto show photos, we're finally able to get a look at Ford's stupendous new $450,000 GT supercar in the wild.
Ford exhibited the GT in a black Heritage Edition paint scheme at Monterey Car Week, a tribute to Chris Amon's race-winning ride in the 1966 24 Hours of Le Mans sports car race.
The GT has wowed in every livery shown, and the racy black #2 paint job also stuns in the real-life outdoor setting.
With looks like this, it is no wonder that would-be buyers have flocked to Ford, burying the Dearborn, Michigan headquarters with 8,000 applications for the 500 GTs scheduled to be built in 2017 and 2018.
Ford took the sting out of rejection for those 7,500 unhappy applicants with the announcement last week that it will expend production for another two years and 500 more cars, bringing the total number of cars planned to 1,000.
"While we can't build enough Ford GTs for everyone who has applied, we are going to produce additional vehicles in an effort to satisfy more of our most loyal Ford ambassadors," explained Dave Pericak, global director of Ford Performance. "We want to keep Ford GT exclusive, but at the same time we know how vital this customer is to our brand."
They can't satisfy all the wanna-be Ford GT buyers, but at least 500 more of those ambassadors will go home happy from their Ford dealer one day.