Jeep Releases 7 Off-Road Concepts to Run Wild at the Annual Moab Easter Safari
Savage.
Jeep celebrates its annual pilgrimage to Moab, Utah, with awesome custom versions off its legendary off-roaders, and this year's crop looks especially exciting.
"Pushing the limit is something the Jeep brand is no stranger to and these seven new, exciting and capable concept vehicles are the latest example of that," said Mike Manley, Head of Jeep Brand. "Every year, we look forward to introducing new concept vehicles and ideas to our enthusiasts."
Jeep gets some help from the hot-rodders over in the Mopar performance parts department, which already has 200 parts available for the all-new 2018 Jeep Wrangler that we enjoyed so much.
"When it comes to customization, no vehicle can match the Jeep Wrangler," said Pietro Gorlier, Head of Parts and Service (Mopar). "Almost all Wrangler vehicles sold are fitted with at least one Mopar accessory, and you see this perfect combination between vehicle and accessories come to life every year at the Easter Jeep Safari."
This year's roster of concepts includes seven customized rides, each highlighting a different take on Jeep's off-road recipe.
Jeep Sandstorm
Jeep previewed its hotly anticipated Wrangler pickup with this stretched, open-bed Wrangler that is fortified for service as a desert racer in the mold of the trucks that race at Baja.
The front axle is located four inches forward, while the rear slides two inches back, boosting high-speed stability over the dunes thanks to the longer wheelbase. Meanwhile, the custom coil-over springs and bypass shocks provide the front wheels 14 inches of travel, while the rear wheels can move as much as 18 inches.
That's a 6.4-liter Hemi V8 engine from the Mopar performance catalog under the hood providing motivation, and it drives the wheels through an enthusiast-pleasing six-speed manual transmission.
Jeep would be crazy not to build a Ford F-150 Raptor-challenging version of the Wrangler pickup once it arrives, so hopefully 'Sandstorm' is a hint that such a model is in the works.
Jeep Wagoneer Roadtrip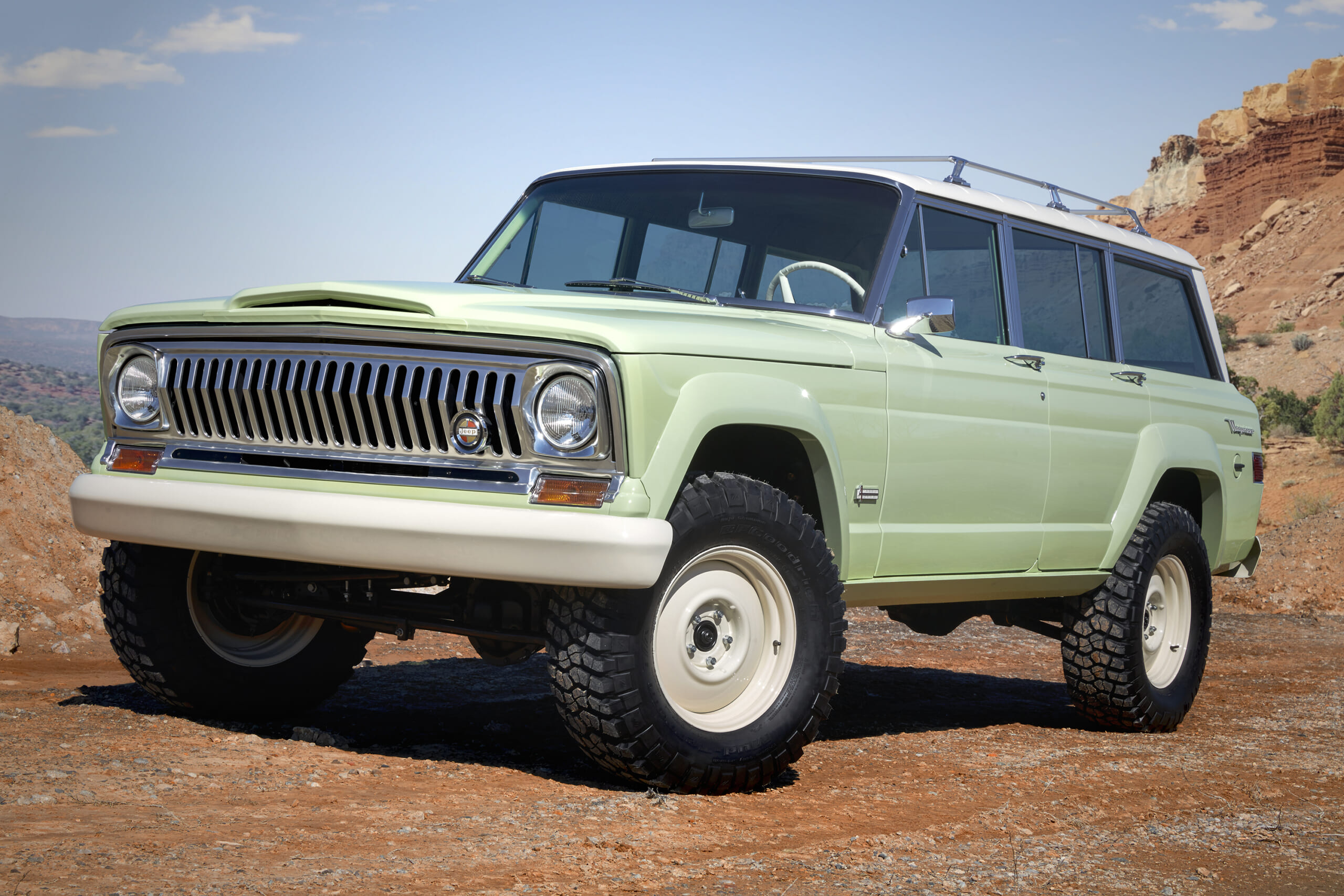 Everyone loves the classic 1965 Wagoneer station wagon, and Jeep's wizards have updated this one by setting the timeless body on top of a modern chassis boasting a boxed and reinforced frame, locking Dana 44 front and rear axles, four-link suspension with coilover springs, and 17-inch steel wheels wearing 33-inch BF Goodrich Mud-Terrain tires. 
The Wagoneer's factory 230 cubic-inch "Tornado" inline six-cylinder engine has been replaced by a 5.7-liter Hemi V8, so Roadtrip can inhale miles of blacktop like never before.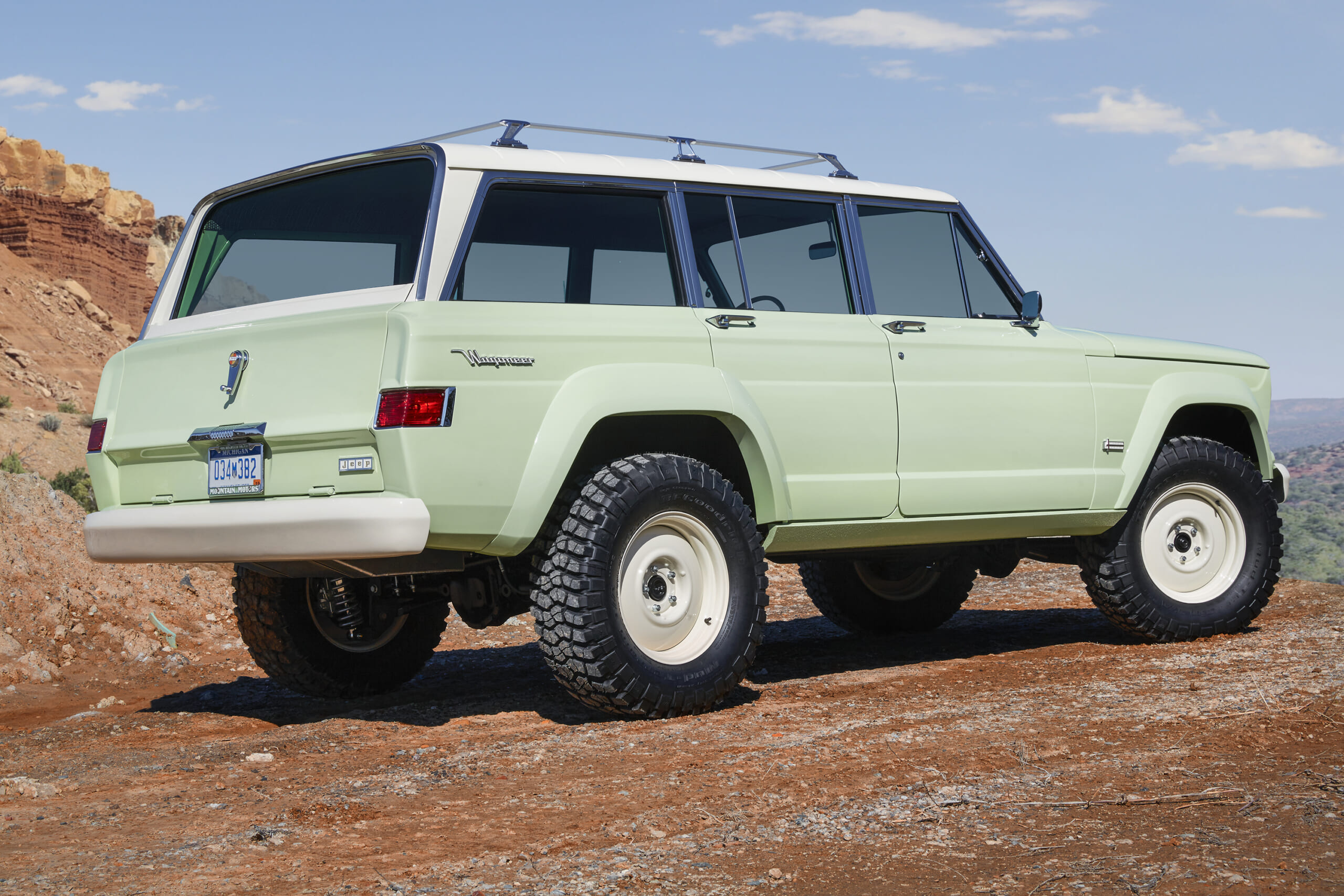 The did up the interior with the original front and rear bench seats, door panels, kick and rear panels, now trimmed in Oxblood-colored leather. A wicker headliner gives the Wagoneer an open, lighter feel and the floor is sprayed in durable bedliner. Maybe the coolest details are the custom cooler fashioned from period-correct 1960s luggage and a tool box created from the valve cover of this Wagoneer's original engine.
Jeep Jeepster
While the Wagoneer Roadtrip uses an actual 1965 body, the Jeepster concept is based on a 2018 Wrangler Rubicon, but incorporates color and styling themes of the 1966 Jeepster.
That means a classic two-tone color scheme, with Firecracker Red body accented by a Bright White concept hardtop and windshield, each chopped by two inches and with an extra 2.5 degrees of windshield rake to create a cropped, compact appearance.
The Rubicon chassis is modified with a 2-inch lift kit, 2.5-inch diameter aluminum body shocks and ballooning 37-inch BF Goodrich KO2 tires. The beadlock-capable 17-inch wheels carry body-color matching Firecracker Red beadlock trim rings.
And check out the available Jeep Performance Parts, hood and graphic, without the optional cold-air intake or snorkel. That's a part Wrangler owners can add to their ride with just a call to their dealer.
Not everybody was lucky enough to have been born in 1966, but with the Jeepster concept, everyone can pretend.
Jeep 4Speed
One key aspect of the original Army Jeep was its light weight and compact size, and Jeep is revisiting those roots with the 4Speed concept. It employs a a carbon fiber hood, high-clearance carbon fiber fender flares and a carbon fiber rear tub with perforated aluminum panels to help trim mass.
Leaving off the doors and roof also trims weight, along with whacking off 22 inches of length from the body.
Power is from an appropriately downsized 2.0-liter I-4 turbocharged engine, with an eight-speed automatic transmission.
With so much less weight to carry, the 4Speed concept rides two inches higher even without a lift kit, leaving ample space for the Dana 44 front and rear axles with a 4.10 gear ratio and 18-inch lightweight one-piece aluminum wheels and 35-inch BF Goodrich Mud Terrain tires.
Nacho Jeep
This concept is nacho regular Wrangler! The Nacho Jeep concept is a rolling exhibit of the Jeep Performance Parts catalog, sprayed in Nacho Yellow paint.
That includes a JPP hood with black accents and the new JPP badge. The hood incorporates a cold-air intake that feeds the 2.0-liter turbocharged four-cylinder engine.
Ahead of the hood, a satin black Mopar grille stands in sharp contrast to the Nacho exterior. The off-road upgrades include a Rubicon front bumper with its end caps removed to let the tires directly climb over rocks. There's also a Warn Winch kit, in case that doesn't work out.
There's a 2-inch lift kit for more ground clearance and to leave space for the monstrous 37-inch tires on 17-inch beadlock-capable satin-carbon-finished wheels.
Jeep J-Wagon
If Jeep wants to shake its moneymaker, it need only drive the J-Wagon concept over a washboard road. The G-Wagen has been a license to print money for Mercedes-Benz, and Jeep has been inexplicably absent from the market for absurdly expensive luxury 4x4s despite ample demonstrated demand.
They may remedy that, judging from the J-Wagon concept, an obviously effort to appeal to G-Wagen fans. 
The concept started as a 2018 Wrangler Sahara, painted a conceptual Warm Neutral Grey, fitted with warm-tinted glass, and complemented with subtle Brass Monkey edition touches throughout the exterior. Like some of the other concepts, the J-Wagon includes a version of the JPP hood designed with a cutout kit to work with the available snorkel.
The interior is critical for a luxury model, so Jeep installed Camel-color Katzkin leather seats for an elite feel. They feature stark brown piping and plow-through inserts that mimic the triangulated grille design of the vehicle's custom rock rails. There is plenty of Brass Monkey trim and bezel accents on the HVAC vents, door handles and steering wheel to further distinguish the J-Wagon's cabin.
Jeep B-ute
Jeep didn't want to just build cool Wranglers, so they also did a ruggedized Renegade for the Moab event. 
The B-ute ("beaut," get it?) is the brand's so-called compact "B-Segment" off-road utility vehicle. So, yeah, there's probably too much going on here with this concept's name.
Regardless, it is outfitted with a ton of JPP parts to highlight the mini-Jeep's personalization potential.
Why yes, those are unique front and rear fascias and upper grille area, plus the hood with heat extractors, and wider fender flares. Jeep's team lifted it 1.5-inches and added a roof rack and rock rails. 
The B-Ute's rolls on 17-inch wheels with BF Goodrich T/A Baja Champion tires. Power is provided by a 2.4-liter Tigershark four-cylinder engine and nine-speed automatic transmission.
If you can't find something to love or inspire you among these seven Jeep concepts, you aren't doing it right.