Check Out the First Pics of the Even Meaner-Looking 2018 Mustang
We like.
Ford Motor Co.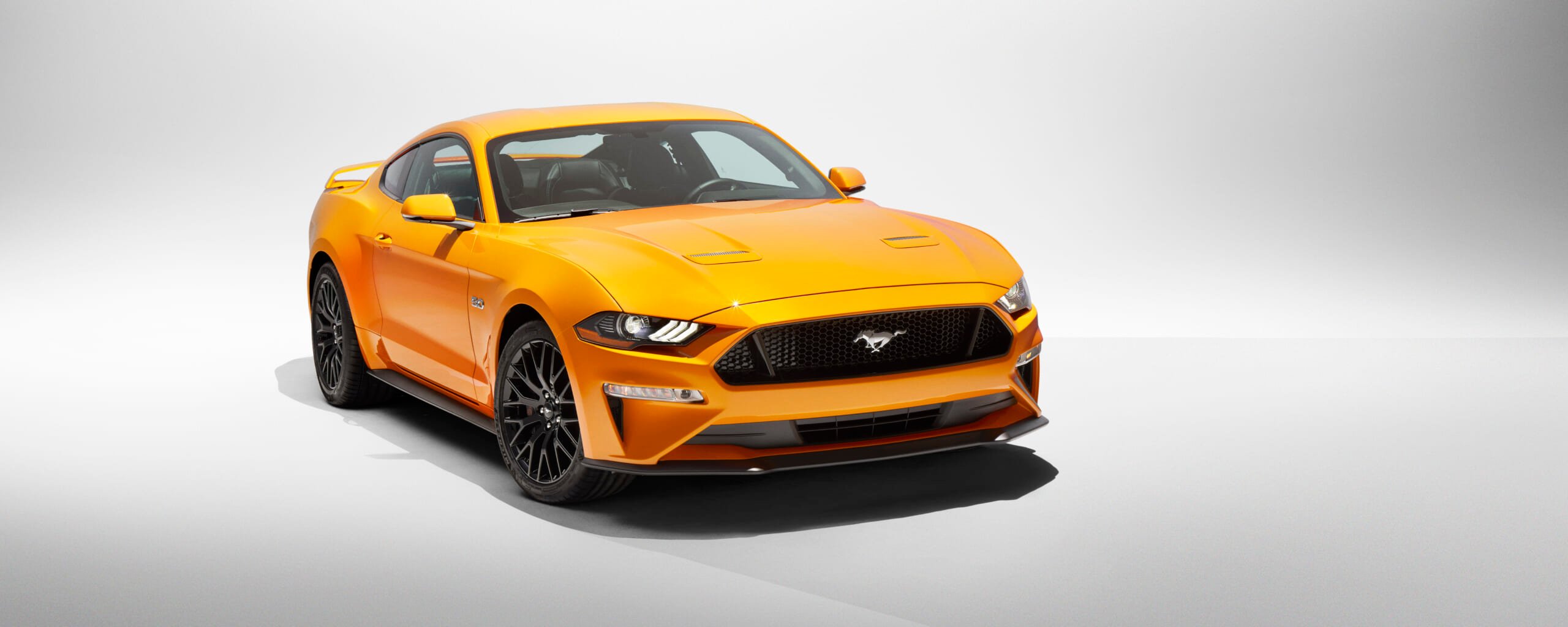 For 2018 Ford designers shrunk the Mustang's hood even lower, pressing it about three-quarters of an inch downward while incorporating relocated hood vents. That hood shrouds the new headlight eye slits, lending the Mustang an even more menacing visage than before. And to ensure no one overlooks the car's new styling, it comes in a new signature shade called Orange Fury.
Under the new hood, Ford giveth, and Ford taketh away. They've taken away the V6 engine option, leaving customers to choose from the turbocharged EcoBoost 2.3-liter four cylinder engine and the legendary 5.0-liter V8. 
The V8's extra oomph is the result of Ford's first use of a dual fuel injection system that employs both high-pressure direct injectors and lower-pressure port fuel injection. We've seen this before on cars like the Lexus LC500. Both of the remaining engines are revised to produce more power, though Ford hasn't yet released the final specifications.
You can identify which engine the car has from behind because the four-cylinder has dual exhausts, while the V8 has quad exhaust tips. Either way, the Mustang has revised LED taillights across the back.
The V8 gets a dual-mass flywheel and twin-disc clutch plate, which provide, respectively, better clutch pedal feel and additional clamping force to handle more torque for the six-speed manual transmission-equipped cars.
A new 10-speed automatic transmission helps ensure the Mustang is always has the optimal gear ratio at hand.
Inside, check out the optional digital instrument cluster that can replace the traditional analog gauges. Interior surfaces are upgraded, replacing the current excess of shiny plastic with more padded covers and aluminum surfaces. Most drivers will cheer the overdue arrival of an optional heated steering wheel.
Handling is improved with the availability of MagneRide magnetically adjustable shock absorbers, an improved joint in the rear suspension that increases lateral stiffness and upgraded anti-roll bars to keep the car flatter in curves.
In total, it seems future 2018 Mustang owners will enjoy their new rides indeed.