Here's Your First Look at the 2019 Audi R8
The supercar's aggressive new styling was modeled after Audi race cars.
Take one look at the 2019 Audi R8, and you can practically hear it screaming down a Grand Touring track. 
That's because the newest model of the German automotive giant's longtime performance roadster borrows its looks from Audi's R8 race cars in the GT3 and GT4 classes—particularly with regard to its beefier grill and more serious splitter.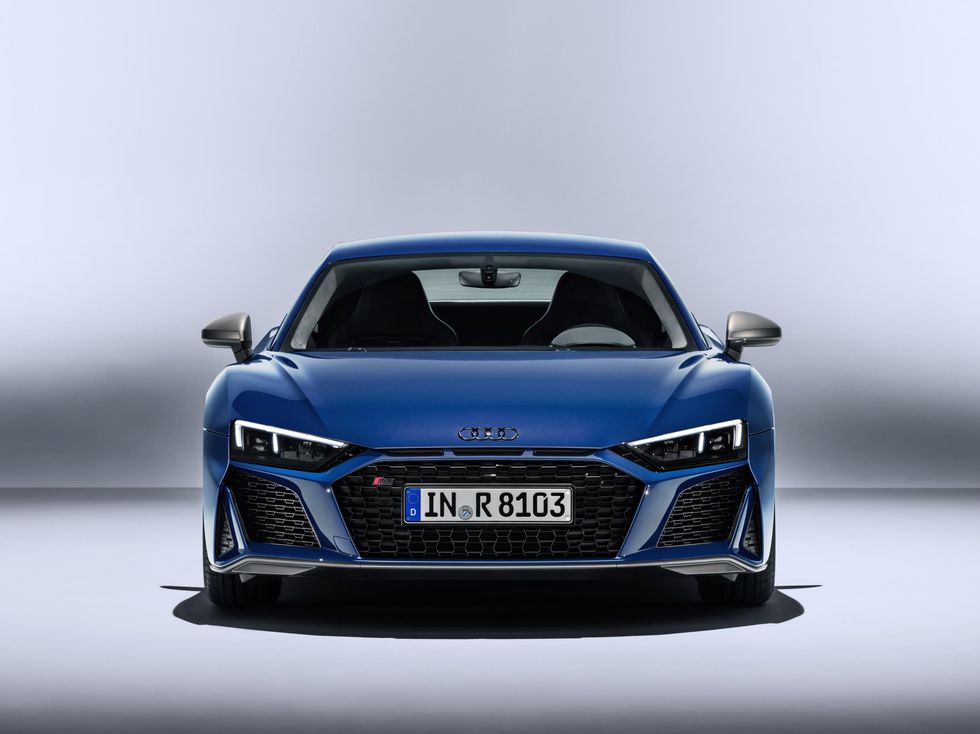 New exhaust pipes and redesigned grills are also present in the rear. Customization options in the form of three different exterior trim packages and two new paint colors (Kemora Gray and Ascari Blue) can really help buyers make it their own. And we haven't even gotten to performance specs.
That's partially because Audi has promised that R8 is "even more powerful and faster" without releasing specific details power, acceleration and top speed. 
Car and Driver has further details: 
The automaker gives no horsepower ratings, only saying that the V-10 engine can be had in two different outputs.

The 2018 R8 is available in V10 and V10 Plus guises, with the regular car putting out 532 horsepower and the V10 Plus making 602 horses.  
Audi didn't just give the R8 more aggressive styling and promise to squeeze more horses out of its naturally-aspirated V10 engine. 
A modified suspension will supposedly offer "more stability and precision," and both the power steering and optional dynamic steering systems have been tweaked to give the driver more feedback and response.
New Dry, Wet and Snow driving modes have been added to the Drive Select system, making the R8 even more feasible as an every day driver. 
Considering the 2018 R8 is priced at $140,000, expect to pay at least that to get the newest model when it arrives stateside at a yet-announced date. 
Until then, get a closer look at the 2019 Audi R8 in the gallery above.