We Burned Up The Track On BMW's Scorching New Superbike
Everything you need to know about the all-new 2020 S1000RR, BMW's latest motorcycle masterpiece.
A 20-plus foot metal spider looms over Turn 5 at Birmingham's Barber Motorsports Park, waiting to see if I'll get taken out by the off-camber, double-apex hairpin. 
Thanks to a downward slope on the way in and unsettling bumps on the way out, it's a common trouble spot where motorcycles can lose the rear end, and that's why the turn has earned the nickname "Charlotte's Web." 
On most other bikes, I'd be hyper-focused on how the suspension and tires are reacting to the pavement to make sure that I don't end up on the ground, dragging more than just my inside knee.
But on the all-new 2020 BMW S1000RR, I've got a safety net of electronic systems that allows me to focus my mental energy on perfecting the racing line through the corner. 
ABS Pro incorporates data from a 6-axis inertial measurement unit to keep braking forces maximized even if I'm leaned over as I approach the corner. 
Dynamic Traction Control (DTC) also considers lean angle to send as much power as is safely possible to the rear wheel as I drive out of the turn, while a quickshifter lets me forget about the clutch as I instantly bang out upshifts accelerating through the straightaway.
All through Turn 5, sensors in the Dynamic Damping Control (DDC) suspension detect what the road surface is doing every 10 milliseconds and automatically stiffen up or soften the front forks and rear shock to provide the best possible contact patch for the tires. 
All this technology lets me go faster and do so more safely – riding the BMW S1000RR almost seems unfair.
Helping you keep track of it all is the largest display in its class, a gorgeous 6.5-inch TFT screen that can be as simple or as complicated as you want.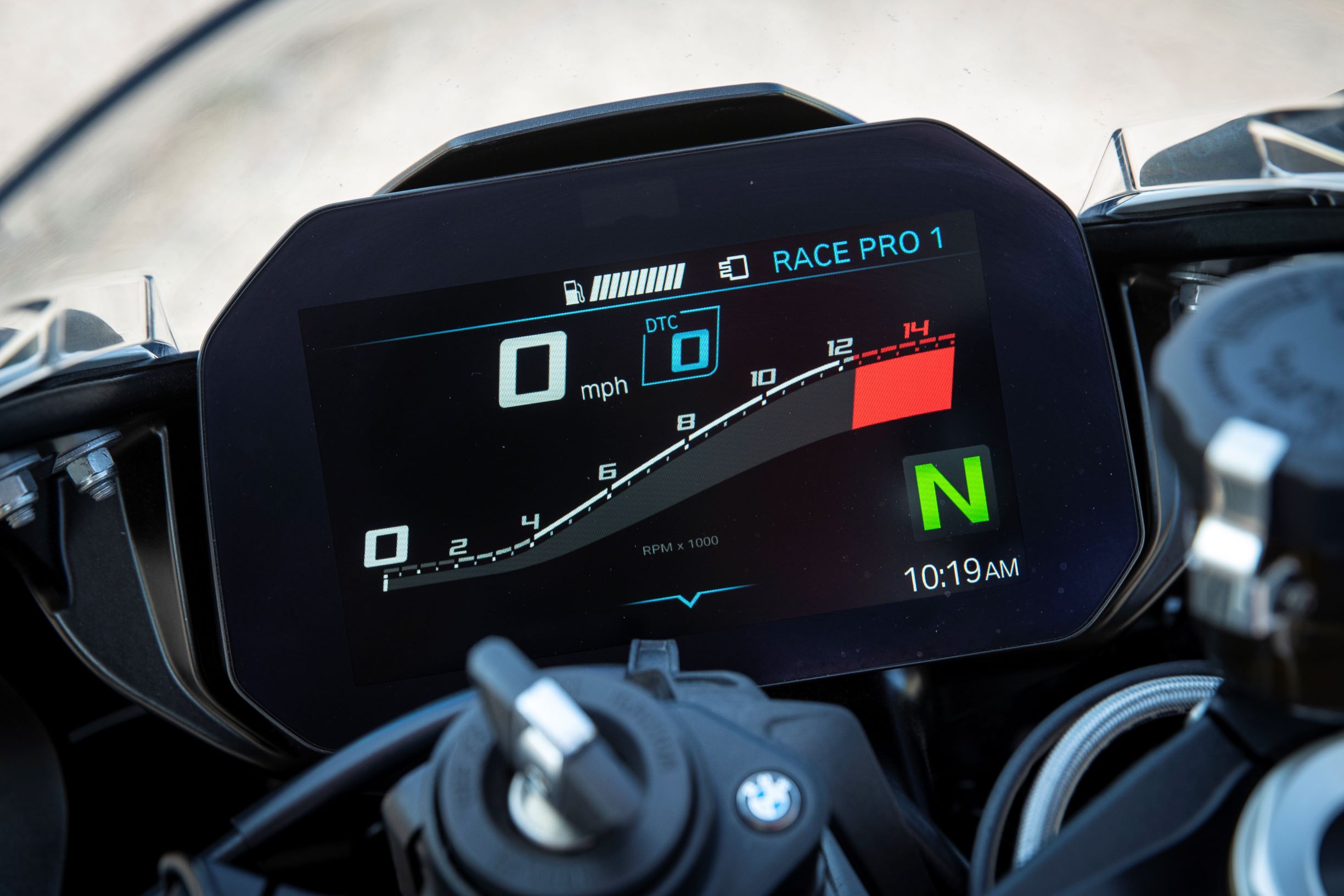 The "Pure" view emphasizes the speedometer, tachometer, and gear position, but you can add track-focused information such as lap timers and a lean angle sensor. 
You can also incorporate street-related interests through a BMW Motorrad phone app that allows you to see what the speed limit is, who's calling you, what song you're playing in your headset, or the next turn in your navigation guidance.
The S1000RR isn't just brains – it's also been hitting the gym. 
One of BMW's goals for the new bike was a remarkable 25-pound diet which brings curb weight down to 434 pounds. Eleven pounds of that comes from the suspension and aluminum frame, while the motor shaves off an additional 9 pounds. Conveniently, the engine is half an inch narrower to make the riding position more comfortable.
The typical drawback of the inline-four motor traditionally found in sportbikes is that it doesn't deliver good power until you've got it up near redline. BMW thinks they've solved that with a variable valve timing technology that they call ShiftCam. 
Under 9,000 rpm, the motor runs off cam lobes that emphasize torque for better acceleration out of low-speed corners and for better gas mileage when you're in town. Above 9,000 rpm, the engine turns into a top-end screamer for a rush until redline at 14,600 rpm. 
In theory, this gives you the best of both worlds so you can enjoy output through the rev range, peaking with 205 horsepower at 13,000 rpm and 83 lb-ft of torque at 11,000 rpm. In the real world, the system works as advertised, but US bikes are severely let down by a flat spot between 6 to 8k rpms required to pass EPA emissions targets. 
Budget some extra dough for an ECU tune (and an exhaust while you're at it) and you'll get to enjoy the same insanity that European customers do.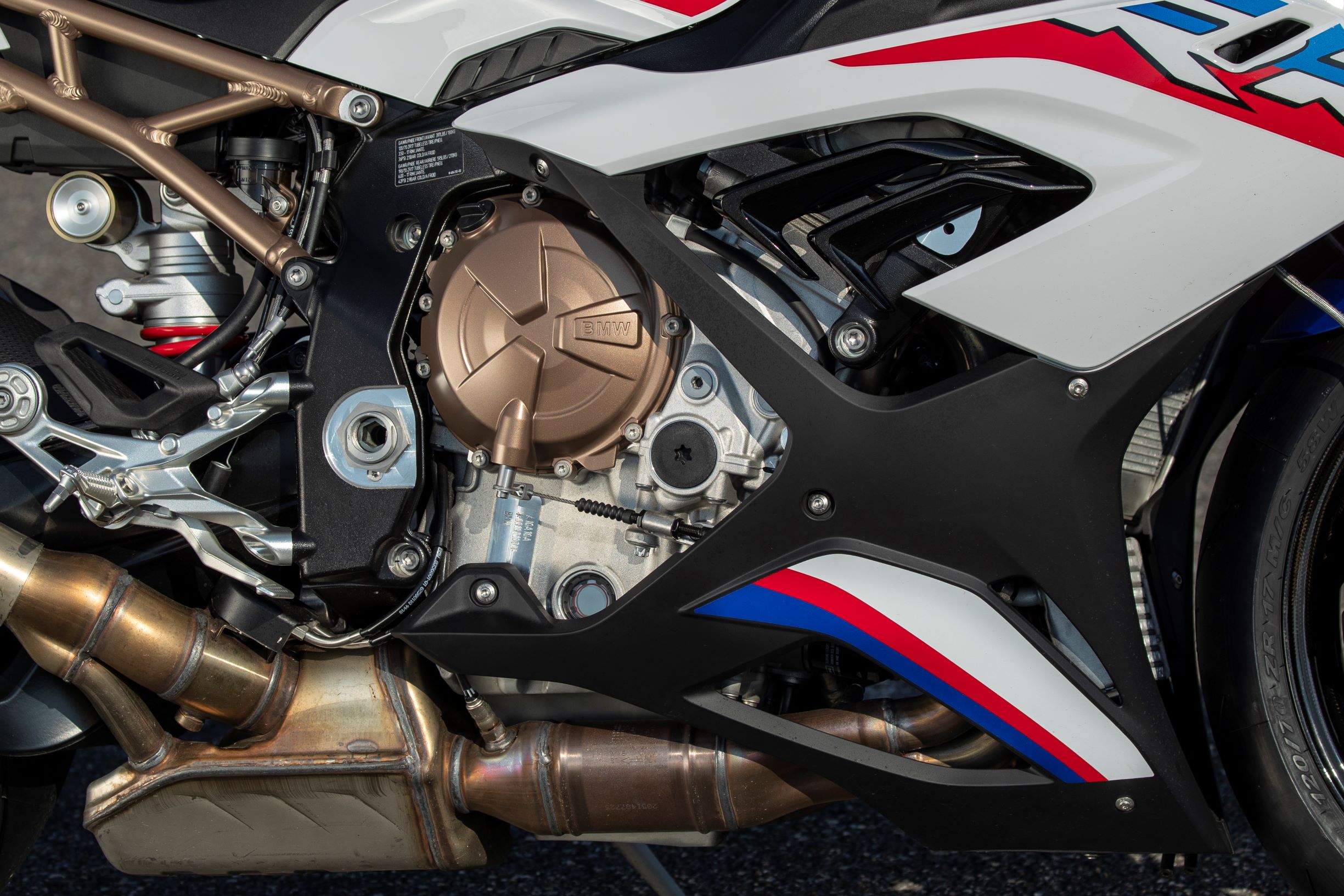 The base model S1000RR will set you back $16,995, but you'll have to special order that from your dealership as BMW wants you to purchase their option packages. 
A $1,400 Select Package is all about street convenience: tire pressure monitors, the DDC suspension, heated grips, and cruise control. 
Where things get really interesting is with the letter "M", a character that BMW automobile enthusiasts have long treasured. The S1000RR is the first BMW motorcycle that has an available M Package, and it bumps the bike from amazing to industry-defining.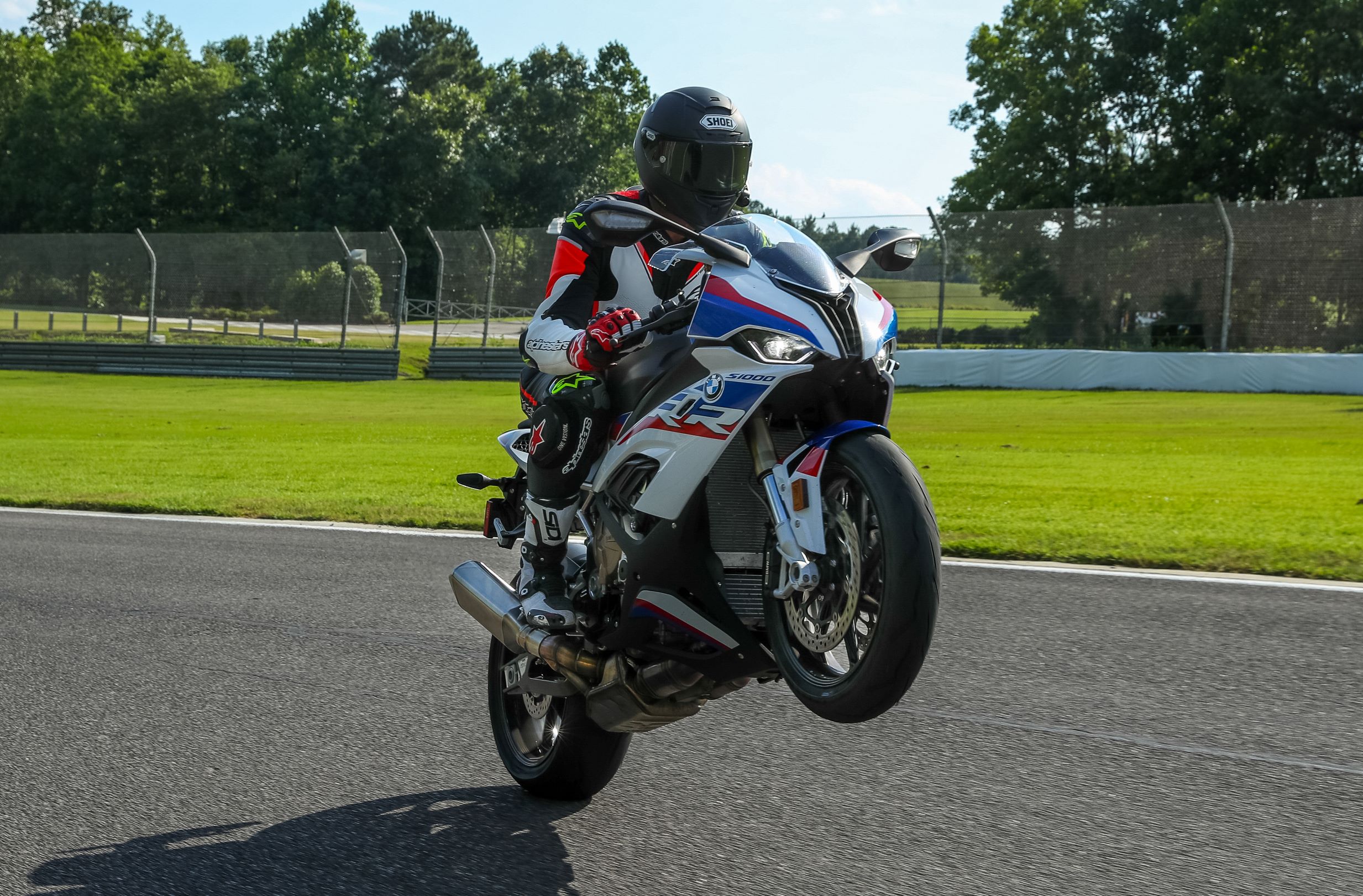 For an additional $3,700, the M Package includes carbon fiber wheels, a lightweight battery, track-oriented seat, the ability to customize all the trick electronic features with a vaguely named feature called "Ride Modes Pro," and the lovely BMW Motorsport-inspired white/red/blue livery. Non-M bikes are only available in Racing Red, though a new color will be announced next month.
Adding aftermarket carbon fiber wheels alone would cost you just about the same amount as the entire M Package, but now they include a factory warranty. The wheels provide the bulk of the additional 7-pound weight savings of the M package, which brings down the total pounds to 427. 
For a S1000RR with both the Select Package and M Package, BMW wants $22,095. That may sound like a lot, but it's very competitive for what you're getting in the world of superbikes.
Said superbikes have a performance envelope that most riders cannot maximize, and that's what makes this electronic sophistication so intriguing. 
Purists may scoff that the bike is helping you achieve your potential, but your takeaway should be that the 2020 BMW S1000RR allows you to access a higher level of speed and excitement than you were comfortable approaching previously. 
The security gives you confidence, and when you're confident on two wheels, you're having fun. The S1000RR is faster, more powerful, and lighter than ever before, but I was only able to take advantage of it all at Barber Motorsports Park because of the electronics. 
Anything that keeps Charlotte at bay is fine with me.