The 2021 Cadillac Escalade Is Loaded With More Legroom, Luxury and Technology
Here's your first look at GM's latest full-size SUV.
General Motors already enlarged the Tahoe and Suburban to haul more passengers, and the automaker's latest flagship Cadillac Escalade SUV is similarly living large while also taking luxury and tech to the next level. 
The focus of this full-size ute's cockpit is an industry-first 38-inch curved OLED display system, a trio of paper-thin screens that promise to offer better clarity than a 4K television and more color range than any other automotive display. There's a a 7.2-inch-diagonal touch control panel driver information center to the driver's left, a 14.2-inch-diagonal cluster display behind the steering wheel and a 16.9-inch-diagonal Infotainment screen to the driver's right.
Aside from the over-the-top infotainment and a 19-speaker AKG sound system, the new Escalade also has standard Surround Vision, which gives driver's a bird's-eye view of the vehicle while in reverse. The list of optional features is lengthy and impressive. 
"Super Cruise" driver assistance uses LiDAR map data and GPS to enable hands-free driving on compatible U.S. highways, Augmented Reality-enabled navigation uses street views an directional overlays to enhance navigation, and "Night Vision," uses infrared to detect of pedestrians and large animals in the dark. The AKG sound system can also be upgraded to a 36-speaker setup with three amps. 
Other interior elements heavily influenced by Cadillac's Escala concept vehicle—a design that also debuted an OLED display in 2016, Car and Driver reports. The interior gets a new Gideon Whisper Beige trim combination that has a fashionably modern flair.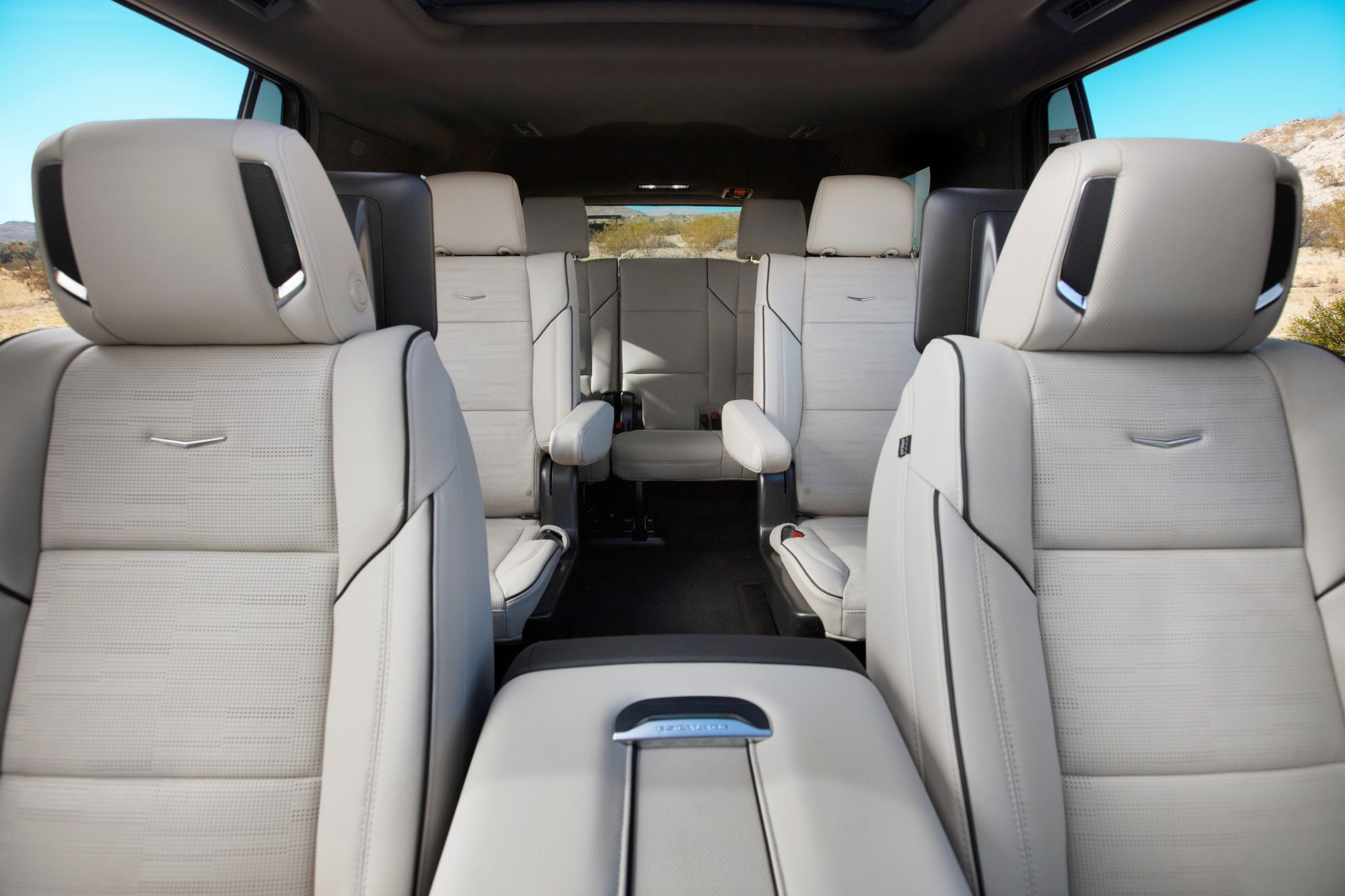 Additionally, the latest Escalade has 40 percent more third-row legroom over its predecessor and a 68 percent increase in maximum cargo room behind the third row in the standard-length model. The extra space is made possible by a 7.1-inch longer body.
And as you can see, the Escalade still looks gorgeous. It maintains its signature vertical lighting element up front but adds a sleek, horizontal headlamp. The same concept was applied to rear light's signature, and everything rides on hefty 22-inch wheels. 
With regard to powertrain, buyers get a choice of a a 420-hp 6.2-liter V8 or a 277-hp 3.0-liter turbo-diesel, both of which are mated to a 10-speed automatic transmission. Five available trims—Luxury, Premium Luxury, Platinum Luxury, Sport, and Platinum Sport—will be offered with the V8, but the diesel will only be available with Luxury and Platinum Luxury. 
Prices haven't been announced, but expect the 2021 Cadillac Escalade to start at around $77,000, according to Car and Driver.