2021 Toyota Supra Gets More Power and 'A91' Special Edition
The latest version of the Japanese sports car can hit 60 mph in under four seconds.
The Toyota Supra enjoyed a triumphant return in 2020 after a years-long hiatus, and now the Japanese automaker has made the sporty coupe even speedier for 2021.
The turbocharged 3.0-liter inline-six gets boosted up 14 percent from 335 to 382 hp while the torque increases slightly up to 368 lb-ft. Toyota estimates that the revised power plant will help shave two-tenths of a second of the Supra's zero-to-60 mph time, down to 3.9 seconds from 4.1 seconds.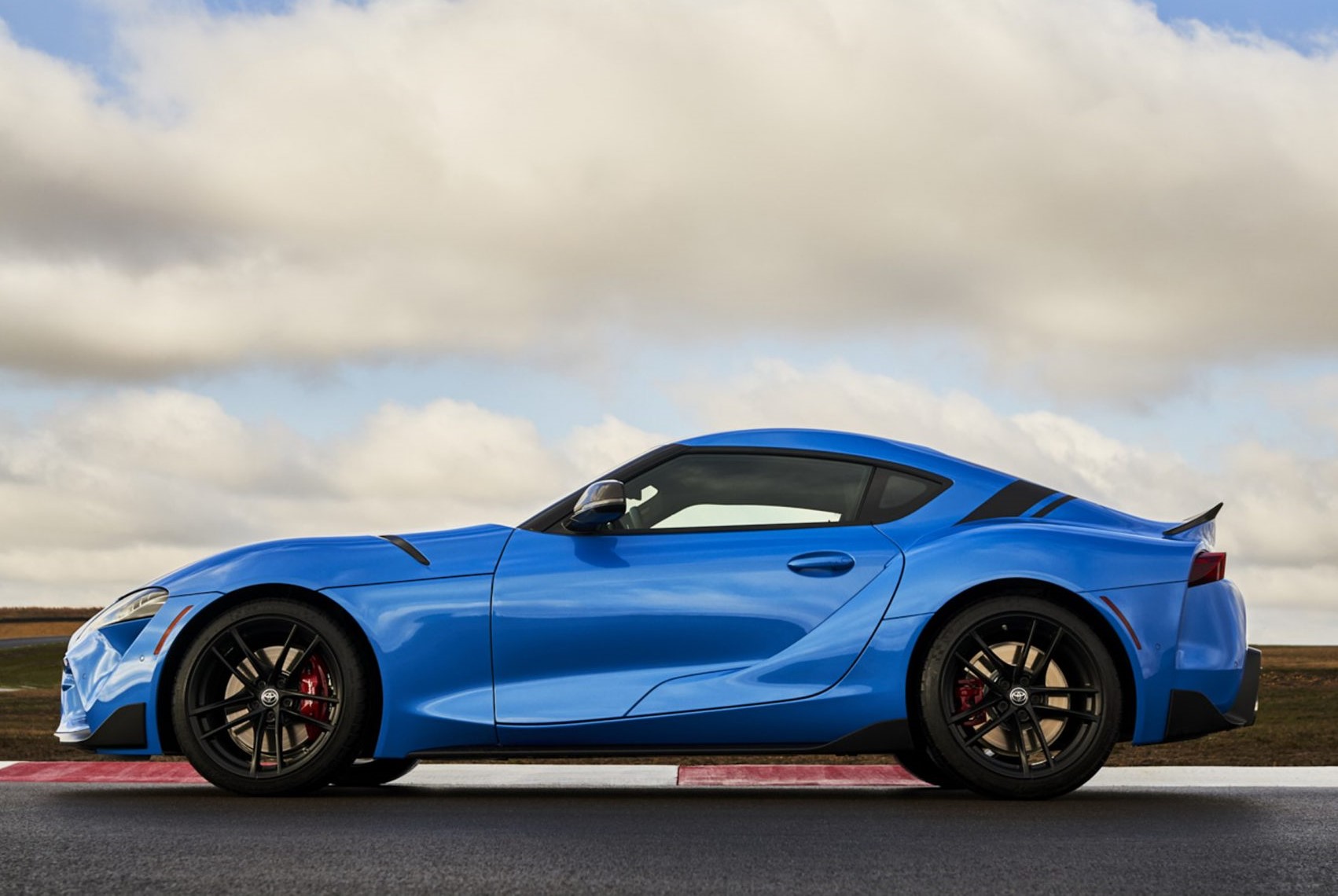 The eight-speed automatic transmission carries over from the 2020 model, but the Supra's chassis now boasts lightweight aluminum braces that increase lateral rigidity, along with front and rear bump stops and new damper tuning. Upgraded software for the power steering (EPS), adaptive suspension, stability control and active diff promise to enhance the hardware's performance.
A 2.0-liter in-line four-cylinder is also newly available in the Supra for 2021. The engine shares much of its technology with the heftier 3.0-liter inline-six, including the transmission, twin-scroll turbo, direct fuel injection and continuously variable timing on both the intake and exhaust camshafts. Output is rated at 255 hp and 295 lb-ft of torque, which should be good for a 60-mph sprint in five seconds flat, making it the second quickest vehicle in Toyota's lineup. 
Car and Driver reports that Toyota is also producing 1,000 special "A91 Edition" Supra 3.0s in exclusive "Nocturnal" black and "Refraction" blue colorways with a black carbon fiber rear spoiler, red Brembo brake calipers, 19-inch matte black rims and Alcantara interior trim. All 2021 Supras will feature a bigger 8.8-inch audio touch screen in place of the 2020's 6.5-inch display.
Prices haven't been announced, but C/D predicts that the Supra 2.0 will start at 40,000, the Supra 3.0 at $50,000, and the Supra A91 Edition at $57,000.