These Are the 5 Coolest Luxury Yachts From Boat International's Prestigious Design Awards
Speedy, sleek, and elegant, they're winners for a reason.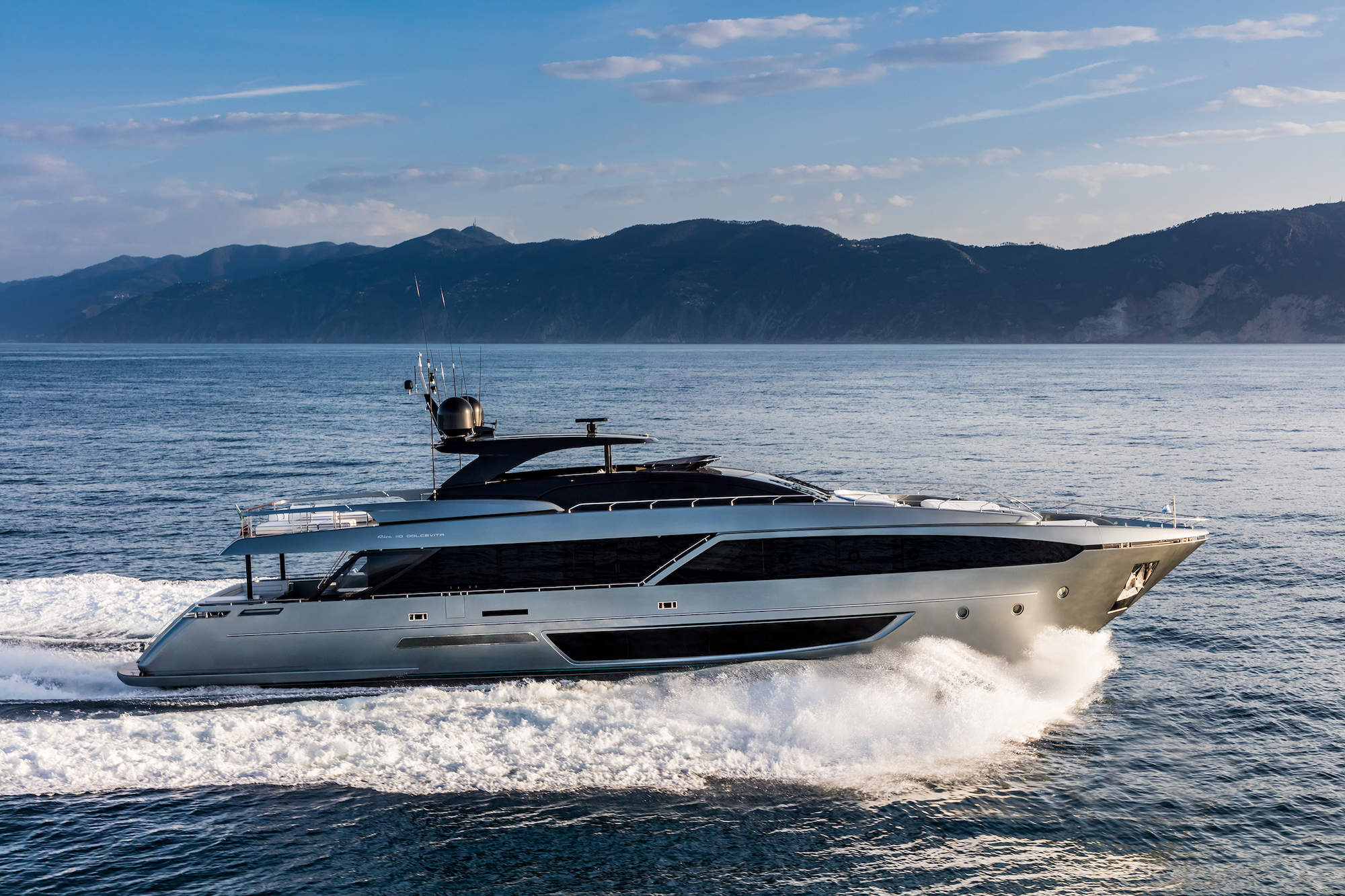 Each year Boat International, the private yachting world's most influential magazine, presents its prestigious Design & Innovation Awards "honoring the creative talents behind the most innovative, elegant and inspiring new yacht designs [from] the world's leading yacht design studios." Here are our five favorites from this year's prizewinners:
1. Riva 110-ft. Dolcevita
Winner in the Best Exterior Styling – Motor Yachts Below 39m (128 ft.) category, iconic Italian yacht-builder Riva's new 110-ft. flybridge model is designed for the sweet life (i.e. Dolce Vita) at sea. Judges felt it was "the most visually inspiring and one that delivered a strong, cohesive profile consistent with its mission," thanks to "clean, spare lines and crisp window shapes…. nicely designed to show off a high contrast exterior color scheme." Plus it can hit a top speed of 26 knots.
2. Amels 189-ft. Volpini 2
It may not seem like there's anything remotely environmentally friendly about cruising the ocean in a massive superyacht, but Amels' latest creation captured the Best Ecological Design & Operation Innovation Award. The sleek craft is the first yacht to comply with strict marine engine exhaust standards known as IMO Tier III. She also has a cutting edge hybrid power management system and even a bio-friendly paint job, but looks just as mean as any power-waster cruising the Mediterranean.
3. Oceanco 350-ft. Black Pearl
The second largest sailing superyacht in the world easily won the Best Naval Architecture – Sailing Yachts trophy. Oceanco's design mission was to deliver a top speed of at least 25 knots under sail fully loaded, requiring a steel hull, aluminum superstructure, composite decks and massive carbon fiber sails. And when there's no wind she can run on a sophisticated eco-friendly diesel-electric propulsion system. The impressive craft cost its owner a cool $200 million.
4. Abeking & Rasmussen 244-ft. Elandess
Winner of the Best Interior Design – Motor Yachts 500GT and Above award, the owner's of this German-built superyacht wanted an interior to showcase their world-class art collection and one-of-a-kind furniture pieces in what would effectively be their second home. Luxe touches like a hand-built atrium staircase with mother-of-pearl inlays place equal emphasis on craftsmanship an opulence. The effect is lterally like being on a floating mansion.
5. Pascoe International 26-ft. Open Landau
Every superyacht needs a suitably stylish tender, and the Open Landau inspired by vintage automobiles easily captured Best Tender Design honors. The magazine cited it for excelling in "looks as well as performance, cockpit design, operational safety and ease [of use]." Wickedly fast as well, this stylish 10-passenger speedster has all the latest marine tech on board and is not only a critical companion for its mothership but an extension of the superyacht lifestyle in general.