This Official 'A-Team' Van Could Be Yours
Complete with a replica floor-mounted machine gun and wall-mounted M16.
Worldwide Auctioneers
We pity the fool who misses an opportunity to bid on this officially-licensed The A-Team van, the primary mode of transportation for the Vietnam vets-turned-mercenaries featured in the action-packed 1980s TV series. 
While not the same vehicle used for filming, this 1979 Chevrolet Van G20 (branded as a GMC, just as in the show) was one of six that were built by Hollywood Productions and dispatched by Universal Studios to roam the U.S. and Canada for promotional purposes. 
The three-color gray, orange and black paint job is dead-on, as is the beefy push bar up front and protruding CB radio antenna. Those features would be easy enough to replicate, but you'd have a tougher time securing the replica armaments found inside: a wall-mounted Uzi, M16 and pump-action shotgun, as well as an especially mean-looking floor-mounted machine gun. Of course, there's also a bucket seat for each member of the crew: Sgt. John Hannibal Smith (George Peppard), Sgt. Bosco B.A. Baracus (Mr. T), Lt. Templeton Peck (Dirk Benedict) and Capt. H.M. Murdock (Dwight Schultz). 
Motor Trend reports that power likely comes from a LS9 350-cid (5.7L) V8 with a four-barrel carburetor that originally produced 155 hp. While there's no word on condition, everything should still run fine, as only 90,000 miles have been put on the odometer over a 40-year lifespan.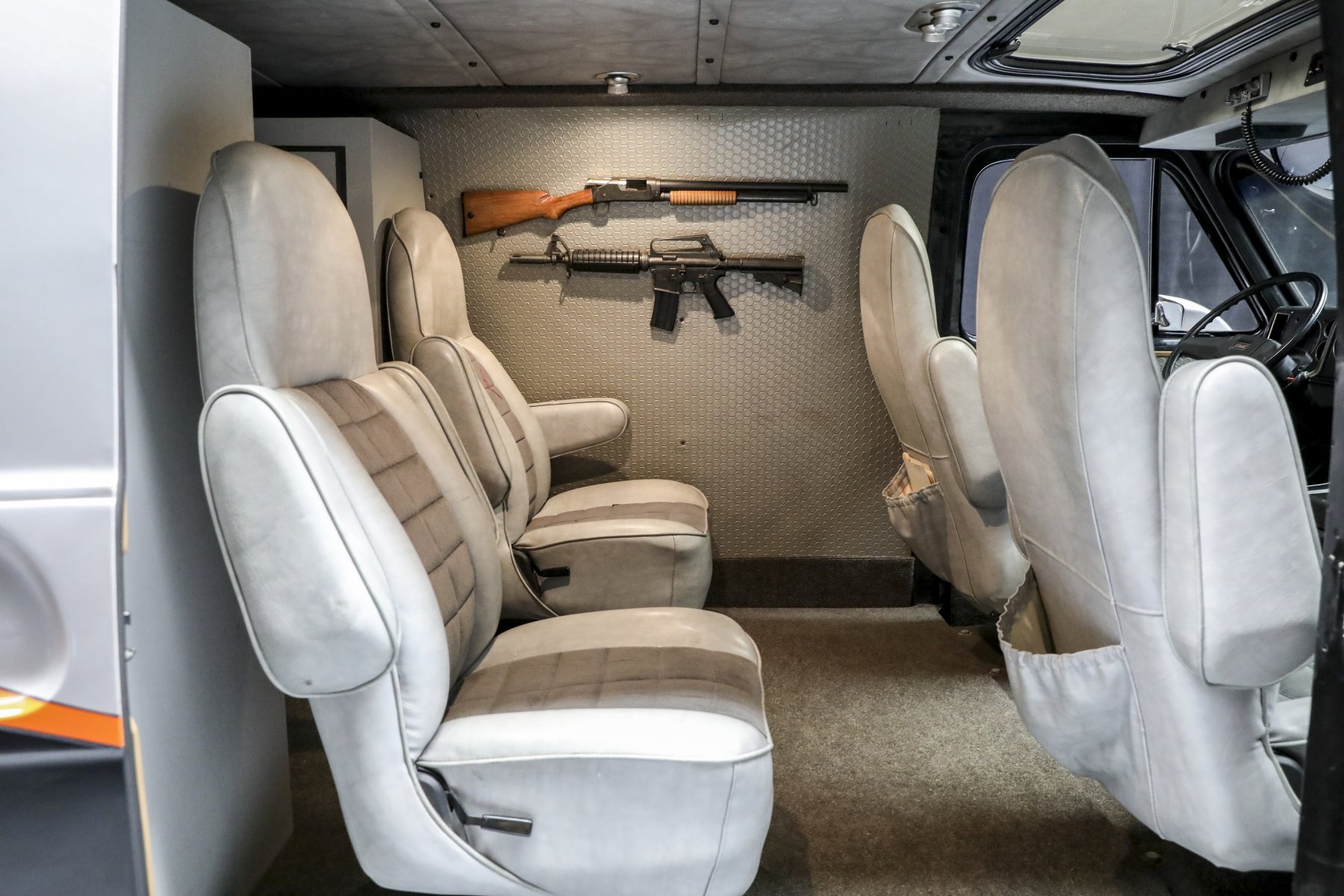 The van will sell without reserve at Worldwide Auctioneers' Scottsdale Auction on Saturday, January 23. Those who need to, say, convince their significant other to drop some dough on this automotive monster of a prop, kindly remind them that proceeds from the purchase will benefit J. Kruse Education Center, an organization that helps students and transitioning veterans develop career pathways.