This $12 Million Carbon Fiber Superyacht Is Worthy of a Bond Villain
The Adastra boasts five bedrooms, four bathrooms, an open-air bar, and can be controlled by an iPad from 164 feet away.
McConaghy Boats
If The Man With the Golden Gun was made today, Francisco Scaramanga might have the Adastra docked at his tropical hideout. 
The 140-foot superyacht is the brainchild of renowned designer John Shuttleworth and was built by McConaghy Boats for billionaire shipping magnate Anto Marden back in 2012. 
It's since taken he and his wife island-hopping across the globe, but now the Hong Kong-based businessman is selling. 
"She's been the most remarkable boat. Her seaworthiness is quite amazing. We've weathered 50-knot winds crossing both the Pacific and Atlantic oceans. She just takes everything in her stride," Marden told Robb Report.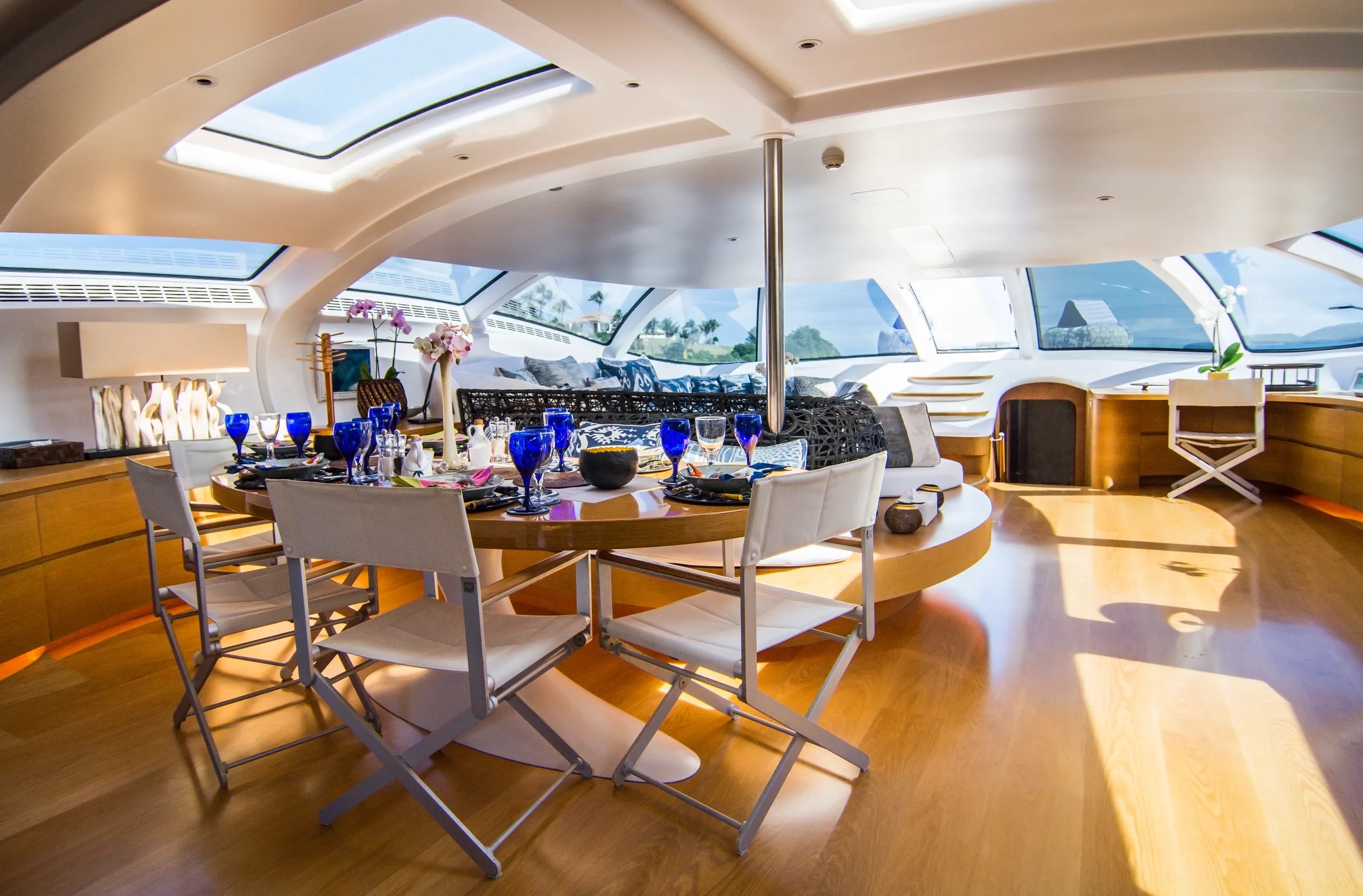 "She's also extremely economical. Cruising at 10 knots, we burn just 4.5 gallons an hour. That gives us a range of around 10,000 nautical miles. We recently did St. Maarten to Vigo in Spain and had enough fuel left to head back to the Caribbean."
That fuel efficiency is possible because of a lightweight construction: the hulls are made from e-glass and Kevlar while the deck constructed from carbon fiber. 
All of those weight-saving materials also translate to serious speed by yachting standards. A 1,150-horsepower Caterpillar C18 turbocharged straight-six diesel can move all 52 tons along at 23 knots—about 26 mph. Dual-110 hp Yanmar diesel engines provide backup power. 
And then there are the luxe accommodations. According to CNN, the boat boasts five bedrooms, four bathrooms, an open-air bar, and can be controlled by an iPad from up to 164 feet away.  
Robb Report has further details: 
Below decks, Hong Kong–based interior designers Jepsen Design squeezed in accommodations for nine guests and six crew in Adastra's slender main hull.

The full-width owner's suite in the aft section makes use of the hull's outward flare from the waterline to add to the feeling of space.

As you can see, the roomy main saloon is big on curves; from the curved ceiling to the curvy built-in furniture, to the large curved windows that flood the cabin with light.

The main helm station sits in the raised pilothouse between the saloon and the aft deck.
The Adastra is being sold for a cool $12 million—$8 million less than it cost Marden to commission. Potential buyers can see it on July 25 and July 26 at Fort Lauderdale's Seahaven Marina or click here to inquire.