We Drove Alfa Romeo's Epic 4C Roadster Down the Iberian Peninsula
Speeding ticket? Check.
Alfa Romeo/J. Zaugg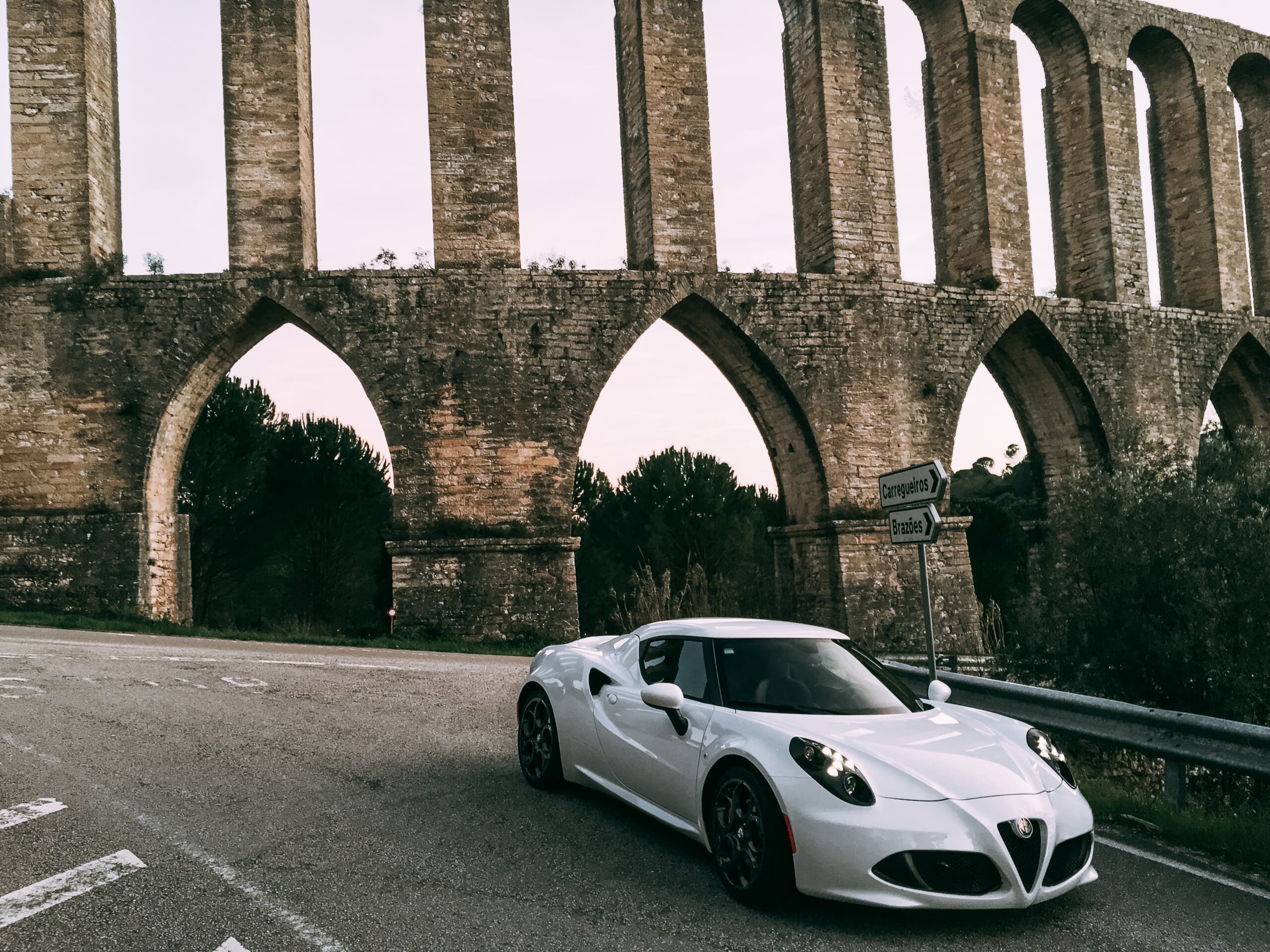 I was driving for literally 30 minutes before I got pulled over. It's a car that's impossible to drive slowly, and I wasted no time in learning that the hard way.
The 2018 Alfa Romeo 4C is built for speed. Definitely a sports racer instead of a sports car, it's completely absent of frills, incredibly lightweight, extraordinarily sensitive and absurdly fast. But that should come as no surprise. This is, after all, an Alfa Romeo, a marque that was born from speed and saw a young upstart by the name of Enzo Ferrari rise to prominence.
I'd just left Lisbon and was heading up to Porto in northern Portugal, after which I'd return down through the empty borderlands of Castile and Extremadura in Spain. The idea was to make a grand tour of the backroads of a forgotten Iberia in a spry Italian automobile.
It was the perfect recipe: touring two Latin countries in a Latin car in springtime with the promise of great food, beautiful scenery, piles of history and lots of speed. But I didn't account for the consequence of the last ingredient.
Leaving Lisbon in a rush hour traffic made me antsy, and it took 20 minutes to get to a place on the motorway where I could finally leave second gear and open it up. Once you paddle shift through the gears and hear that magnificent cough from the turbocharged engine sitting right behind your head, there's no turning back. It's as if you're in a trance, smiling, flying, singing. But my high lasted less than 10 minutes. Flashing police lights — the ultimate killjoy — indicated I had to pull over at the next exit.
Apparently, this was the first 4C the police had ever seen, because they radioed their pals and two more cop cars appeared out of nowhere to check out the Alfa, as well as a small crowd of people from a nearby roadhouse. I thought this could work to my advantage (an exotic car, an ignorant tourist) but despite trying everything in the book — joking, pleading, begging, offering them a drive — nothing worked. However, with admiration in their voices the police said, "We have to give you a ticket but, really, 190 km/h isn't very fast for this car." Gee, thanks fellas. "And, oh, by the way, the ticket is payable now or the car gets impounded." Fortunately, I happened to have a wad of Euros in my pocket.
Despite having my wagging tail docked and my wallet significantly lightened, this incident was a blessing in disguise — not to mention a minor PR coup for Alfa Romeo — as it quickly forced me onto the backroads I had originally intended to navigate.
Although the cockpit was designed for racing and not touring, there's no denying the joy experienced in covering a thousand miles in this little beauty. In fact, Alfa Romeo corporate would be hard pressed to find someone who has taken their new 4C through its paces better than I did. On city streets, cobblestone lanes, modern freeways and country roads, through snow, rain, dust and heat — the only place I didn't go was the track — just about every real-life scenario was played out. 
And everywhere I went, and I mean everywhere, people turned their heads to gawk. In fact, at a gas station a father (driving a Porsche, no less) asked to put his child in the front seat for a picture, a village innkeeper proclaimed free board in perpetuity after a spin, and countless others from teenagers to pensioners snapped photos or veered out of their lanes trying to get a better look. 
One thing is for sure, if you want discreetness, this is not the car for you.
Priced at around $60,000, the Alfa Romeo 4C has to be the most incredible affordable sports car on the market. A carbon fiber chassis, turbocharged engine, 0-60 on par with a Ferrari F40, dynamic driving modes and stunning curves, the 4C probably offers the biggest bang for your buck anywhere.
Granted, comfortable and accommodating it is not. Attractive and exhilarating it is. True to its DNA and the century-old sporting heritage of the brand, this is a no-nonsense, get-up-and-go car, an Alfa Romeo in the truest sense. And be sure to factor in the speeding tickets you will surely get because there are only two speeds for this car — fast and faster — and there's opportunity aplenty waiting. 
Jared Zaugg — author, entrepreneur, consultant — can usually be found at the intersection of lifestyle, motoring and culture. Follow him on Instagram @jaredzaugg.