Racing Alfa Romeo's Screaming 505-HP SUV Through the Ultra-Posh Hamptons
This is how you turn heads.
Photo: FCA
Red means go. Yellow means go — very, very fast.
That is what I learned during a four-day summer road trip in Alfa Romeo's top-of-the-line Stelvio Quadrifoglio.
That's because yellow is the color that appears on the instrument panel when engaging "Race"; one of four driving modes that also include Advanced Efficiency, Normal, and Dynamic — green, blue, and red, respectively. Turn to Race, and it suddenly sounds like you've got an armada of Harleys riding on your rear bumper. It even drowns out the sound of every lawman in the vicinity turning their heads in unison. Applying merely the weight of your foot on the gas induces just the right amount of anticipatory fear of how much speed this beast can deliver on command.
We arrived in Southampton to caviar and Champagne courtesy of my buddy Phil, a summer resident. In a land where every car on the road is luxurious European offering, people stop and stare at the Alfa. The Bimmers, Benzes and Range Rovers are as ubiquitous here as golf carts at a country club, but they are just table stakes; wholly anonymous means of conveyance. The Quadrifoglio, meantime, is gawked at like a Kardashian in a two-piece.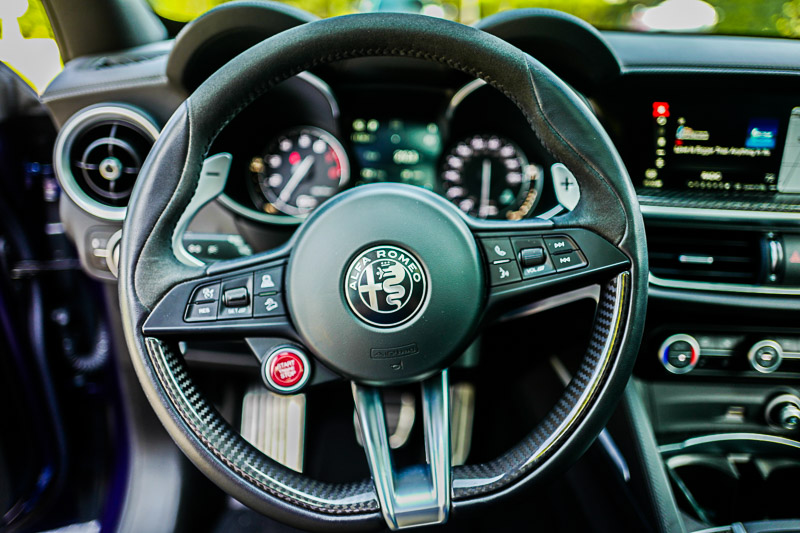 Translating to "four-leaf clover," Quadrifoglio is to Alfa what the M is to BMW or AMG to Mercedes-Benz, a shorthand for heightened performance and sportier finishes. I felt suitably lucky to be driving it. The four-leaf clover inside a triangle was first painted on an Alfa in 1923 by racer Ugo Sivocci, friend and Alfa racing teammate of a very young Enzo Ferrari. 
Sivocci painted the figure on his car for the Targa Florio, in which he won first place, beating Ferrari. He died training for the race at Monza later that year (for what it's worth, in a car without a clover), and in his memory, Alfa Romeo has put his lucky charm on their most powerful cars ever since — an iconographic link connecting his legacy to the Alfa racing line.
That this line now includes a 4,360-pound SUV is its own irony, but one that heritage-steeped brands like Alfa have gotten on board with as a point of survival.
Back to that clover: There are green ones on the right and left flanks of my Stelvio, and a small one on the speedometer. This example was painted a beautiful inky Montecarlo Blue Metallic, with black wheels and gleaming yellow carbon ceramic Brembo brake calipers. The seats are trimmed with leather and suede, the dash with carbon fiber and contrast-stitched leather, and the steering wheel, a decadent mix of leather, suede, and carbon that looks and feels very stealth fighter. The moon roof and sun shade are as snappy as you'd need; overall, the interior is sporty but cozy.
That same aggressive feeling is nowhere clearer than when you look the Stelvio in the eyes, where the aggressive brow of the headlights angles sharply towards the trademark Alfa triangular "Scudetto" grille.
The Stelvo Quadrifoglio's performance and handling might be best summarized by a fine pairing of attributes: fast and tight. The suspension is extremely intimate with the road, but in certain drive modes, an "active suspension" can be engaged that provides a more comfortable road feel. The all-aluminum 2.9L twin turbocharged V6 engine delivers 505 hp and 443 pounds of torque, and the SUV's ability to do 0-60 in 3.6 seconds makes it more than sufficient to get from the parking lot of an Amagansett Mexican restaurant across a lane of traffic and into another before the Kombucha-crazed influencer in the G-Wagen has time to cut you off. 
(Or was I a douchey interloping journalist in a 500hp SUV cutting her off? Maybe the Alfa's rarity on the road gives it a pass. As for its driver, I have no one to blame but myself.)
I averaged just over 20 miles per gallon. Granted, I treated Race mode like a rare delicacy. Being stuck in traffic on the two-lane road to Montauk, I felt like a kid on a timeout. But intervals of tree-lined open road came often enough to let the twin-turbo engine clear its throat. We got caught in a serious summer storm on the way back to Southampton, and the Stelvio revealed its SUV pedigree as the streets overflowed. 
After the clouds parted and the fleecers had left the ticket booth of the Coopers Beach parking lot for the day, we hit the beach one last time — the same stretch of beach where Bobby Axelrod bought his beach house in Billions, and still, the Stelvio Quadrifoglio got looks.
I dropped off the Alfa a few blocks from JFK Airport on a sunny afternoon after a gorgeous drive from Southampton. And yet, we ended up stuck on the tarmac at JFK for a four-hour weather delay, desperately in need a little four-leaf clover luck, wishing I could just slip that sucker into yellow and be gone.
And when the A319's jet engines finally started up, just shy of a passenger mutiny, I couldn't help but notice… the Alfa in the yellow sounded a whole lot better.