How Mercedes-AMG Cigarette Boats Became the Ultimate High-Performance Watercraft
A deep dive into why Mercedes-Benz's high-octane AMC arm is owning the ocean.
As the graphite grey Cigarette Racing 41' AMG Carbon Edition pulls away from the dock, captain Bud Lorow engages the engines. Shifting the center console boat into gear, a shudder coils through the fiberglass and carbon fiber composite hull — portending something special, and perhaps a little bit terrifying, is afoot. 
The vessel makes its way through Biscayne Bay, the white and turquoise skyline of Miami in front, mangrove to the right. From this vantage point Magic City resembles the jaw of a giant dragon with pearly asymmetric teeth. After we pass under the Rickenbacker Causeway and enter open water, Lorow turns. 
"Ok y'all ready?" he asks, grinning widely. The veteran champion racer confidently pushes the throttle forward and the vessel lurches to life. One more push and I'm holding onto the cabin's frame for dear life, white-knuckled. 
A massive wake spreads behind us as we disappear more pedestrian watercraft with disdain. There is absolutely no need for a pleasure craft to go this fast. But then again, neither Cigarette Racing Team nor AMG, Mercedes-Benz's performance division, are known for their restraint. 
So here we are, cruising Biscayne at 80 mph. And while the two companies share a penchant for speed, they also share a demand for extreme engineering. I witness that firsthand the following morning when I visit Cigarette Racing's cavernous facilities in Miami's Opa-locka suburb. 
What instantly impresses upon entering is just how immaculate their workspace is: concrete floors you could eat sashimi off of, boats polished and gleaming, not an oil stain or stray wrench to be seen anywhere. 
https://www.instagram.com/p/Bx4x-hMDVRM
"When I bought the company I said to the production manager, 'We're going to have to reflect a Formula One paddock here,'" Skip Braver tells me of the day in 2002 when he salvaged Cigarette Racing from bankruptcy. 
Across a vast wooden desk, relaxed and amicable, Braver epitomizes the role of a Miami speedboat CEO. "And he said 'Skip, we're not cooking tomatoes here!' I said I know we're not cooking tomatoes, but you gotta clean up! We want this place to be something special right away." 
"It's not tough," he continues. "If you walk into a [factory] and it's a mess, and there's no organization, and it's filthy dirty, what's it say about your boats? How are you treating your tools?" 
https://www.instagram.com/p/Bxf7KsxJQqW
Currently Cigarette Racing builds 12 different models in this sprawling campus, under two main categories: Open Performance boats, which are commonly referred to as a Center Console, and Pure Performance, what most people associate with the term "Cigarette". 
To make an automotive metaphor, Cigarette Racing's Chief Marketing Officer Scott Preacher equates the former to performance SUVs and the latter to supercars in terms of utility and velocity. Size, speed and amenities all can vary greatly; while you can slip into an entry-level 38-ft. boat for as little as $500,000, the size can swell up to 60 ft. — and the cost sprawl well over $3 million. 
https://www.instagram.com/p/BwrbvkoBZEl
While they've built vessels with a 172 mph top speed, 140 mph is their normal zenith. 
"We could build boats to go faster, [but] we choose not to," Preacher explains. "You'd be surprised how hard it is to run 100 mph for a long period of time. Even on a day when it's glass out, the boat's still running on top of the water." 
"You can get a false sense of security running 180 mph in a car on the autobahn, you feel like you've got everything together. On a boat you don't have that sensation — you're on the razor's edge the entire time at those speeds."
https://www.instagram.com/p/BubUv-iDjTB
Clearly the company's philosophy has worked, as Cigarette Racing produces around 50 vessels a year for the world's most discriminating customers (they claim they could build more, but limit themselves to maintain exclusivity). And almost everything is hand-built under this roof — only motors, fuel tanks and electronics are sourced; everything else is done in house. 
Enrique Iglesias, Nelson Piquet, the Sultan of Johor and former president George H.W. Bush are all past customers. 
"We build the best performance boats," Braver states flatly, tapping his fingers together at the end of his long desk. "We build boats for the ocean, not lakes. They have the best resale value because they stay together." He smiles. 
"Your body's going to give up before my hull gives up."  
In Depth: The Cigarette Racing 41′ AMG Carbon Edition  
Mercedes-Benz's high-performance arm AMG has a longstanding relationship with Cigarette Racing: since 2007 the two companies have jointly developed special edition boats correlating with one of Affalterbach's greatest creations. 
Now for its 11th vessel the partnership of the two supreme engineering teams has collaborated to build a craft inspired by AMG's GT 63S 4-Door Coupé. 
https://www.instagram.com/p/BxZr9KEDvR6
Last year's boat, the 515 Project ONE, was all about speed — fitting, given it was an homage to AMG's ludicrous Project ONE hypercar. With 3,100 horsepower and a 140 mph top speed, the hyperboat splashed headlines across the world. 
But just as the Project ONE hypercar only has room for you, a single attractive companion and maybe a Louis Vuitton weekender, Cigarette Racing's fastest totems of velocity offer a similarly limited capacity (six people max). 
https://www.instagram.com/p/BxA24lzBJOX
Meanwhile, just as the GT 63S 4-Door Coupé offers amazingly ample roominess in back for full-size humans, so too does its Cigarette Racing equivalent. 
The 41' Carbon Edition allows you to bring as many as 20 of your best friends along for your cruise to Havana (if you want to pull the throttle to full bore that number is squeezed to eight, however, given the cabin size). But just because it prioritizes comfort, don't think for a second the 41' AMG Carbon Edition can't haul ass. 
The 41-foot vessel features quad Mercury Racing 400R engines generating a total of 1,600 horsepower for 83 mph of wave-leaping power. 
https://www.instagram.com/p/Bwur8Eah6sn
Featuring a dramatic Designo graphite grey magno matte paint job (developed exclusively for its GT 63S sister vehicle) and eye-popping high-gloss crimson AMG highlights, "Cigarette Cool" seats and materials, copious carbon fiber (deck, rudder, roof lining and hardtop), three 17-inch HD Garmin touchscreens, ambient lighting and high-amperage sound system, the 41' AMG Carbon Edition is the perfect vehicle to host your next floating soirée. Get your own for $800,000.  
Birth of a Legend 
How Cigarette became a byword for speed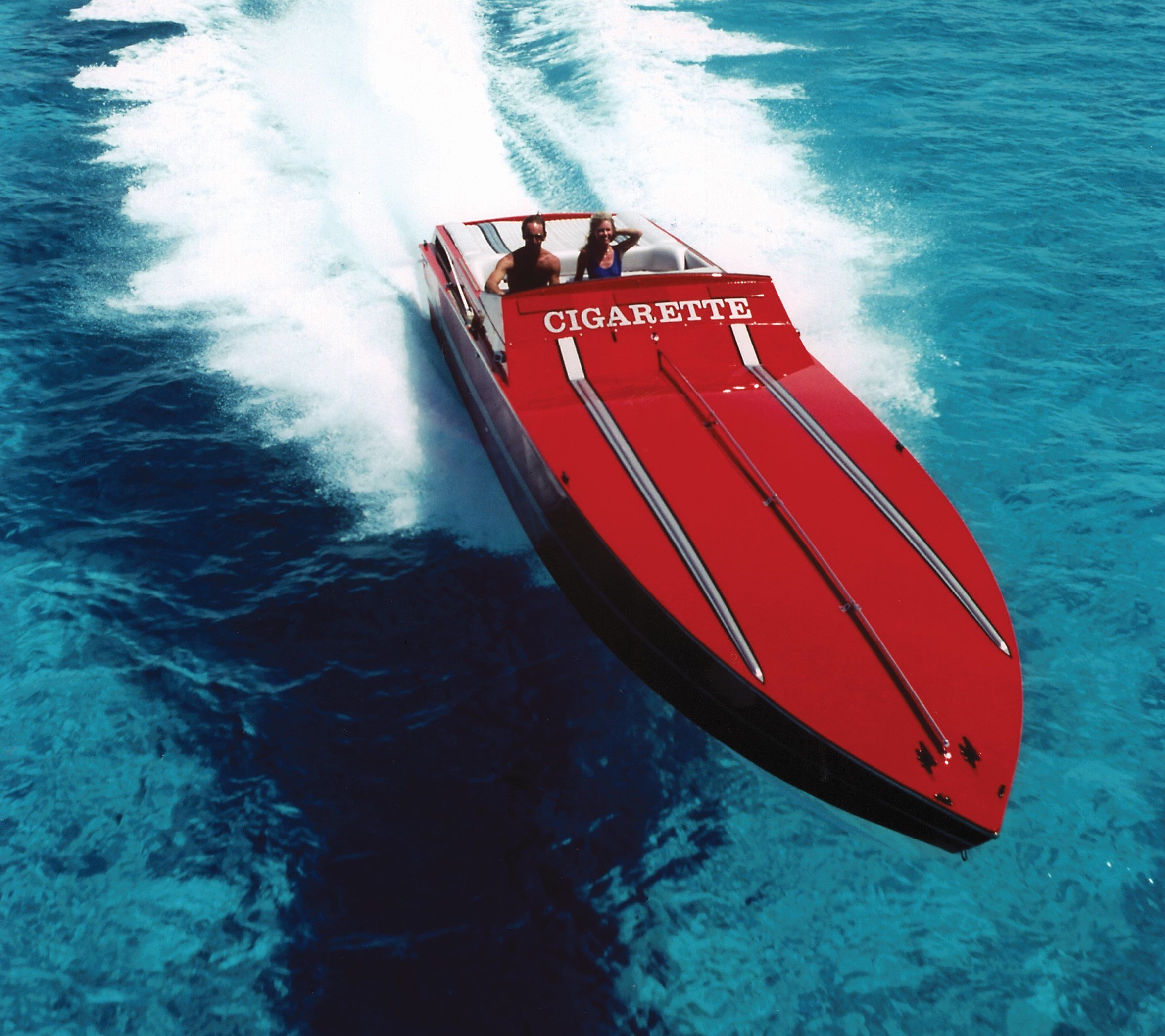 For men of a certain generation, the mention of Cigarette boats conjures up only one image: that of a sleek, impossibly long speedboat catching air over crystal blue water, accompanied by Jan Hammer's bongos and pink flamingo-laced intro to Miami Vice. 
The connotation — that of ridiculous velocity tied to the illicit entrepreneurship that defined the show — perfectly sums up the genesis of Cigarette Racing. 
The larger-than-life figure of Don Aronow is credited with starting not only Cigarette Racing, but also the culture (and sleek silhouette) of the more generic "cigarette boat" — known more prosaically as a gofast. The first official vessel to carry that name was built for Formula, Aronow's first company, years before he founded Cigarette Racing.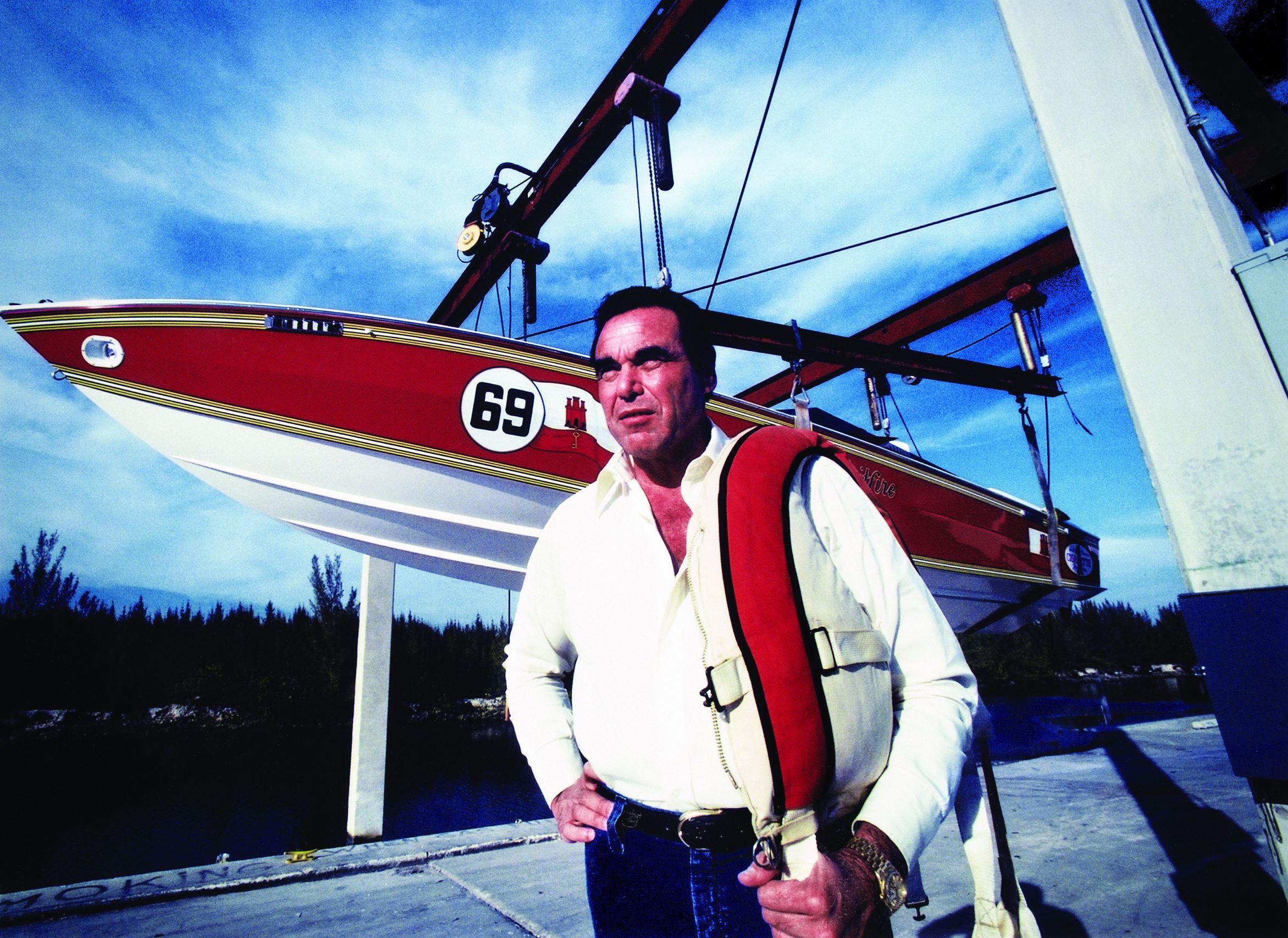 Those speedboats were engineered for the wild races Aronow and his boys would run to the Bahamas and back, but because of their absurd speeds and radar-avoiding profile the vessels were soon appropriated by the Cocaine Cowboys that literally built '80s Miami. 
He would make millions and gain worldwide renown, but it wouldn't end well for Aronow. In 1987 after attending a meeting with a colleague and later-to-be-convicted drug runner, a dark blue Lincoln pulled alongside Aronow's car and opened fire. 
Sadly, the legend may have fallen victim to some of his more nefarious customers who were unhappy with him selling his go-fast boats to the U.S. Customs Service as well. 
https://www.instagram.com/p/BzOrwJqHIL1
But that climactic end only adds to the mythical allure of the Cigarette brand: Don Aronow's story is so towering, so bombastic, that he was immortalized (as "Ben Aronoff ") by John Travolta in last year's Speed Kills. 
Although you're much better off watching the 2009 documentary Thunder Man: The Don Aronow Story if you want to avoid seeing Travolta in white skinny jeans.