Bow Down to Arnold Schwarzenegger's Badass 1977 Mercedes Unimog Truck
This little monster will terminate the off-road course of your choosing.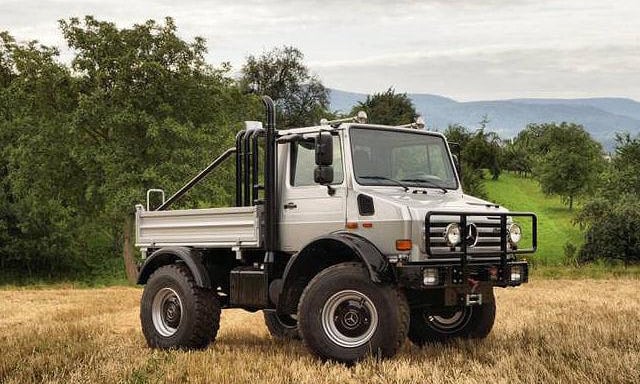 A gorgeously rugged 1977 Mercedes-Benz Unimog off-road truck once owned by Arnold Schwarzenegger is selling on eBay for $350,980.
The former Governator, who is known to favor military-inspired rides like the Hummer H1 and his personal M47 Patton Tank, reportedly sold the vehicle directly to current owner Texas Direct Auto, which has full documentation and photos of Schwarzenegger with the badass Benz (he even signed the dashboard). 
The fearsome off-roader looks fit for a cameo in Commando or Predator and is in excellent condition, with just 1,865 miles. The four-passenger Unimog U1300 SE has a 6.4-litre turbocharged diesel inline-six engine and rolls on four massive Michelin XZL 445/65R22.5 tires. 
It also has vinyl seats, Hella off-road lights, a roof vent hatch and an old-school back-up camera system. Plus, a bench seat in the truck bed can haul four additional passengers, should you need to bring back-up while terminating an off-road course. 
Interested parties should act fast—the listing for this one-of-a-kind ride expires on January 21.