Aston Martin Unleashes Their Fastest Convertible Ever
Aston Martin's flagship DBS Superleggera supercar goes topless.
Aston Martin
Aston Martin's most powerful production car just got the topless treatment.
The British marque gave the DBS Superleggera a convertible makeover and a "Volante" designation—the second Aston Martin to get the tag after the Vanquish S Volante. 
Drivers still get the same monstrous 5.2-liter, twin-turbo V12 that endows the coupe with 715 horsepower and an eight-speed automatic transmission. The powertrain is good for an identical top speed of 211 mph and a slightly slower zero-to-60 mph time of just 3.6 seconds.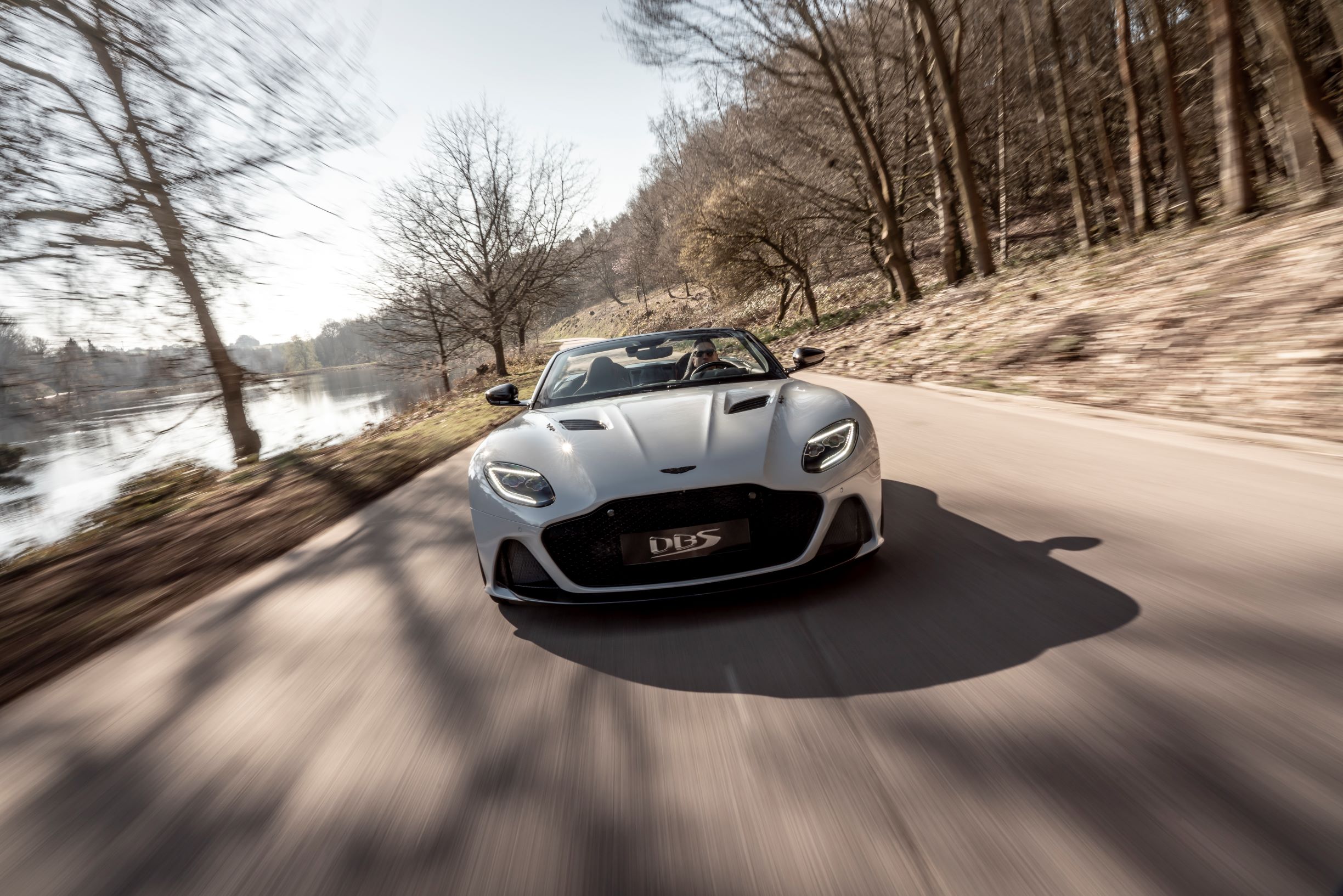 Aston didn't just chop off the hardtop and slap on a piece of fabric. The DBS Superleggera Volante's roof is made from eight layers of insulating materials that were exposed to the extreme weather conditions found in Death Valley and the Arctic Circle over a one-month test designed to simulate 10 years of usage. 
The soft top can be opened in 14 seconds and folded back up in 16 seconds via an interior control or a remote key that has a 6.5-foot range. 
Better yet, the convertible looks every bit as beautiful as its predecessor. 
Car and Driver reports: 
The car's gaping maw, wide hips, aggressive detailing, and elegant rear end are all intact and still excellent. Aston says that the cloth roof has a "class leading" compact height when folding, lending the car a good amount of cargo capacity and a low rear deck—and the latter feat makes a big difference.

A lot of cars in this space get bulbous and awkward with the roof down, but not the DBS. Its haunches flow right into the flat deck, with a number of nice creases following the contours of the body and the interior. It just looks right, as though it was always meant to be roofless. And the DBS achieves the rare feat of still looking pretty with the roof up, to boot.
The DBS Superleggera Volante will be available with eight different hood colors and an optional carbon fiber finish on the interior. Pricing starts at $330,000—about $25,000 more than the coupe. 
Look for Aston Martin's fastest convertible ever on the road later this year.