Take a Deeper Dive Into Aston Martin's Ultra-Premium Personal Submarine
We want to live in this thing.
When Aston Martin announced they were joining forces with Triton Submarines LLC on a luxury submarine called Project Neptune, we were skeptical that it would ever actually go into production. We were wrong.
The premium British automaker (and favorite of James Bond) just released the craft's final specifications, and it could not be more real… or much cooler.
SlashGear has all the details:
The submarine will be able to dive down to depths of up to 500 meters, or over 1,600 feet. It'll be able to sprint in excess of 5 knots, or just shy of 6 mph, and have approximately four times the acceleration of Triton's current flagship sub, the 3300/3. That can reach 3 knots.

Like the 3300/3, Project Neptune will seat three: the pilot and two passengers. However, they'll be surrounded by luxury far more akin to an Aston Martin car than the relatively workday environment of the existing sub's bubble hull. The cabin is the responsibility of Aston Martin's designers, and it has presented more than a few challenges.

"Unlike a sports car where the interiors are installed into an open-sided cabin before the doors are fitted," Marek Reichman, EVP and chief creative officer at Aston Martin, explains, "everything you see inside will be lowered through the upper-hatch and assembled within the completed sphere of the pressure hull. We have been able to present a congruous aesthetic that defies its multi-part complex installation."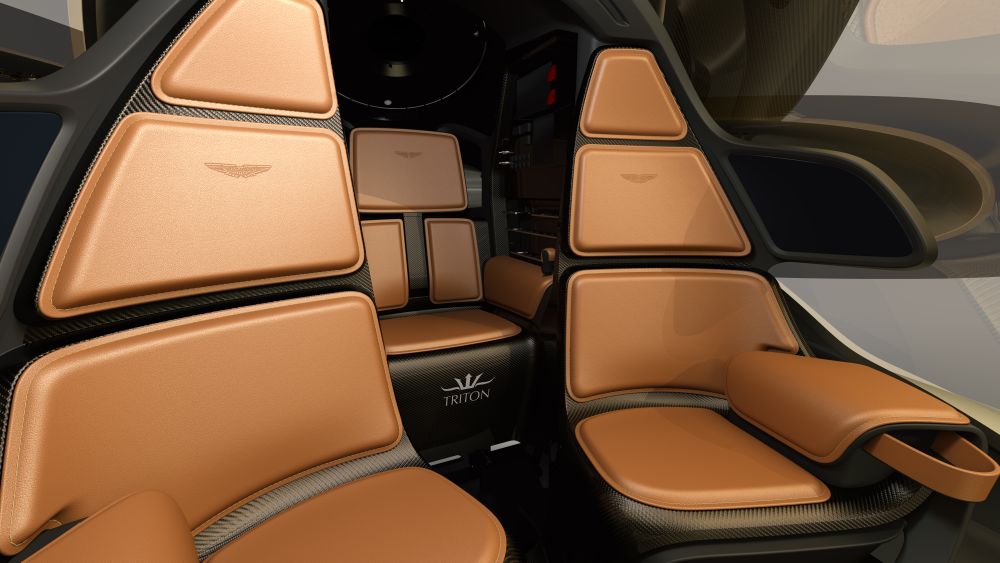 In other words, they were able to make this thing look incredible while maintaining Aston Martin's standards for luxury.
The result is a combination of carbon-fiber and hand-stitched leather, all inside a huge acrylic canopy. That should offer those inside near-360-degree visibility. Three off-the-shelf designs will be offered but, as is the case with Aston Martin's cars, the Q by Aston Martin bespoke service will be available for custom orders.
Marek Reichman, Aston's EVP and Chief Creative Officer, compared the craft to their Valkyrie hypercar: "We have afforded as much attention to the hydrodynamics of the underside as we have the visible surfaces. Some of that detail may never be seen, but its effect will certainly be felt."
Pricing is said to be around $4 million, per TopSpeed, and order books are open now.
What are you waiting for?