Aston Martin's DBR22 Roadster Is A Topless Speed Demon
The racing-inspired, open-cockpit supercar debuted at the prestigious Pebble Beach Concours D' Elegance.
Q by Aston Martin, the bespoke division behind the British marque's 007-themed limited edition supes, is celebrating a decade of cool customizations with another V12 Speedster.
Like last year's DBR1 Edition of open-top 12-pot-powered supercar, the DBR22 salutes the winningest Aston racing machine ever, the DBR1, which dominated a string of key circuits throughout 1950s and famously won the 1959 World Sportscar Championship at Le Mans.
But unlike every other V12 Speedster we've seen—limited edition or otherwise—the DBR22 concept wears a totally new body. The usually veined front grille is replaced by an open carbon fiber mouth more reminiscent of the original DBR1 than any production series Aston.
The hood features a dramatic recessed horseshoe vent, creating a line designed to carry the gaze over the cockpit to the eye-popping twin nacelles behind the driver and passenger seats.
New 21-inch alloy wheels sport a DBR22-exclusive 14-spoke design with racy center-lock hubs, while nearly all exterior surfaces are coated in a one-off green, showcasing Q by Aston Martin's "Paint to Sample" option.
As Car and Driver notes, the same twin-turbo 5.2-liter V12 powering other range-leading Astons provides 705 horses and 555 pound-feet of torque in the DBR22, enough accelerate to 60 mph in 3.4 seconds. Aston says that unique engine calibration and the eight-speed paddle-shift automatic transmission make for "a manner and delivery unlike any other model."
A more rigid chassis, adaptive dampers, and weight-saving 3D-printed aluminum rear subframe aim to deliver competitive performance on a track and a pleasurably potent Sunday drive.
"The DBR22 showcases Aston Martin's unique capabilities, with world-class design combined with an agile, intelligent approach to engineering and production," said Roberto Fedeli, Aston Martin Chief Technical Officer.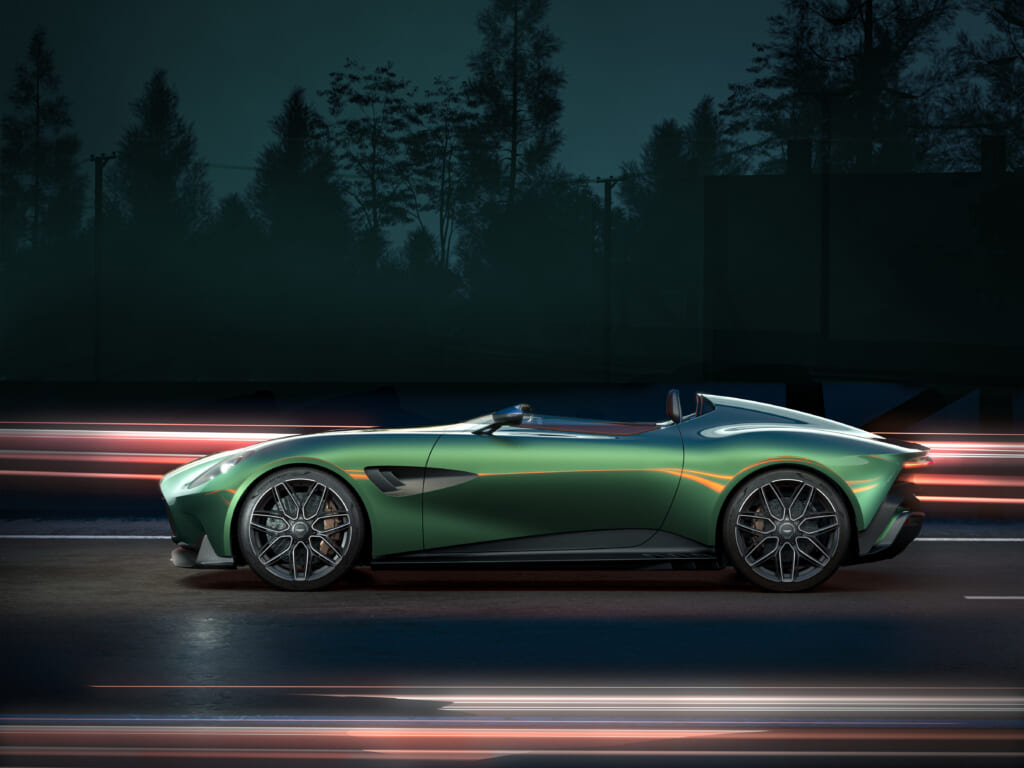 "For a car that was designed to celebrate the ultimate bespoke customization service, the engineering developments mean DBR22 truly has the dynamic theatre to match, ensuring the drive is just as addictive as its looks."
As a concept, the Aston Martin DBR22 isn't for sale. But it will be on-display at the Pebble Beach Concours D' Elegance from August 19-21.