2019 Audi Q8 Test Drive: Rocky Mountain Rumble In Stylish New Luxury SUV
Audi's latest flagship SUV aims for aesthetics and utility, without sacrificing either.
Audi
Somewhere between Park City, Utah and Canyon Bend, Colorado the satnav on the Audi Q8's crisp 10.1" screen told us to bust a right. 
We did a double take, as the route directed us off the smooth asphalt of a major thoroughfare onto a hole in the cattle fence. Through the opening, a dirt road headed straight into nothingness. 
Well not quite nothingness, more like an earthen ocean of grass dusted with snow, undulating and endless, with the craggy peaks of the Rocky Mountains far away on the horizon. We slipped the Q8 into off-road mode and started to let her fly.
https://www.instagram.com/p/Bu4AoltHej-
Here is where two integral ingredients shine: the 3.0-liter turbocharged V6's generous output (335 horsepower and 369 lb-ft of torque) and Audi's superb mechanical Quattro all-wheel-drive system. 
The road was tight, the terrain dirt and rubble strewn, and yet the Q8 handled it all with aplomb. We even got the backend to squirrel out a bit when the opportunity arose (the mechanical center differential can channel up to 85 percent of its torque to the rear axle, although a 40:60 front/rear is the default ratio), but otherwise Quattro was spotless. 
The undulating hills eventually fed into a canyon, following a small river that cut through the high cliffs. The optional adaptive air suspension ate holes and bumps unvexed, and with its 3.5-inches of adjustment added up to 10-inches of clearance.
https://www.instagram.com/p/BtT3RahhmcJ
If luxury means peace of mind, then the Q8 fulfills handsomely. 
Our jaws slacked as we drove through one of the most beautiful roads we've ever seen, the sun lighting the precipices golden, and not once were we distracted from the voyeurism by lack of ability. Mechanically the SUV was unshakeable, and comfort wise the cabin was comfortable and on par with Audi's best.
The twin displays — 10.1-inch up top and 8.6-inch below — are surrounded by glass, so they disappear into a smooth, elegant blackness when SUV is shut off. Audi's excellent Virtual Cockpit replaces the analog gauge cluster, using a 12.3-inch screen to illustrate numerous digital gauges, navigation via Google Earth, gear selection, etc. 
There are standard leather thrones, and ours came flushed out with the Prestige and Luxury packages that feature 21-inch wheels, top-view camera system, illuminated door sills, HUD, ventilated and messaging front seats, Alcantara headliner, a euphonic 19-speaker Bang & Olufsen 3D soundsystem and a sundry of electronic driving aids (including adaptive cruise control and adaptive lane assist)
https://www.instagram.com/p/BtBa83sFuZW
The Goldilocks Solution
As it has an "8" in its nomenclature, like the A8 executive saloon, the Q8 is the new flagship in the Four Rings' SUV lineup. 
Based on the bones of the Q7 (Volkswagen Group's MLB Evo platform), the Q8 usurps the erstwhile flagship SUV by bringing in more standard features, and prioritizing design and style.
Unlike the boxy Q7, the Q8 features a raked rear glass that Audi dubs "Sportback" — a design inspired by Audi's legendary Sport Quattro. The seminal 80's rally car that birthed the German brand's peerless AWD reputation, the Sport Quattro also inspires the Q8's flared fenders and tail-lamp design, which features a single horizontal light bar running along its length.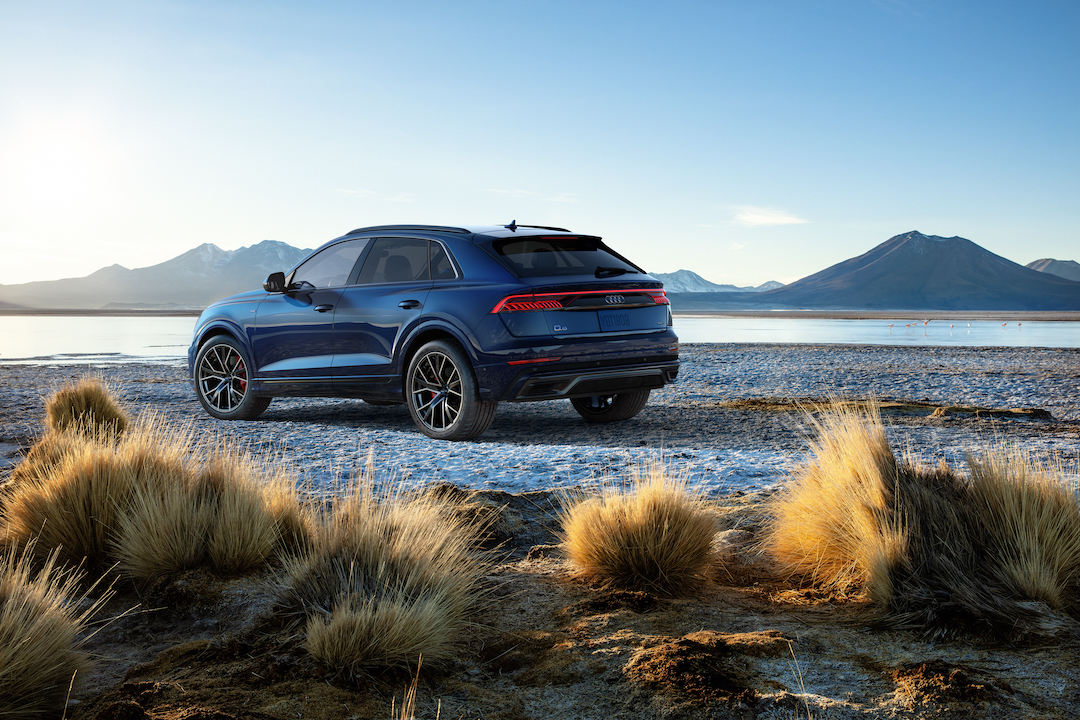 "We wanted to find this kind of Goldilocks moment of a very sporty appearance, but also not cut too deeply into the utility side of things," explains Q8 product manager Anthony Foulk. "Let's be honest, that's the U in SUV." 
This is the magic of the Q8: it's the quintessential Goldilocks solution for those who want a bit more style out of the boxy fullsize SUV, but still want the full utility of a 5-seater SUV.
And the Q8 accomplishes this task, boasting more utility and cargo room (30.5 cubic feet) than direct competitors like the BMW X6 and Mercedes GLE Coupe, while still offering more flair than a traditional boxy SUV.
Design Within Reach
What separates the Q8 from the Q7 is its design. Clearly Audi looked at the other "coupe-style" SUVs like the X6 and GLE Coupe and thought, Okay, well what would a similar SUV look like from Audi? 
While popular in the US, "coupe-style" SUVs are even more successful in international markets like Europe, Russia and the Middle East.
"I found in my time in Audi that it's best when you go to design, not with a solution, but with a problem," continues Foulk. "They're the doctor, you're the patient. You tell them what hurts, they try to figure out how to fix it." 
The prescription: Design a vehicle more stylish than a traditional boxy SUV, but which doesn't sacrifice rear headspace.
https://www.instagram.com/p/BueY07FBJ4_
To accomplish this, Foulk points out that wheelbase and roofline angle were of primary importance. So even though the Q8 is 2.6" shorter than its Q7 sibling, designers used its full 117.9" wheelbase. Since the Q7 boasts one of the most spacious first and second rows in the business, it was critical to transfer that onto the more rakish Q8.
Removing the third row and adding a flat roof also allowed designers to maximize headroom for the second row. The Q8 is lower and wider than the Q7, and features frameless doors. While sharper aesthetically, frameless doors allow more road noise than normal doors so they added dual-pane acoustic glass to all passenger windows. 
Many luxury cars have dual-pane glass on front doors, but the Q8 also has them in back — along with self-supporting electric sun shades (a primary request from parents).
Another advantage of exorcising the third row is it allowed product planners to add a spare tire. Since it's the new flagship SUV, designers also increased the wheel and tire package, subbing the Q7's 19" standard wheel with dubs (up to 22-inch wheels are optional).
After the raked profile, the most attention-grabbing visual element to the Q8 are its dramatic Matrix HD head- and tail-lamps. 
They feature diodes that independently turn off when they sense oncoming traffic so you don't have to put on your low beams, like an automatic dimmer. Unfortunately that function is still illegal in the US, but the Q8 is ready to activate that functionality as soon as it is legalized.
It's not just the lamps that demands attention — it's the entire fascia. The Germans call it "rear view intimidation," meaning they want the Q8 to scare the beejeezus out of Range Rover and Benz drivers who spot one zooming up from behind. But the nexus of angles and lines and squinting headlamps don't so much intimidate as confuse; it is surely subjective, but the Q8 seems to go too far in its quest to impress. Sometimes less is more. 
In our humble opinion, cleaner, more minimalist designs like that found in the Range Rover Velar and GLE Coupe are preferable to the overwrought "rear view confusion" of the Q8. 
Powertrain 
The Q8's powertrain slots in the middle of its class; its punchy, but won't wake neighbors from a nap. At launch only one engine is available — although certainly an S- or even RS-branded V8 could be coming soon. 
The turbocharged 3.0-liter V6 provides 335-hp and 369 lb-ft of torque (available at only 1,370 rpms), which is more output than the BMW X6 (300 hp and 300 lb-ft), but comparable to the Range Rover Sport (340 hp and 332 lb-ft) and considerably less than the Mercedes GLE Coupe (385 hp and 384 lb-ft). Its 0-60 time of 5.6 seconds is just as fast as the GLE Coupe, however.
The V6 comes mated to an eight-speed automatic transmission, and is boosted with a 48-volt lithium-ion battery electrical architecture. The system provides mild-hybrid capability and allows for various driver-assisted technologies.
Conclusion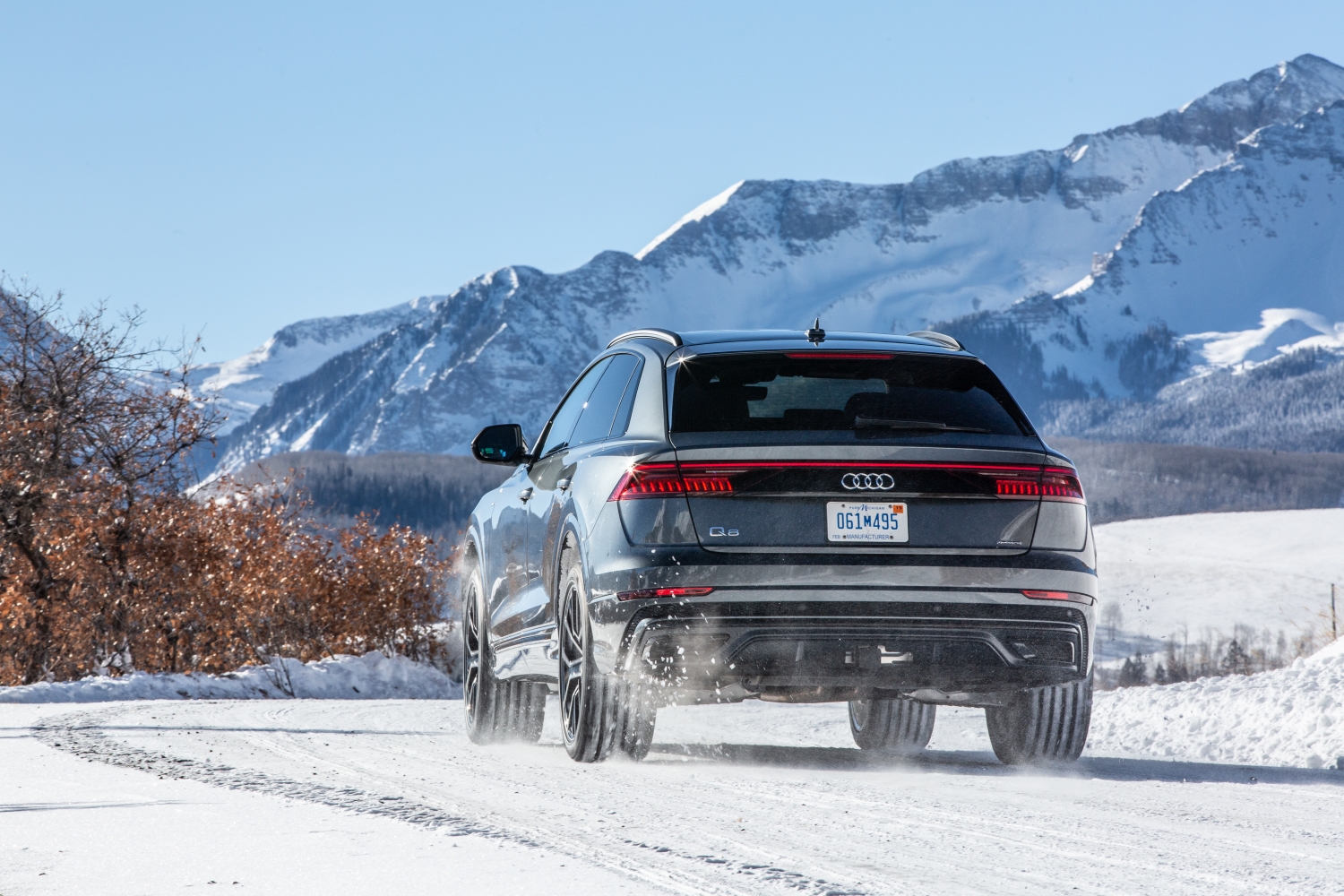 The goal of the Q8 is clear. It wants to be a bit more stylish than its Q7 sibling, without sacrificing too much utility (and specifically, rear headroom). 
From a purely utilitarian position this proposition works — rear passenger headspace is much better than that of its "coupe SUV" competitors. But we're not sold that its design moves the need enough to warrant picking the Q8 over the Q7. Sure it's more stylized, but is it worth scrapping the third row, and adding $14,000 to the pricetag? 
Maybe when the S version comes along, then aesthetes might be more convinced.
https://www.instagram.com/p/BukIaUPBrEo

The Audi Q8 is available in three trims:

$67,400 Premium

$71,000 Premium Plus

$76,550 Prestige