The Audi S5 Cabriolet Will Make You Want to Go Topless in Winter
Roofs are for suckers.
Audi
Sometimes, as a journalist, one is confronted with a seemingly impossible dilemma. Should you reveal a source? Are you being appropriately non-biased in your reporting? What do you do when a gorgeous convertible is given to you in sub-freezing conditions?
Well, dear reader, you'll be happy to know we made the honorable choice. When handed the keys to a brand-new 2018 Audi S5 Cabriolet, we immediately dropped the top, cranked up the heat, and hightailed it right out of Manhattan to picturesque Hudson, New York.
My journalism prof would be proud.
Here's what you need to know about Audi's topless pocket rocket. The S5 is a midsize coupe that hovers around the middle of the German company's product range, both size and price-wise. (Our fully loaded test car would set you back a cool $75K.) This puts it in the hyper-competitive company of the BMW 440i and the Mercedes-AMG C43 coupe.
Under its flowing lines—seriously, pictures barely do it justice—is a 3.0-liter turbocharged V6 that produces 354 horsepower and 369 lb-ft of torque. That's enough for a sub-5 second run from 0 to 60 and an electronically limited top speed of 155. 
The 2018 model is newly equipped with an eight-speed automatic that is well suited for the surprising amount of low-end torque. (Turbo lag is a non-issue.) It also comes standard with Audi's quattro all-wheel drive system, which, when combined with the lightweight five-link suspension, really let us feel the twists and turns up Route 9 along the Hudson River.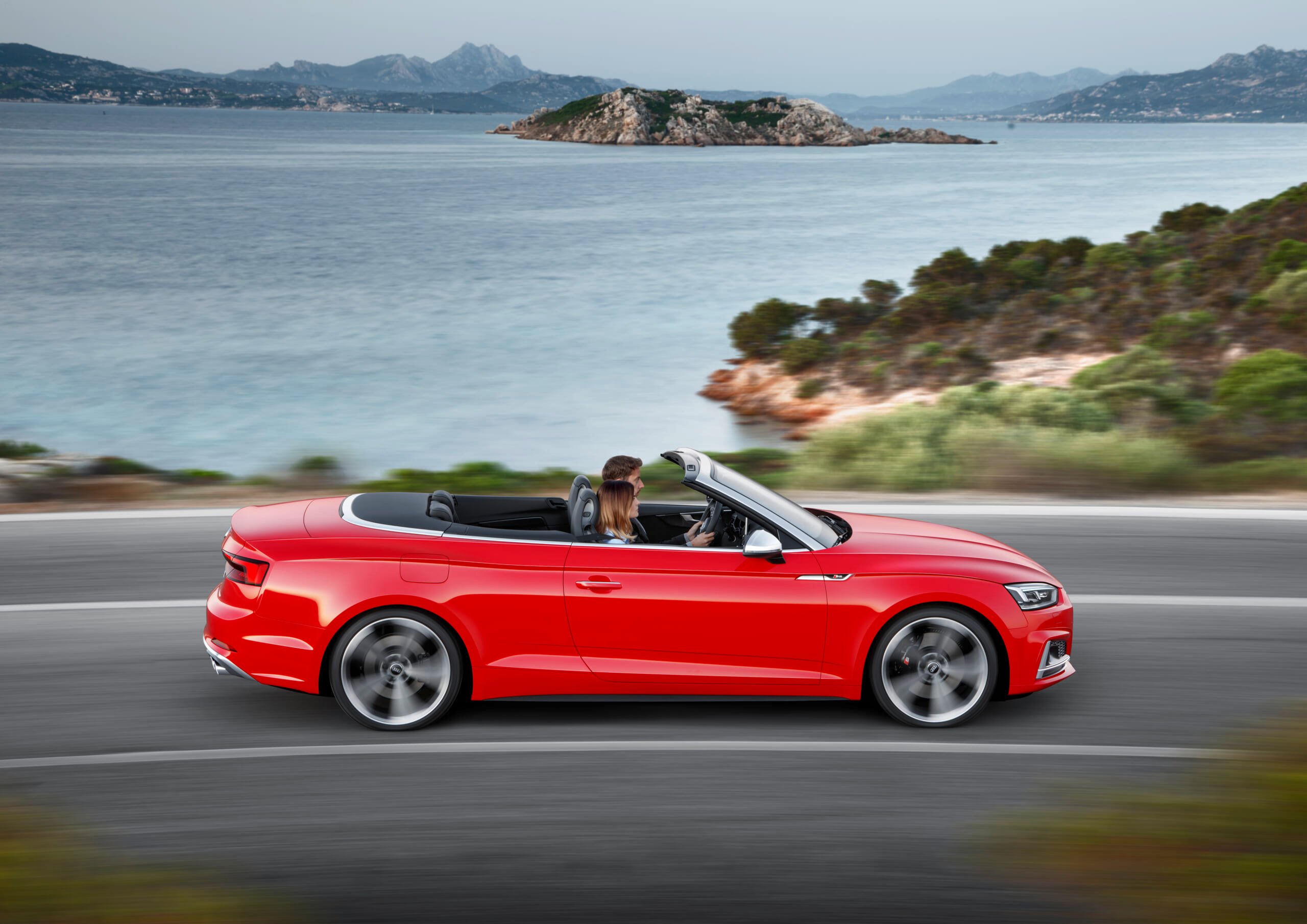 We also felt the wind. The S5 has a fully electronic top that can be lowered with one touch in just 15 seconds at speeds up to 31 mph. With the top up, you'd never know you were in a convertible; the feeling of insulation is incredible.
Of course, we rolled roofless for most of our journey, with the top resting in a tray underneath the trunk. (This feat of German engineering allowed plenty of space for another smartly designed product, our Briggs & Riley Transcend VX zipperless variable expansion luggage.)
The S5 claims to seat four adults, though no one over 6 feet should travel in the back for more than a quick beer run. The interior is just as striking as the exterior, with highlights including diamond-stitched leather seats and a sweet 3-D decorative inlay trim that spans from the door panels across the dashboard.
The infotainment system is top notch—we're talking navigation, smartphone interface, 4G LTE connectivity, voice control and free-text search—although it did take a few attempts before I got comfortable with the less-than-intuitive address input.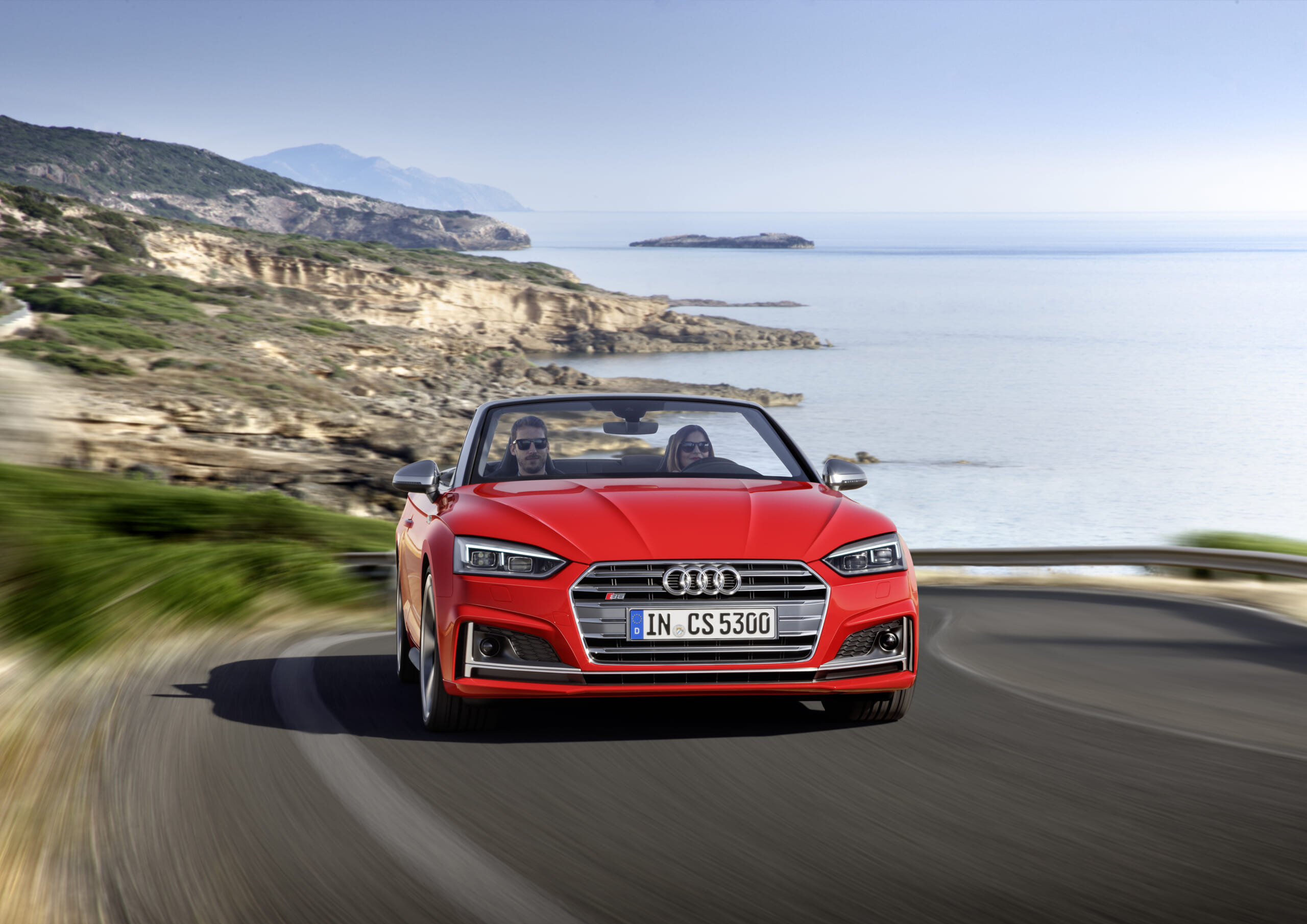 Parked in front our room at the rustic-chic Wm Farmer & Sons right off Hudson's main drag, the Audi and I had a moment of what I like to think was mutual appreciation. Like a horse relieved to be broken by its owner, the S5 was proud that its weekend driver enjoyed it in all its top-down glory. 
Because, even when it's possible you'll catch pneumonia, some things in life are just worth doing.