The Audi SQ5 Packs Bulging Muscle Into a Sleek Compact Crossover
It's the shot of adrenaline the segment desperately needs.
Audi
There's nothing like a sleeper. Unlike muscle-bound brutes and sharp-angled supercars, these wolves-in-sheep's-clothing simply blend into the automotive background. Stomp on the gas, though, and you quickly learn what they're made of. Classic examples include the BMW M5, the Mercury Marauder, and, of course, the iconic Buick Grand National.
Now, we can add another vehicle to the list: Audi's power-packed compact crossover, the ferocious SQ5.
Let's start with the heart of the beast, a free-revving, turbocharged 3.0-liter V6 that churns out 354-horsepower and 369 lb-ft of torque. In this era of Corvettes with over 1,000 horses, that might not sound like a ton. Squeeze them into an all-wheel drive compact, however, and you have a vehicle capable of bursting out the gate to 60 mph in just under 5 seconds.
Besides raw speed, the SQ5 boasts an adaptive, height-adjustable air suspension and torque-vectoring rear differential. These combine to provide enhanced stability even during hard cornering, which we got to test out on the winding roads of eastern Long Island.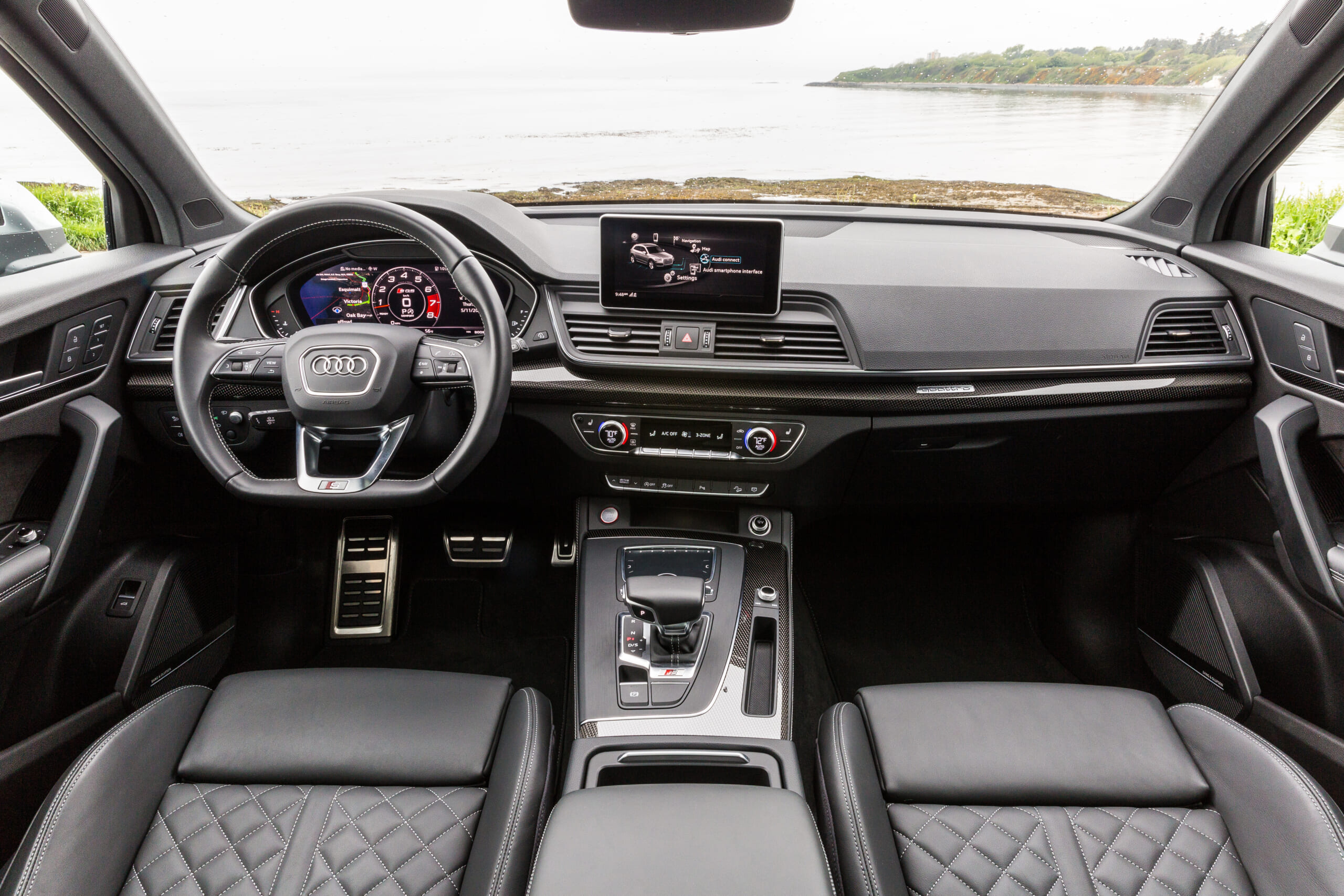 The SQ5's cabin shines just as much as its powerplant. It's dominated by Audi's latest infotainment system, a seven-inch tablet-like screen that hovers right between driver and passenger. It allows both Apple CarPlay and Google Android Auto integration, so you can access features like navigation, texts, music and even some third-party apps no matter which smartphone you rock.
The three-spoke flat-bottom race car-like steering wheel reminds you of the car's sporty ambitions, while the cross-stitched Nappa leather seats assures you this is, indeed, a luxury vehicle. (Just in case the $55,000 starting price didn't tip you off.)
And since we can't have too much cowhide — or respect for the SQ5's sleek interior design — we left the ratty canvas bags at home and toted our wares in Away's perfectly sized Everywhere Bag in supple Florence leather.
A high-tech, full-color heads-up display projects info about the car's speed (slow down, buddy!) and navigation directly onto the windscreen, and a Bang & Olufsen sound system with 3D sound provides insane acoustics with the help of 19 speakers, a 16-channel amplifier and 755 watts of power. 
This is the system you want when listening to Iggy Azalea's latest bop. 
If life is telling you that owning a sports car is an impossibility, and you need some extra room — 26.8 cubic feet, to be exact — for groceries, strollers, or other not-so-exciting things, don't give up. Give boring the finger and check out the Audi SQ5, our pick for the sleeper hit of the summer.