Inside the Car Heaven Where South Beach Celebrities Pimp Their Rides
Fire-breathing Lamborghini? Can do.
The Auto Firm, the Miami exotic tuning shop run by Alex Vega, has become the go-to spot for South Beach celebs looking to pimp their rides. It's a particular favorite with sports stars in town for spring training, whose murdered-out whips act as sort of rolling advertisements for Vega's shop, which now attracts boldface names from out of town as well.
"Spring training is when business gets the craziest because everybody wants to show up with something new," Vega notes. If one player arrives in a custom matte black Ferrari – his Monday car, say, with an Aston Martin to follow – a teammate will look to upstage him with something more outrageous. It's competitive, but in a friendly way, with those who come up with the coolest customizations basking in the praise of all. It not only keeps things interesting, but ensures that no two supercars in the VIP parking lot are ever exactly alike.
Take Mets outfielder Yoenis Cespedes, who pulls down $75 million a year, and needed something eye-popping for spring training in South Florida. He sent his Lamborghini Aventador to Vega for a complete overhaul including a new custom leather interior, new paint job and exhaust pipes that spit flames. The thing made quite an impression on his teammates. 
Nothing is too extravagant, or even mundane, for Vega to tackle. Everybody and their dog have a custom G-Wagen? Vega can turn a Jeep Wrangler into something out of Mad Max that'll make the G look like a bloated Eurotrash minivan. 

"These guys are about standing out," Vega tells Sports Illustrated. "They all can afford the same base cars, so their pride comes from how they create something unique from something standard." 
The premises of The Auto Firm (which will be featured in Maxim's May issue), are full of memorabilia from Vega's famous clientele. Jerseys signed by Carlos Boozer, Alonzo Mourning, Carlos Santana, Pablo Sandoval, and Alexei Ramirez line a wall, while Vega's office is home to autographed cleats, kicks, balls, gloves and other gear from the likes of Michael Jordan, Alfonso Soriano, Antoine Walker and more.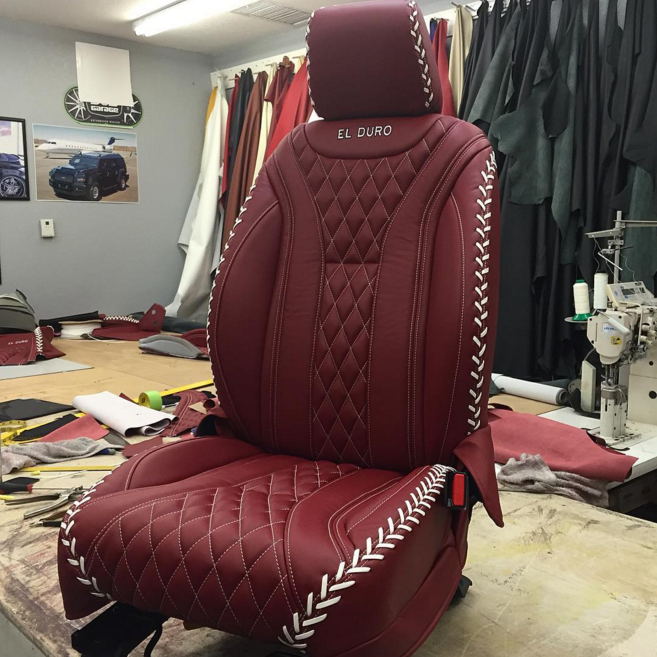 Want butter-soft bespoke baseball glove leather seats in quilted burgundy with white stitching, embroidered with your nickname? No problem at all — except Cespedes already has 'em. We're sure you're dream up something else.