The Azimut Verve 47 Is the Ultimate 1,800 HP Dayboat
The stunning new boat's interior takes design inspiration from a Manhattan loft.
Azimut set out to bring classic luxury Italian yacht style to an American market-friendly watercraft in creating its new Verve 47 model.
The 47-foot dayboat's hull was devised by seasoned naval architect Michael Peters, while the interior and and topside were devised by Francesco Struglia. Four 450-horsepower Mercury Racing engines shoots the Verve 47 to a top speeds of nearly 60 mph and provide a comfortable cruising speed of around 43 mph.  
Federico Ferrante, Azimut USA's longtime president who spearheaded the yacht's development, recently told Robb Report about the demand the company hopes to fulfill with the 47 and others in Azimut's Verve range.  
"I knew we needed to help our Italian designers understand exactly what we wanted," Ferrante said. "So we specified many features specifically for the American market that you wouldn't see on an Italian yacht."
"I wanted us to introduce a new type of offshore dayboat, but not based on a fishing-boat design," says Ferrante. "Nobody builds a better fishing boat than the American builders. Italian yachts, on the other hand, satisfy the need for beauty, with sexy lines and elegance."
The Verve 57 boasts two cabins, four berths and one head compartment. Up top is a helm equipped with three seats, two electronics consoles, a joystick control and bow-thruster for tight maneuvers, and Skyhook station-keeping that uses GPS to keep the 47 in place on the open water without anchoring.
Another highlight of the Verve 47 is the rear deck, which features a centerpiece in the floor that opens up to a large table with a folding piece. Alternatively, the same centerpiece can be deployed in second position as a sunbed, and the hullside has a fold-down diving platform. Other American-targeted features that wouldn't necessarily be found on Italian yachts include a special console that with a pop-up 54-inch color television, Kenyon grill, two-burner infrared stove, refrigerator and icemaker.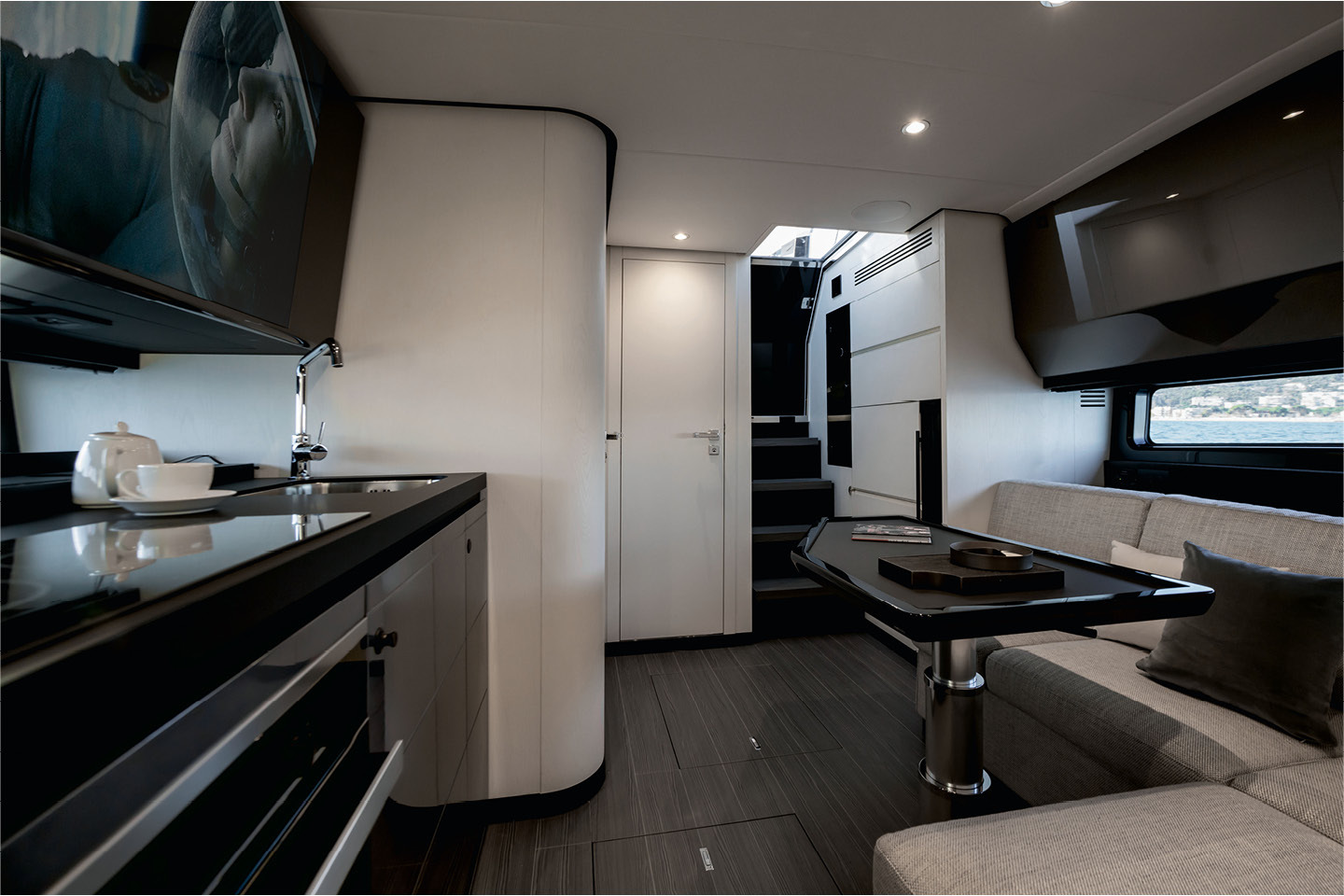 Below deck are two sleeping areas, a full head, and a large gallery decorated with white oak joinery, tweed fabric-clad furniture and metallic gray counters.
"We designed it more like a Manhattan loft," Ferrante told Robb Report of the interior. "We were able to put a premium on space below, which really separates us."
The base Verve 47 is priced at around $1.3 million, but a host of options can add another $500,000 to the ask. Visit Azimut's website for more details.