These Classic Muscle Cars Are Up For Grabs At An Online Auction
The exquisite offerings include an 800-horsepower 1970 Dodge Charger, a pristine Shelby GT500, and Dale Earnhardt's Chevy NASCAR.
Classic car dealer Barrett-Jackson is offering up an awesome array of badass American muscle cars via online auction from May 8 to May 16. Approximately 75 vintage Mustangs, Corvettes, Chargers and other hand-selected vehicles in restored, unrestored and restomodded condition are up for grabs. Additionally, more than 250 pieces of automotive Americana memorabilia are being sold from May 8 to May 17. Pieces include a 14-foot-long 1962 Road Runner Service Stations marquee and a 1950s Mobil Oil Pegasus sign. 
Check out 10 of our favorite classic cars for sale at Barrett-Jackson's upcoming online auction: 
1970 Dodge Charger Custom Coupe
Originally produced from 1968 to 1970, this restomodded Dodge Charger's mammoth 512-cubic-inch (8.4-liter) Mopar big-block V8 delivers 800 horsepower through a three-speed automatic transmission. While the output matches or exceeds that of modern supercars, the stunning burnt copper metallic paint exterior paint coat, white vinyl roof and high-grain leather trim fondly recalls its era.  
1970 Mercury Cougar Eliminator "Boss"
The custom orange exterior, murdered-out interior and gnarly black-striped hood intake tease the classic heart of this factory-spec ride. Its Boss 302 cubic-inch (5.0-liter) V8, rare close-ratio four-speed manual tranny and every other component underwent a four-year "rotisserie" restoration, i.e. a rebuild from the frame up. The project proved worthwhile, as this Eliminator has won Best of Show, Best in Class, and Best in Body and Paint awards in numerous national contests, as well as the Best Eliminator Award at the Mercury Club of America 50th Anniversary event. 
1968 Shelby GT500 Convertible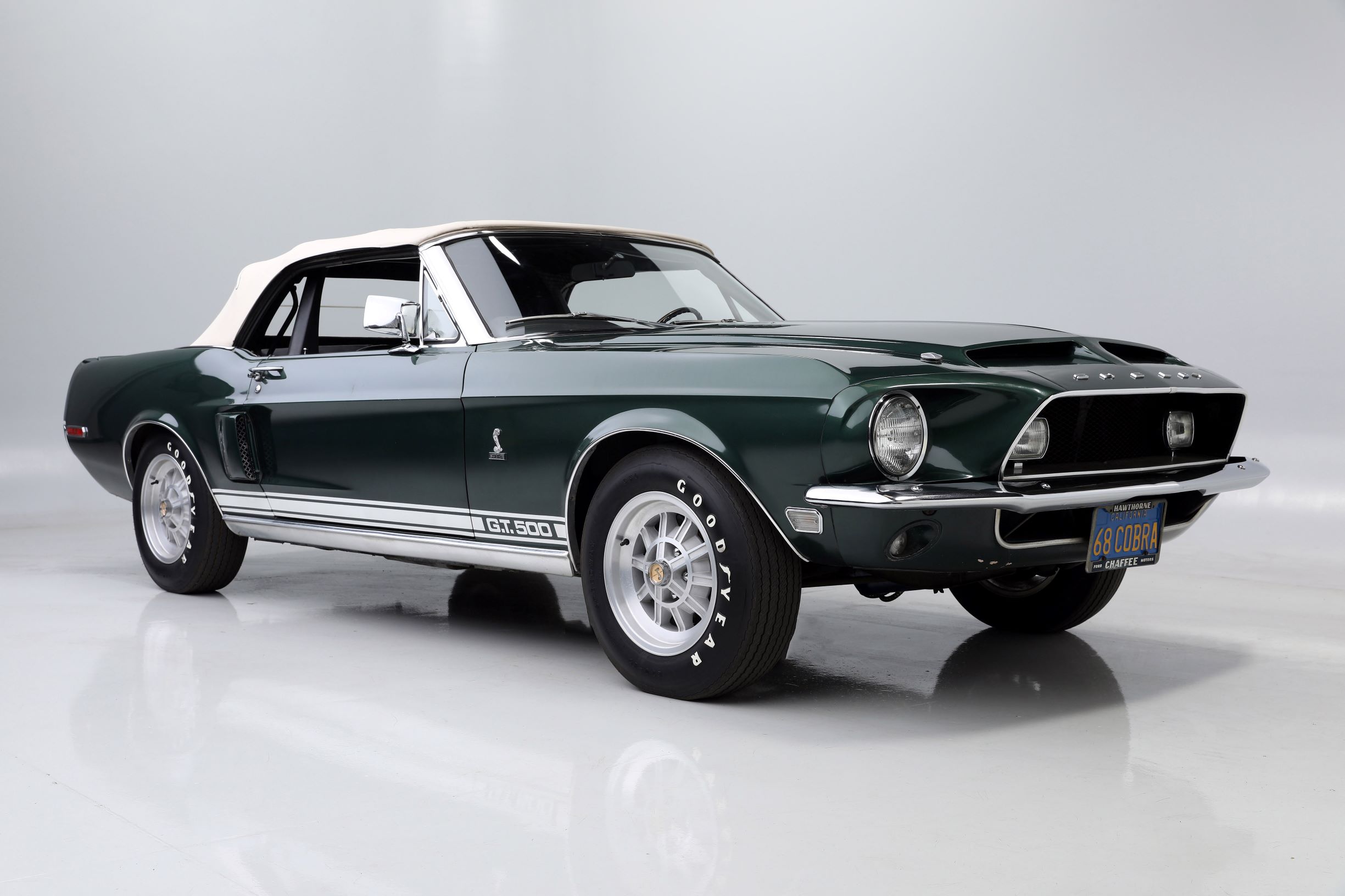 Be it restored, restomodded or unrestored, first-gen Shelby GT500s are always regarded as sought-after pieces of American automotive history. This unrestored 1968 example, with a dark green exterior and black interior, has only had 36,000 miles put on its 428ci (7.0-liter) V8 and three-speed automatic transmission in over a half-century. Speaking to Barrett-Jackson about its condition, renowned Mustang expert Kevin Marti said, "This is one of the finest examples of an unrestored 1968 Shelby…the rarity of the documents present, along with original parts present, put this in the top three of original 1968 Shelbys that I have had the pleasure to observe." 
1963 Chevrolet Corvette Custom Coupe
GM's LS3 6.2-liter V8 from a C6 Corvette serves as the modern 540-hp power plant in this early 'Vette, while the four-speed automatic transmission with overdrive offers a muscular ratio. A white exterior, red leather interior, polished Lokar shifter, unique side-split windows and staggered custom Schott wheels all push this build from Jeff Hayes Customs over the top. 
1969 Ford Mustang Boss 429
Barrett-Jackson writes that when the first Ford Mustang Boss 429s, aka "Boss 9s," were delivered in 1969, the subtle badging belied the blisteringly fast speeds that the then-range-topping 375-horsepower 7.0-liter V8 and four-speed tranny were capable of achieving. With just 71,087 original miles, this Candy Apple red fastback is period correct right down to its Magnum 500 wheels and Goodyear tires. 
2003 Kirkham 427 KMS/SC Roadster
Since Kirkham Motorsports' inception in 1994, the Provo, Utah-based outfit has built over 1,000 425 and 289 Shelby Cobra replicas. This standout, blue-bodied aluminum roadster boasts a restored 1965 V8, Ford four-speed wide-ratio Toploader transmission. and a Jaguar independent rear suspension. 
1970 Ford Mustang Boss 429
Aside from the Grabber Green exterior, the second Boss 9 on this list is specced very similarly to the aforementioned 1969 example. What distinguishes the unrestored ride is an exceptionally low original odometer reading of 4,893 miles and an impressive pedigree that includes a Diamond Award in the Concours Heritage Elite Class at the 2008 Mid-America Ford and Team Shelby Nationals, as well as an appearance at the Boss Motors showroom for the 2018 Boss Mustang Reunion. 
1965 Chevrolet Corvette Custom Coupe
Despite its original lines and custom red 1959 seat pattern, the anachronistic 'Vette has been thoroughly rebuilt to perform just like a C5 Corvette. The modern powertrain is comprised of a GM LS2 V8 mated to a four-speed automatic, and it rides on C5-sourced rear and front axles, as well as an independent rear suspension. Michelin PS2 rubber wrapped around Schott "Velocity" wheels add extra flair to this blacked-out coupe.  
1967 Ford Mustang Custom Fastback
Nicknamed the "Super 'Stang," this red-striped rotisserie restomod features a fiberglass GT500-style hood, custom front spoiler, and an all-new black interior with aluminum trim. Underneath the hood is an all-aluminum 4.6-liter supercharged V8 crate engine that cranks an estimated 600 hp through a Tremec Magnum six-speed manual. The fastback 'Super Stang' has only seen 125 miles since completion. 
No. 3 Chevrolet Dale Earnhardt Chevrolet NASCAR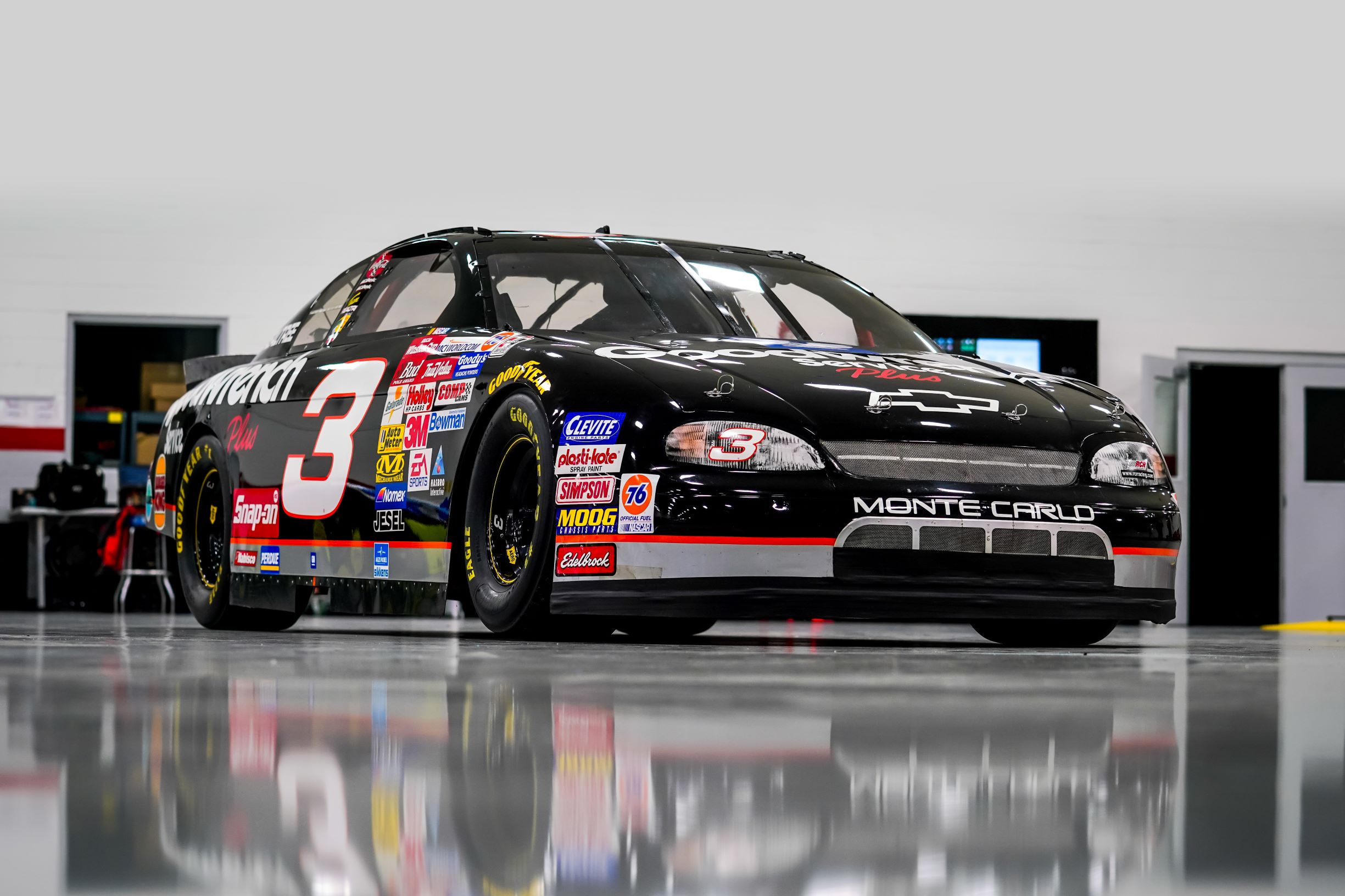 In addition to all of these collector-worth American muscle cars, NASCAR team owner Richard Childress will auction an original a Dale Earnhardt-driven No. 3 Chevrolet, with all proceeds benefiting COVID-19 relief efforts across the United States. The late racing legend made select NASCAR Cup Series starts in this intermediate-style Chevy at tracks such as Bristol Motor Speedway, Dover International Speedway, Rockingham Speedway and Darlington Raceway between 1996 and 1999.