Bow Down Before the Mighty Ford F-250 Super Duty Concept Dubbed 'Project SD126'
Orange you glad to know about this thing?
Holy crap.
Michigan's BDS Suspension's 2017 Ford F-250 Super Duty 'Project SD126' concept truck for this year's Specialty Equipment Market Association show in Las Vegas captured attendees' attention with its combination of shocking orange paint and enormous 44-inch  BFGoodrich Baja TA KR tires on 20-inch Stazworks Cheyenne 8 wheels.
The Project SD126 was to recapture the spirit of BDS's 2011 SEMA truck, which was an orange regular cab, short bed, Super Duty 4×4 dubbed 'Stubby.'
The stock 2017 Ford Super Duty XLT 4×4 doesn't come as a short bed model, so BDS shortened the original truck's frame to accept the shorter cargo bay.
As off-road suspension specialists, of course BDS bolted on big upgrades under the sheetmetal, including a BDS front four-link conversion and rear trailing arm conversion, Fox coilovers and 3-inch external bypass shocks with 14" travel, Pac Racing monster sway bar and coil springs, JE Reel front and rear drive shaft and Dana60/M300 10-lug axles with 4.30 gearing borrowed from an F450 Super Duty.
The stock Ford PowerStroke 6.7-liter diesel V8 is rated at 440 horsepower and 925 lb.-ft. torque, but this is SEMA, so BDS boosted its output with an S&B cold-air intake, EZ-LYNK engine management system programmer and a high-flow Diamond Eye exhaust system.
Inside, they added Ford Licensed Accessories Audio by Kicker, using their component speakers and a 12" CompRT subwoofer, a 1-3/4" roll bar and center console, PRP Racing endure recliner seats with 5.3 harnesses and Magellan's eXplorist TRX7 navigation system to keep Project SD126's drivers from getting lost.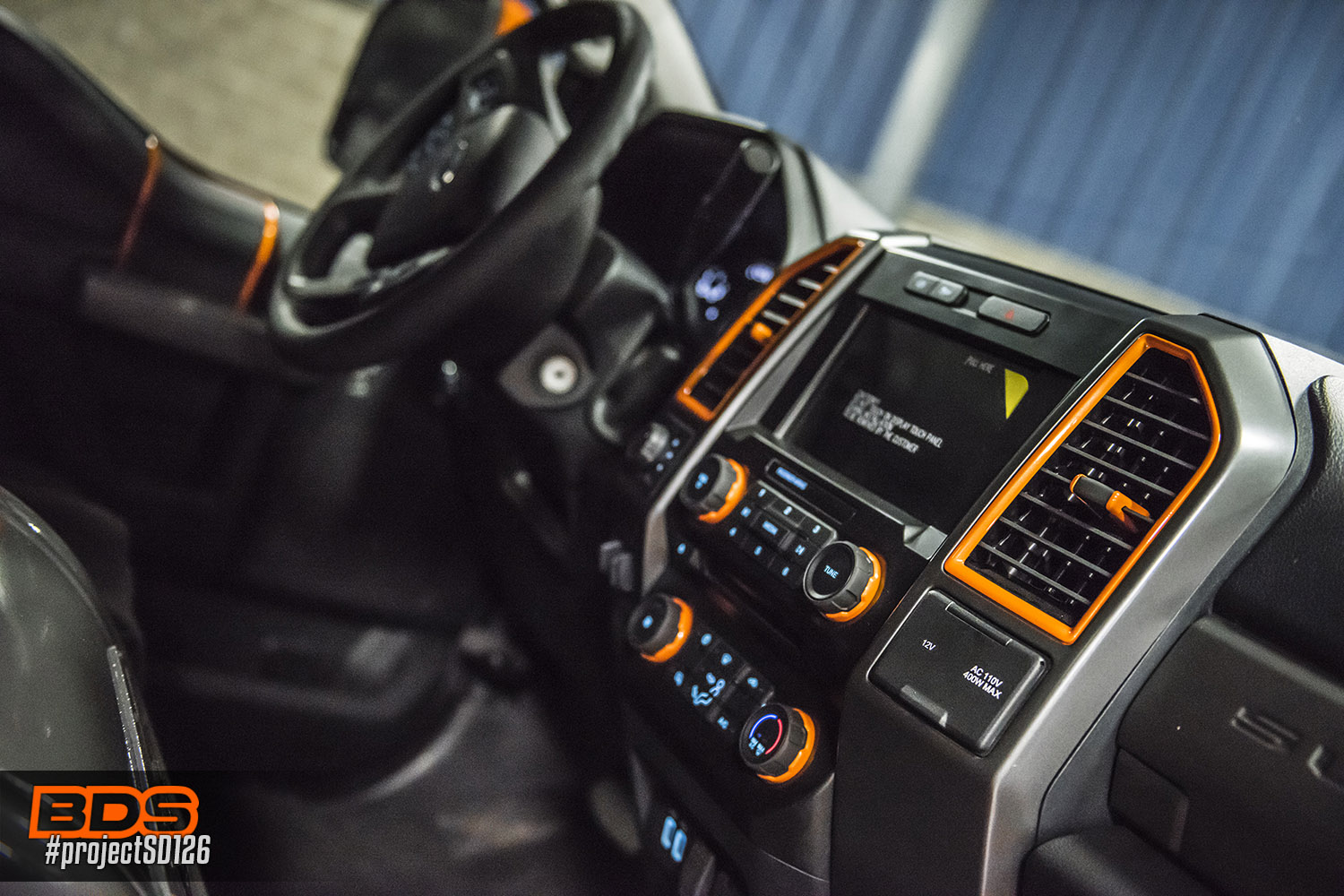 Maybe one day BDS will be willing to part with Project SD126, but for now they are having too much fun playing with their new toy. But you could always have them build one like it for you.