The New Bentley Bacalar Is a Topless Stunner
The striking speedster is set to be Bentley's fastest roofless vehicle ever.
Bentley already makes a droptop Continental GT, but the one-of-12 Bacalar is much more than a totally roofless version of the musclebound grand tourer.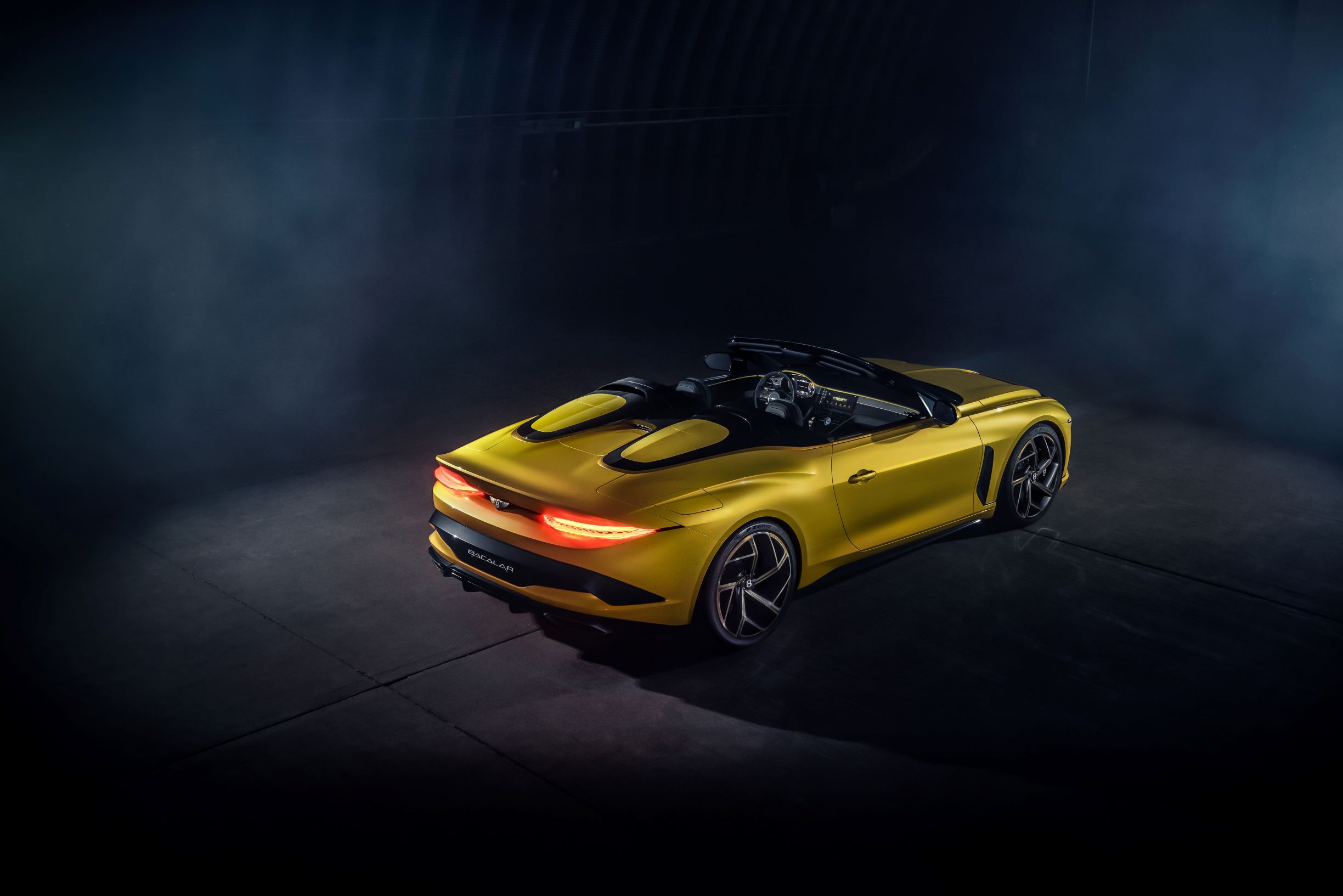 Named for the Yucatan peninsula's Laguna Bacular—a locale we imagine the fixed roadster would be well-suited to given its open-air cockpit—the Bacalar shares much of Continental's core architecture. The marque's flagship 6.0-liter W12 has been tuned to crank out 650 horsepower through a a dual-clutch, eight-speed transmission. Car and Driver reports that estimates put it at 60 mph in 3.5 seconds on the way to 200-plus mph, which would make it the fastest topless Bentley ever.  
What makes the Bacalar stand out is its paneling, which is inspired by the EXP 100 GT concept and unlike that of any other Bentley production model. Crafted by centuries-old bespoke coachbuilder Mulliner, the rear clamshell and top deck of are crafted from lightweight aluminum, while the doors and rear wings are carbon fiber. 
Positioned behind the coupe's doors are aggressive haunches that are 20 mm wider than the Continental's. Front and rear horizontal light slits—also borrowed from the EXP 100 GT—add another unique look. 
While the ultra-exclusive model definitely exudes Bentley-level luxury, the marque made an attempt to use sustainable materials where possible. The extraordinarily striking "Yellow Flame" exterior coat, for instance, is synthesized from rice husk ash. "Bacalar"appears on the rear panel behind the lacquer of sustainable paint, with the capital "As" emphasizing the contours of the lower bumper. 
Inside, a wraparound center console and dash are cut from sustainably sourced Riverwood that was preserved for 5,000 years near small bodies of water in East England. Bentley's "Bullseye" vents get a knurled motif that also appears on the Alcantara-clad steering wheel, media and climate controls, and intricate speaker frets. 
Each of these elements also have bronze and "Midnight" black detailing, while the gear shifter is also finished in Alcantara. Unique leather strap door and seat releases, anodized titanium-finished main controls, Mulliner's Khamun leather, and a serialized clock add other head-turning touches throughout the cabin. 
Taking the Bacalar's exclusivity over the top is the option of pickup up bespoke fitted luggage by Schedoni that perfectly matches the trim and materials of the cabin. Each Bacalar will be hand-crafted in Mulliner's dedicated workshop at the Bentley factory in Crewe, which Bentley claims is the world's first certified carbon neutral factory for luxury car production.
The Bentley Bacalar is priced at an eye-watering $1.9 million, but all 12 have already been sold.