Why The Blacktrack BT-01 Is The Perfect Production Custom Bike
Prepare to fall in love with this two-wheeled wonder.
The problem with the delicious custom-built motorcycles that steal our attention is that they are one-off projects that tease us with their inaccessibility.
When his customized 1981 Honda CX500 landed a runner-up spot in BikeExif.com's reader voting for 2015 and was highlighted in that site's annual calendar, Sacha Lakic decided to give his bike's fans a chance to back up their enthusiasm with their wallets.
Lakic launched Blacktrack Motors for the express purpose of building a run of 20 street-legal copies of his project bike, along with five track-only editions.
Here's what we're looking at: a fully reimagined version of a machine so homely that its solid fundamentals have remained obscured for decades until some recent explorers excavated deeply enough to mine the gold buried under all the lead.
Blacktrack rebuilds the 497 cc Honda V-twin to original specs and substitutes 39 mm Mikuni carburetors for the original Keihins. The CX's factory backbone steel frame is still there, minus the tail section supporting the seat, passenger footpegs, exhaust hanger, taillight and rear fender. 
Thankfully, Honda's heinous Comstar wheels also went to the recycler, replaced by custom-made period-correct wire-spoked units.
The street version of the bike gets awesome Ohlins forks mounted in custom-machined aluminum triple clamps with an equally good Ohlins single rear shock replacing the factory dual-shock setup. The race version gets better, more expensive track-ready Ohlins components.
Same deal for the brakes: top-shelf Brembos for the street bike, MotoGP-grade Brembos for the race bike. The gas tank is modeled on the steel factory unit, but it is rendered in plastic on the street bike and in carbon fiber for the track bike.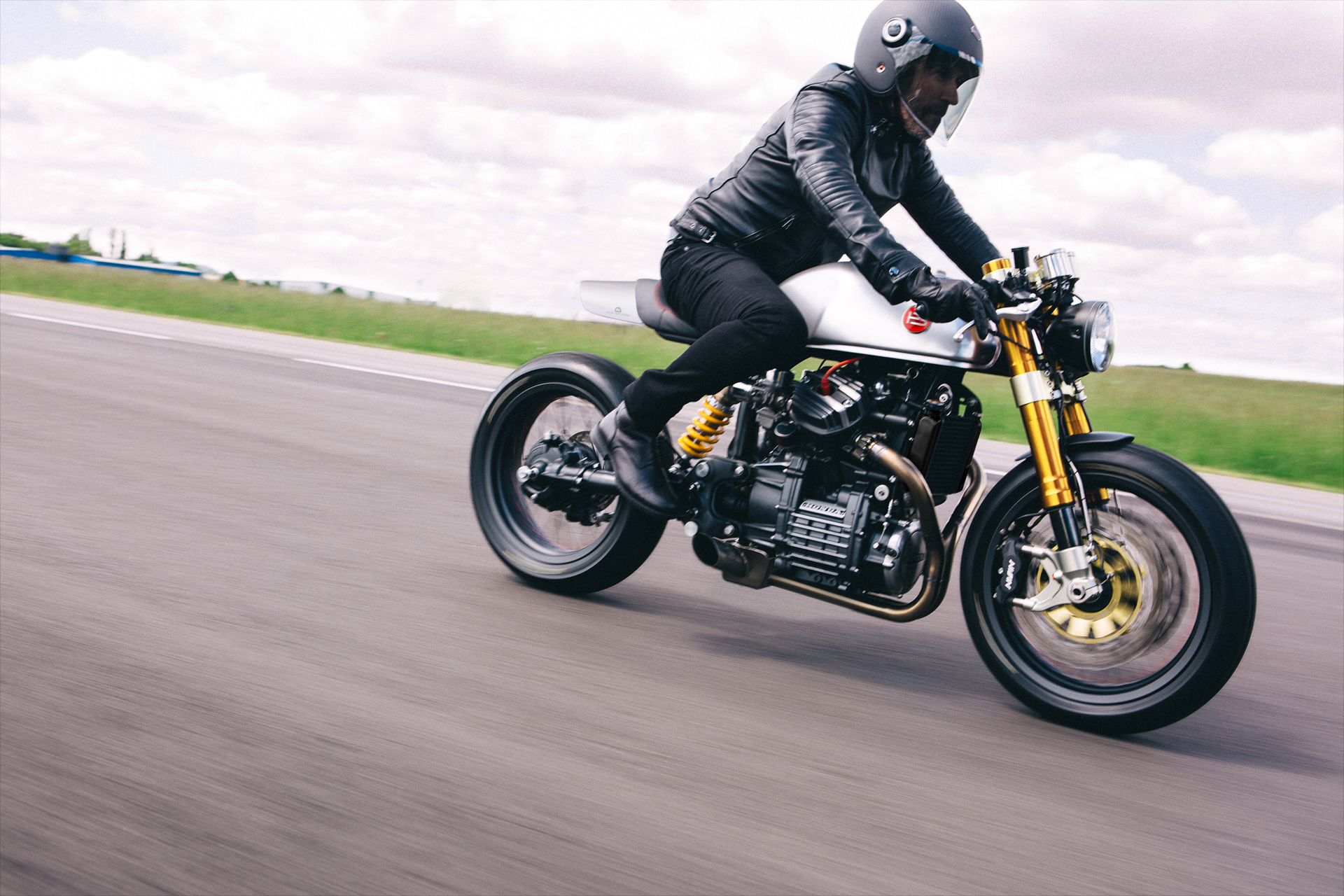 Though it makes only 55 horsepower, the BT-01 is quick and lithe thanks to its 341-lb. weight. So unlike all those unobtainable one-off customs that fill the interwebs, the BT-01 can be yours for $43,000. The track edition is $50,000.
Incredible, expensive hardware aside, the price tag seems a reasonable finders fee for Lakic's effort to locate the amazing cafe racer buried beneath Honda's underwhelming factory styling.