Watch the 15-Years-In-the-Making Sequel to Clive Owen's Iconic BMW Short Film
It might be the best movie you'll see this year.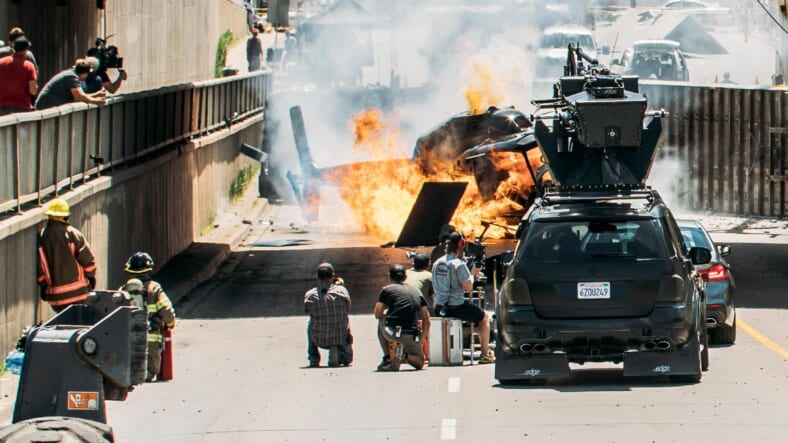 https://www.youtube.com/watch?v=jzUFCQ-P1Zg
The Escape is a topical, action-packed film led by Oscar-nominated director Neill Blomkamp (District 9, Elysium) and featuring Dakota Fanning (War of the Worlds, I am Sam), over whose fate Clive Owen (Closer, Children of Men) and John Bernthal (The Punisher, Daredevil) battle. And you can watch it for free, right now.
That's because it is a ten-minute short film, commissioned by BMW. The Escape highlights professional wheelman Owen's exploits piloting a BMW 5-series sedan in service to Fanning's character. 
You might recall that back in April, BMW dared you to keep your eyes on Gigi Hadid in this video. But The Escape is an homage to BMW's The Hire, which was a series of eight short films the company commissioned from name-brand directors in 2001-'02.
For the 15th anniversary of The Hire, Owen has returned to the driver's seat, a situation he could be referencing when his character in The Escape says, "I've been doing this for a long time."
So has BMW. The Hire garnered more than 100 million views at a time before the advent of ubiquitous high-speed internet access and YouTube.
"When we commissioned The Escape, our only direction was that the story remain of utmost importance – and that it should live up to the standards set by The Hire," said Hildegard Wortmann, Senior Vice President, Brand BMW. "Neill, Clive and the entire cast did a tremendous job and we are confident that The Escape not only meets that standard, but sets a new one."
We agree. Why hasn't Owen been cast in more action films?